A sandwich can be transformed from mundane to memorable by adding some melted cheese and crispy bread. These seven restaurants offer some of the best for toasted sandwiches in the city.
By Jacob Threadgill with photos provided and Gazette / file
New State Burgers & Spirits
1705 NW 16th St., Suite A
newstateburgers.com | 405-724-7524
The menu at New State isn't large, but it's much more than just burgers. The Statesman is house-made roast beef, American cheese, crispy shallots and garlic aioli on toasted bread that gives its burgers a run for their money as the best item. The statesman typifies the restaurant's aim to be an "elevated diner." The dish is familiar but better than you've had before.


La Baguette Deep Deuce
100 NE Fourth St.
facebook.com/labagdeepdeuce | 405-445-6272
Under the guidance of chef Andrew Black, La Baguette (not to be confused with La Baguette Bistro) has expanded from Norman into downtown with gusto and flair. In addition to croissants, pastry and entrees, dig into a toasted panini like the Parisian with smoked turkey, bacon, cheddar, tomato and sprouts or the ciabatta chicken with provolone, jalapeños and veggies.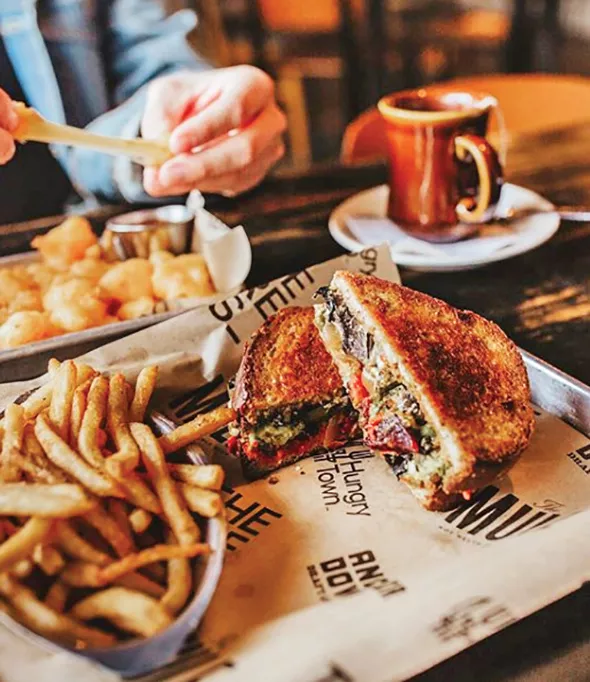 The Mule
1630 N. Blackwelder Ave.
themuleokc.com | 405-601-1400
It would be impossible to compile a list of toasted sandwiches in Oklahoma City and not include the city's first restaurant centered on grilled cheese. It is so prominent on the menu that even a salad comes with grilled cheese croutons. Even if you don't eat meat, you can find something to enjoy, like the Herbivore with cashew cheese, roasted beets, mushroom, sundried tomato pesto, avocado, grilled jalapeños, onions and chipotle aioli.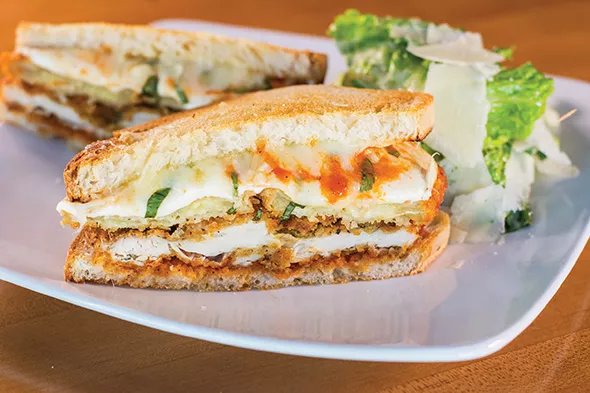 Upper Crust Wood Fired Pizza
5860 N. Classen Blvd.
ucpizza.com | 405-842-7743
Upper Crust is more than a pizza restaurant. You can also choose from six sandwiches like the NYC Grinder that is stacked with pepperoni, hot capocollo, Genoa salami, serrano ham and bacon. The Parmesan chicken sandwich could also be called the Parmesan sandwich because it also includes fried eggplant, so you don't have to decide between the two most famous fried Parmesan methods.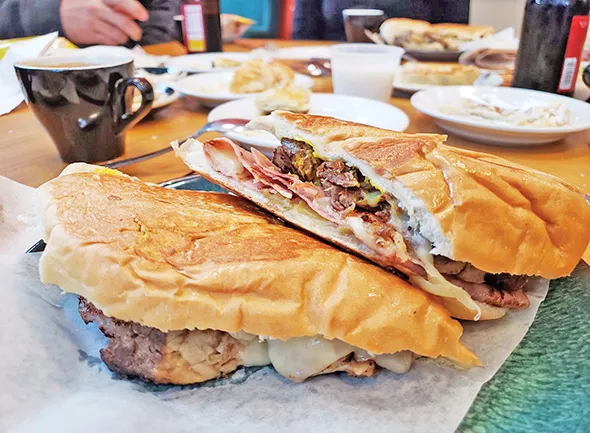 D Taino Bakery
300 Park Ave., Suite 1103
facebook.com/dtainobakery | 405-225-1245
Oklahoma's only Puerto Rican bakery sells a pair of unique breads with which sandwiches can be made. Sobao is impossibly soft, like a cloud covered in feathers. Mallorca is sweet bread that is perfect for a breakfast sandwich to titillate both the sweet and savory parts of your tongue. Pair either bread with house-roasted turkey, pork or chicken.


The Lobby Cafe & Bar
4322 N. Western Ave.
willrogerslobbybar.com | 405-604-4650
Lobby Bar is an excellent lunch choice, especially when you're in the mood for a warm, melty sandwich. It offers a variety of sliders like pork belly and meatloaf in addition to a B.L.T., burger and crispy chicken. Its grilled sandwiches get a perfectly brown exterior like the grilled chicken and Brie, but the shrimp, crab and Manchego cheese sandwich is a treat that is only $10.


ND Foods
2632 W. Britton Road
405-840-9364
Sandwiches at ND Foods should come with a warning: You don't have to fit the whole thing in your mouth. The piled-high sandwiches can potentially cause a jaw injury because it's so easy to be excited to dig into to its high quality Boar's Head meats. It offers 12 warm sandwiches ranging from classics like Reuben, corned beef and pastrami to nontraditional ones like the Victor, which is pineapple-smoked turkey with honey mustard on a croissant.