Alexa Ace
Dolci Paradiso makes its crêpe batter fresh every day.
With a menu built around Italian-style gelato, European baked goods and high-quality coffee, it's easy to see why Dolci Paradiso has the tagline "Happiness starts here."
For owner Hemangini Patel, who started the shop at 10740 S. May Ave., Suite 116, with her husband Pritish next door to his optometry practice, Dolci Paradiso is a place of happiness every time a customer has a smile on their face after a bite of creamy gelato or baked sweet treat.
"Every time when there are kids and they try gelato and say, 'It's so good,'" Patel said, "that's what makes me so happy, when someone enjoys my product. You cannot compare that with anything."
Dolci Paradiso is a respite of sorts for Patel, who works as a nurse full-time. She recently returned to the hospital after they gave her six weeks off to get the shop open and running. It opened its doors in late February.
"It's a good combination because when I'm at the hospital, the stress level is high," she said. "I love being a nurse as well, but here, it's just more fun and relaxed."
The irony of working in the health-care industry and owning a store selling indulgent
Alexa Ace
Mixed berry sorbet is one of the top sellers at Dolci Paradiso.
sweet treats and baked goods is not lost on Patel. She decided to sell gelato not only because of its smoother consistency than ice cream, but also due to its lower fat content. In addition to six or seven fixed gelato flavors, Dolci has weekly flavor features, fresh fruit sorbet and two vegan gelato offerings made from a mixture of coconut and almond milk.
"I'm very health-conscious, and I want to give something to communities they can enjoy," she said. "People want less fat, less sugar."
Gelato typically has a fat content of 4-8 percent compared to 12-26 percent of ice cream, and gelato incorporates less air during the mixing process, which Patel said makes it more dense, flavorful and creamy.
The shop's most popular flavors include stracciatella (cream base with shavings of chocolate), salted caramel, tiramisu, pistachio and mixed berry sorbet. Weekly features include flavors like peanut butter and jelly, red velvet, fun flavors like Fruity Pebbles and Cinnamon Toast Crunch with cereal toppers and alcohol flavors like amaretto and zabaione (traditionally flavored by cognac or sweet wine). One of Patel's favorite featured flavors might seem like a surprise: rice.
"It's very smooth and has some [rice] texture," Patel said. "It's better than tapioca."
The Patels were inspired to create Dolci Paradiso during a vacation to southern California. While walking one afternoon, they followed a sweet aroma to a gelato shop where they were making their own waffle cones.
"I always wanted to do something that makes people happy," Patel said, noting that the
Alexa Ace
Hemangini Patel with her mother Asha at Dolci Paradiso
couple began looking in the south Oklahoma City and Moore area after Pritish opened his practice in 2016. "When we go out to dinner, it's usually in Oklahoma City or Edmond, and we weren't ready for dessert right after the meal, but in the 10-15 minutes it would take to get home, there [weren't dessert options] in this area."
Patel attended a four-day gelato making class in Salt Lake City and an intensive week-and-a-half baking class in New Jersey to replicate European-style pastry. They ordered two gelato machines from Italy and a special temperature-controlled gelato display case.
"I want the gelato to stay at a certain temperature — not too cold, not too hot; it has to be the perfect temperature. If it's too cold, you're not going to get full flavor. Gelato is smoother, creamier [than ice cream], and you can taste flavor right away."
Baking and gelato is combined with housemade brioche bread slices with a scoop of the customer's choice of gelato.
"We put it in a panini press so that it gets crispy on the outside and the ice cream stays cold for the perfect bite," she said.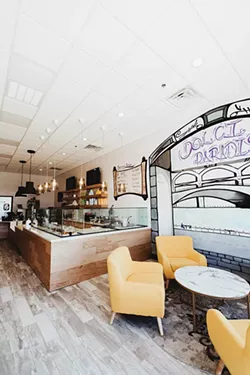 Alexa Ace
Dolci Paradiso is located at 10740 S. May Ave., Suite 116
Dolci Paradiso also sells affogato — a scoop of gelato with a shot of espresso — baked goods like macarons, cheesecakes, full-sized cakes, cake pops, cannoli and freshly made crêpes that comes with eight flavor combinations of fresh fruit, cream and nuts.
One of its most popular baked goods is the cruffin, which Pretish said was an inspiration from Mr. Holmes Bakehouse in San Francisco. The croissant dough is shaped and baked like a muffin and then filled with dulce de leche, strawberry sauce, Bavarian crème or pastry cream.
Patel said the store will expand its baking section in the coming months.
Patel was born and raised in India and moved to the U.S. with her family in 2007, where the family operated a hotel in Tennessee.
"I cleaned rooms for a year and a half just to learn the language," she said. "Then I did that in the morning and went to work at Wendy's in the afternoon. I went to nursing school in 2009 with a scholarship and graduated in 2013."
She met Pritish, an Oklahoma City native through family friends, and moved to Oklahoma when they got married.
"I love being here every single day," she said.
Visit dolciparadiso.com.