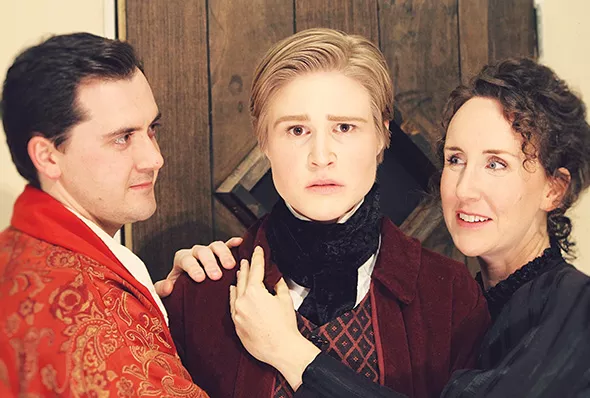 April Porterfield / provided
from left Jordan Nicholes, Jessa Schinske and Sarah Lomize star in Oklahoma Shakespeare in the Park's production of Twelfth Night, Thursday-March 2 at Shakespeare on Paseo, 2920 Paseo St.
Like many writers, William Shakespeare had favorite tropes he liked to revisit.
"Shakespeare loves twins, and he loves dressing girls up like boys," said Kathryn McGill, executive and artistic director of Oklahoma Shakespeare in the Park (OSP). "That's for sure."
Twelfth Night, the opening play in OSP's 35th season, features both. The play runs Thursday-March 2 at Shakespeare on Paseo, 2920 Paseo St., and McGill, who will direct the production, said she wanted to begin the 2019 season with it because it's among her favorites and sets the tone for the rest of the year in "a very entertaining and lighthearted way."
"Twelfth Night's my jam," McGill said. "It was the first Shakespearian play I ever acted in when I was at [University of Oklahoma], and also it was the first show that Oklahoma Shakespeare in the Park produced in 1985. This is our 35th anniversary season, and it made sense that we would revisit an old favorite that has always been good to us, and it's always a fun play to work on. It's kind of got everything."
Though Twelfth Night is a comedy, the play's characters feel fear, grief and other unfunny emotions.
"It's not entirely a happy ending for everyone, and it's not a comedy all of the time," said McGill. "It's kind of got this lovely mix of tragedy and comedy and a little bit of melancholy thrown in. Our heroine, Viola, washes up on shore after a shipwreck, which isn't funny, and she's lost her twin brother. She believes he has drowned, so it does start out with a sad beginning, but of course, being a Shakespeare heroine, she pulls herself up by the proverbial bootstraps and finds her way in this new world. She's landed on the shores of a world that she's not familiar with, and because Shakespeare likes to do this with his heroines, she decides that the way to be safe and to find her way is to dress like a boy. She ends up dressing up like her twin brother."
Jessa Schinske will portray Viola in OSP's production, but when Shakespeare wrote the play in the 17th century, a male actor would've been cast in the role, requiring a man to dress as a woman dressed as a man. McGill said Shakespeare might have intended to make a social commentary.
"Who knows?" she said. "Maybe he's saying something about society. Maybe he's saying that in the climate he lived in, women couldn't make their way alone in the world, and women were forced to put on men's attire in order to survive and in order for people to take them seriously. He's perhaps saying something about his time period, and maybe he's saying something about our time period as well. … I think Shakespeare was kind of a feminist in his writing. He always would write these fantastic female characters whether they were dressed like men or not. … They're well rounded. They're not terribly quiet. They were aggressive. So he's saying something about women and about his respect for women."

April Porterfield / provided
After a shipwreck strands her in an unfamiliar country, Viola (Jessa Schinske) decides to disguise herself as a man.
Viola, in disguise as Cesario, begins to work for Count Orsino (Jordan Nicholes), who sends her to court Lady Olivia (Sarah Lomize) on his behalf. Viola develops not-quite-unrequited feelings for the count, while Olivia inevitably falls for Cesario. Viewed with 21st-century eyes, the play's confused love triangle seems to suggest that gender and sexuality are fluid.
"Orsino, who is a man and a duke, really does fall in love with Cesario, who he thinks is a young boy," McGill said. "She's dressed as a boy, but he does fall for her in some way. He uses the word. He 'loves' Cesario. Now you can take that to mean friendship love or just a very human idea of love, or you can take it that Orsino has fallen in love with a young boy and doesn't know quite what to make of that. And then he's got Olivia falling in love with a young man, but is she falling in love with Viola because she thinks she's a man, or does she just fall in love with the person Cesario, whether he be male or female?"
This reading of the text gives interesting subtext to lines such as "There is no darkness but ignorance," and "In nature there's no blemish but the mind/None can be called deformed but the unkind." Shakespeare's original intent, in many cases, is ambiguous, but McGill said these themes emerge without altering the play's content.
"That's just a lens that we looked through," McGill said. "We haven't really changed anything about the play. I think it's just that we're all very aware of gender fluidity. … Every time you do a play, there's a different conversation that happens about that play because we're not doing it in a vacuum. We're doing it in a particular community and we're doing it in a particular time. I think anytime you produce Shakespeare, you go into the rehearsal room as if you've never experienced this play before. You have a whole new group of actors, and most of them have never done these roles before. They bring their own particular abilities and the things that they've experienced in life to the character that they're playing."
This openness to interpretation and reinvention has allowed Shakespeare's plays to remain relevant for centuries.
"It's a very overused and tired phrase that 'Shakespeare is timeless,'" McGill said, "but I think it's … because the ideas are so large and the language is so large, it can't help but get you as a director and actor to look at what's going on right now rather than, 'Let's figure out how to do a play that was written 400 years ago, and let's set it back 400 years, and this is how people behaved 400 years ago.' I think that limits you when you do Shakespeare. You're not trying to recreate history; you're trying to investigate these ideas through a modern lens."
OSP's 2019 season will continue with Shakespeare's The Comedy of Errors, scheduled to run June 6-29; followed by Lauren Gunderson's The Book of Will Aug. 8-31; Shakespeare's The Tempest Oct. 3-26; and Erin Woods' Jane Austen's Christmas Cracker Dec. 5-21.
Tickets to Twelfth Night are $20-$30. Season passes are available for $100. Visit oklahomashakespeare.com.