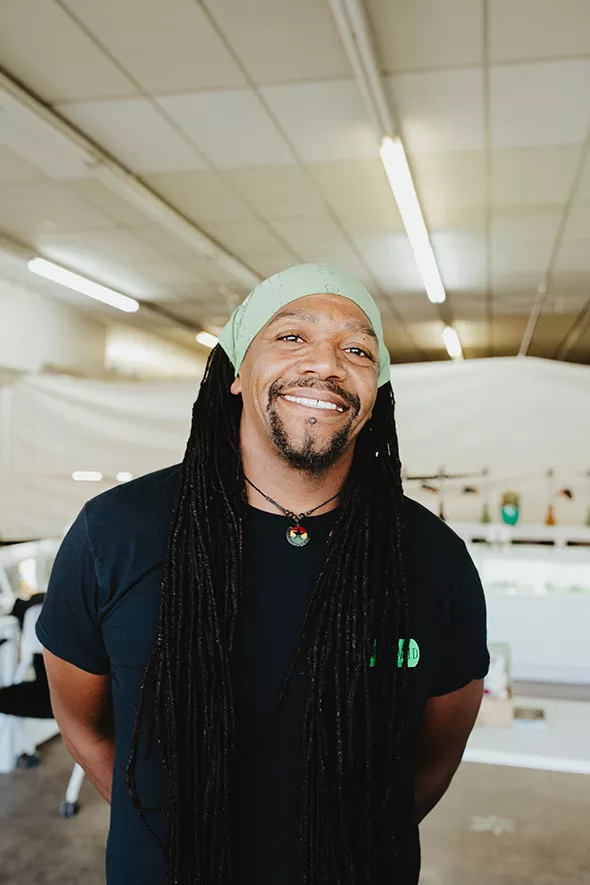 Alexa Ace
Elijah X Mothershed Bey's murder is still under investigation, but Oklahoma City Police Department has not yet identified a suspect.
It was a sunny, warm October day when Cannabis Aid, 1612 NE 23rd St., began selling the products that gave the dispensary its name, but the rain is unending and the skies a deep dull gray on the first day doors open after the murders of founder Elijah Malachi X Mothershed Bey and his family.
The shock and disbelief on customers' faces were the same on opening day, but joy has been replaced by sorrow.
One woman who comes to purchase flower walks into the store sniffling. She wipes one tear, then another from her cheek as she makes her selection. By the time she leaves, she is weeping openly.
Another woman comes in for confirmation. A couple others drop by for details on where to send donations.
Co-owner Sam Hill and one of Elijah's sons, 23-year-old Xavier Schucker, are behind the counter that Friday. The sullen expressions drift toward smiles when jokes are cracked, stories are told and industry banter is shared around the store.
But the smiles quickly melt when a memory, a reminder or another mourner comes to give condolences.
The doorman who was mixing with customers on opening day sits quietly at his post through the duration of the afternoon, often staring out into the rain steadily falling on the sidewalk. Where his vision lands, Elijah stood but two short months ago, buying copies of The Black Chronicle at twice the cover price from a street vendor. He gave them to a group of friends and employees taking a break in the crisp autumnal air.
Elijah, 44, his girlfriend Carnesha Patrice Powell, 35, and her 15-year-old daughter, Roshawna Stevens, were found slain inside their home, 1129 N. Standish Ave., police said.
Cannabis Aid still stands, but its "gladiator for justice and peace" is gone forever.
Hill said Elijah and Powell left Cannabis Aid to run an errand in the late afternoon on Jan. 6. That was the last time anyone saw them alive.
Two weeks later, no arrests have been made. An inventory of items recovered from the home, which might reveal a motive, has not been publicly released. Whether this was a robbery related to his business, a random home invasion or prompted by something else entirely, only the killer or killers know for now.
"I've met Elijah before, and I know that he was a mentor of young men, believing in them regardless of what mistakes they've made in their life," Oklahoma City police chief Bill Citty said at a press conference held at the Capitol three days after the murders. "I probably have more admiration for individuals who are willing to take their own time — not necessarily their money — but their own time, to try and help others, and Elijah was one of those individuals. I'm very, very sorry for your loss. I've seen way too many mothers in my lifetime that have lost children, and it's one of the most difficult things you can see or witness.
"I wish I had better news for you. I wish I could tell you that we have a suspect in custody. I wish I could tell you we even have a suspect identified. The police can't solve this. The community solves it. People solve it. We get information, and we put it together, but it takes a community to solve this for this family."
Almost no information about the crime has been released by police.
"If we don't know who the suspect is, and we really don't have any witnesses to it, it's going to be imperative that whoever we talk to can tell us specifically what happened, and a lot of evidence needs to be kept confidential so we know that person is telling us the truth," Citty said.
In a bizarre twist, 64-year-old Wanda Skanes was found slain inside the same house 11 months ago to the day. Her murder also remains unsolved.
Mission interrupted
Elijah's mother, Evelyn Abdullah, also spoke about her son's life at the press conference organized by state Rep. Jason Lowe, D-Oklahoma City. She took the same podium and addressed the media in the way she did last summer after State Question 788 passed. Then she urged the state health department not to create barriers so another son with bone cancer could receive medical marijuana while undergoing chemotherapy. The last time she spoke in that room, Elijah stood by her side.
"My son's mission in life was to uplift men, poor people, his family and his community," Abdullah said. "He was one of the most loving that I know. He would hug a homeless person or a person panhandling. He'd go by and try to encourage them. He would do sleepovers at churches with young men to teach them how to dress, how to apply for a job, how to tie a tie, how to eat at a restaurant — stuff that you don't think [about] with the man gone from the home. You don't think they need that, but he wanted to correct that. He wanted everybody to share in the economic growth that cannabis could do, for not just him.
"He was always the one son that I had that would call and say, 'How are you doing, mommy? Did you sleep well? You okay? You sure? Is there anything I can do?' And he would do that almost daily until he got his business. He got busy. Sometimes I would call him, and he wouldn't return it right away and I'd say, 'You forgot your mommy,' and he'd say, 'No, I'm working hard to buy my mommy a home and to leave some legacy for my children.' It wasn't ever about the money for Elijah. It was about what he could do for this community, no matter what color you were."
Life of service
In 2010, Elijah founded the Made Aware Now (M.A.N.) 101 program, a mentorship program that aims to help young men better themselves or escape criminal pasts. Part of Cannabis Aid's business plan includes diverting some profits to continue the program.
That mission will continue, Hill said.
Hill and Elijah met in 2012 when their social circles converged on a mutual project. Those projects kept overlapping. Eventually, they decided to go into business together as a CBD shop, then a medical dispensary.
"When I think about Elijah, the first thing I think about is community, whether it's simple things like community cleanup, harder things like community social justice reform or programs for the community. ... No matter what I'm saying right now, you always hear that one word: community," he said. "If Elijah would have continued the path he was on, the impact he probably would have left on this world would have resounded off of every continent on this planet. The Oklahoma City community and the black family has lost one of its greatest warriors."
On the morning of his funeral, gray skies gave way to sunshine while mourners packed the church for a two-hour service. More than a dozen people spoke at the funeral, including Lowe, former state Sen. Connie Johnson and Oklahoma City Ward 7 councilwoman Nikki Nice.
"We're recruiting gladiators today. Elijah is standing here, and he wants to know who's ready to fight," the Rev. Christine Byrd said during her eulogy. "Save that eulogy for someone who's dead. Elijah lives on."
Anyone with information regarding the murders should contact the Oklahoma City police homicide tip line at 405-297-1200. Donations can be made in his name at BancFirst.