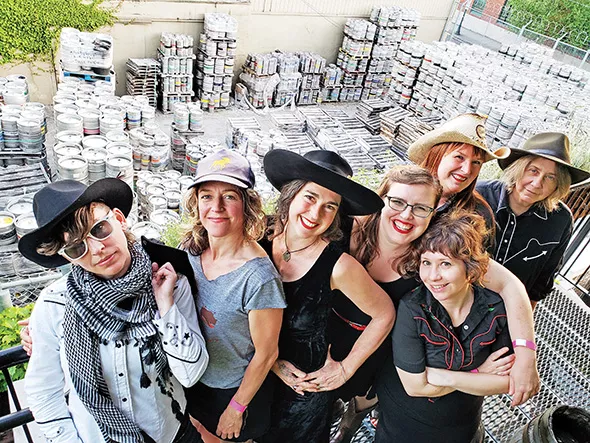 Tye North / provided
Gerle Haggard plays 10 p.m. Friday at The Deli.
Gerle Haggard
10 p.m. Friday
The Deli
309 White St., Norman
thedeli.us
405-329-3534
$7
Billing itself as "all girl, all Merle," Portland, Oregon-based Merle Haggard tribute band Gerle Haggard is literally a dream come true — just not the dream of anyone in the band.
"Our drummer [Nikki Jardin], her friend had this dream, woke up laughing and said, 'You're never going to believe what I dreamt last night; I dreamed I started an all-female Merle Haggard tribute called Gerle Haggard,'" lead singer Tave Fasce Drake said. "And Nikki said, 'Oh, that band is going to happen, and I'm going to be the drummer.'"
Gerle Haggard plays 10 p.m. Friday at The Deli, 309 White St., in Norman. Drake, who sometimes plays the saxophone kazoo onstage, said Gerle Haggard is "definitely not your standard tribute band."
"We're trying to really bring that heart and soul of Merle Haggard onto the stage," Drake said. "We're trying to open up his music for old and new listeners alike, and we definitely want to pay respect and we want to do it well. But we also spin stuff a little bit differently, periodically, and it's a heck of a lot of fun."
Raised in a boxcar his father converted into a house after his parents moved from Checotah to Oildale, California, during the Great Depression, Haggard was a key figure in two of 20th-century country music's most influential movements: the stripped-down, honky-tonk-inspired Bakersfield sound of the 1960s and the defiant outlaw country of the 1970s, both rebellions against Nashville's corporate control. Drake said she did not fully appreciate Haggard's music until she began performing it, even though her musically inclined family members were all fans. Now, she is excited to introduce it to potential new converts.
"My grandpa was an accordion player and loved to listen to old classic country, so Merle was definitely one of the things that we listened to, but I didn't really realize the breadth of work that Merle did until I joined the band," Drake said. "So it's fun to bring it all to new people too because we'll run into people who think that they don't like country, and then we'll say, 'Well, wait a second. … Did you know he does blues, he does Western swing? He did jazz in his later life. He did a whole bunch of old-time music.' And it's really a neat thing to see people light up and go, 'OK, you made a believer out of me.'"
The band's set lists comprise songs written by Haggard as well as songs he covered by artists including Hank Williams Sr., Bob Wills, Jimmie Rodgers and Lefty Frizzell. For Drake, the appeal of Haggard's music is simple.
"Everybody gets their heart broken, right?" Drake said. "And people like to drink and have a good time."
From Muskogee
Salisa Williams, the band's keyboardist, has a more complex relationship with Haggard's music, particularly his 1969 hit "Okie From Muskogee," a possibly satirical rant against free-loving, draft-card-burning hippies from the point of view of the title character. As a Muskogee native, Williams was not always thrilled that the song was many people's first impression of her hometown.
"When you're a kid, you sing along with your parents when you're listening to it on the radio, but then you get a little older," Williams said. "When you're in junior high and high school, you're like, 'Man, this is such a square song,' and you visit places like California and tell them where you're from, and they go 'Oh,' because everybody in the United States knows that song. So you go, 'Ugh. I don't want to be an Okie from Muskogee,' … but now, being full-grown and everything, touching back to those roots is really a special and wonderful thing."
Whenever Gerle Haggard plays, Williams claims her hometown with pride.
"I felt most of my life from my teens until recently that I was a little bit self-conscious when I'd be in other places about being an Okie and coming from a family of country musicians," Williams said. "Getting the opportunity to do this is really meaningful to me because it really is part of my identity that I don't want to have to deny because there's great stuff about it."
Though Haggard famously proclaimed, "We don't smoke marijuana in Muskogee," Williams points to filmed evidence that Haggard did — with Willie Nelson, no less — in the music video for Nelson and Haggard's 2015 single "It's All Going to Pot."
"The video is super-cute because you have Merle and Willie as old dudes with their baseball caps on, drinking coffee, just smoking a big spliff and hanging out," Williams said. "Now I guess pot is legal, even in Oklahoma, so it's all going to pot, whether you like it or not, whether they smoke it in Muskogee or not."
Lonesome fugitive
Haggard's mother, proclaiming him "incorrigible" at the age of 11, dropped him off at a juvenile detention center, and he spent the next several years in and out of detention facilities and prisons. When Johnny Cash performed at California's San Quentin State Prison in 1958, Haggard watched from the audience as an inmate. When Gerle Haggard plays The Deli, the band will have already made two stops in the state, performing at Oklahoma Music Hall of Fame in Muskogee and at Dr. Eddie Warrior Correctional Center in Taft, a minimum-security women's prison.
"There's something about women playing outlaw country to outlaw ladies," Drake said. "It's an odd twist, and yet it makes so much sense. And then to also be able to say, 'Well, who here plays music?' and often many of the women do, and we tell them the whole story about Merle and how that was so transformational for him when Johnny Cash came to San Quentin. That's really what turned his thinking and goals around. … Often when we're in these prisons, we'll meet ladies that have never been to a concert before, ever. … Sometimes you feel like you're The Beatles up there, and other times it's like hanging out with a huge group of friends around a campfire but without the fire, just having that connection."
With one notable exception, Drake said, she sings Haggard's songs using the same pronouns he did.
"We really just keep with how Merle wrote them, so I don't switch stuff around to make it more heterosexual," Drake said. "I just keep singing it 'she,' and people can take that any which way they want. So that's sort of an interesting thing. It's very liberating for people that have different orientation, and I think it's also very wonderful in keeping with that true Merle sense, so that people that are dyed-in-the-wool fans are still hearing those lyrics the way they were written."
But, as Haggard's ex-wife Leona Williams did, Drake does change his "Workin' Man Blues" to "Workin' Girl Blues."
"We're not that kind of 'working girls,'" Drake said, "but we're sure hard-working girls. Make sure and tip us well."
Admission is $7. Norman-based classic country cover band Empty Bottles shares the bill. Visit thedeli.us.