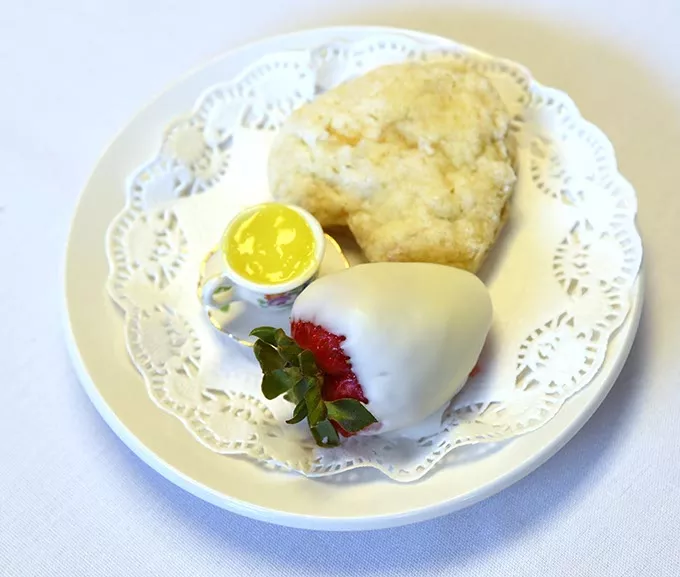 Dipped Strawberry with heard shapped scone and lemon curd, served next to the Bacon-Pinach Quiche dish. mh
It's okay to get coffee.
Despite the name, the owners and proprietors of Red Raspberry Tea Room, 12204 NE 23rd St., in Nicoma Park will not give you dirty looks for ordering coffee. They understand that tea is not for everyone.
They will pour you a fresh cup of coffee and bring over sugar and even a tiny little pitcher full of half and half. It's so dainty. You won't even realize when your pinky, in defiance of your extremely masculine nature, begins to hold itself aloft as you gingerly sip from your cup.
It is a teahouse, after all.
Inside Red Raspberry Tea Room, the decor is eclectic and a bit kitschy. There are purses for sale and knick-knacks and tchotchkes. If you like animal prints, they have some. If you like hats of a fancy, floppy nature, those are also available. Pretty much everything you need to have a whirly, girly tea party awaits you.
And while I am wont to be whirly and girly on occasion, what I really like is food. And thank goodness I didn't have to wear a frilly dress to have some.
(There is nothing wrong with frilly dresses, per se. However, they are not flattering to my legs and what several unkind women have called my "birthing hips.")
Once you're dressed like a pretty, pretty princess or in jeans and a Polo shirt — nobody actually cares — it's time to order. And that means you should order the Scottish smoked salmon sandwich ($8.99 with a house scone).
Simple and perfect, this sandwich starts with slices of dark rye bread, a smear of cream cheese and a sprinkle of baby dill. You could stop right there and it would be one of the best things you eat all day. But just like Miley Cyrus, the ladies at Red Raspberry Tea Room can't stop. And they won't stop. And they will put beautiful, bright red slices of smoked salmon on top and then add thin slices of lemon.
It comes in like a flavorful wrecking ball.
I was a little less taken with the chicken salad sandwich ($7.99). Maybe it was just in comparison to the bold, seductive taste of the salmon sandwich, but I thought the chicken salad was kind of bland. Only the mandarin oranges really added something different. There's nothing wrong with it; it's just not my favorite.
A better choice might be the Ploughman's Lunch ($7.99), which is a big mix-'em-up of delightful morsels. You can make a sandwich from the sharp English cheese and the pickled onions and cucumber. Or you can dip tomatoes and apple slices in the chutney. Finally, with the Ploughman's Lunch, you are the master of your own destiny.
I don't know that this'll give you enough energy to go plow a field, but if you're looking for a little extra sustenance, give the bacon, cheddar and spinach quiche ($7.99) a whirl. It's a buttery, creamy wedge of heaven. The bacon is meaty and chewy (but not too chewy), and the custard is delicate and melts on the tongue.
It comes with a choice of salad. I chose the grape salad. It was very sweet. Take from that what you will.
When it comes time to tip back that last cup of coffee, be sure you've saved a little room for dessert. The Drop Dead Chocolate Cake ($3.95) was indeed chocolate but did not cause me any ill side effects. The only problem with it, really, was that it was not the Munchie Cake ($3.95).
Much as I love chocolate, the Munchie Cake, which is a sweet, moist, chewy, fruity bit of dessert, stole my heart immediately. Straight from their grandmother's recipe box, this is a classic.
Of course Red Raspberry Tea Room is a lovely spot for a multi-generation tea party or even a place to pass off the amazing, size-changing traveling pants you share with your sisterhood. But if you're a weirdy, beardy dude in Nicoma Park around lunchtime, it also serves some light-but-satisfying fare that requires absolutely no girly party wear.
Print headline: Tea party, Tea, coffee, sandwiches, quiche, salad, cake and beards are all a welcome part of this restaurant's charm.