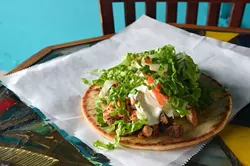 Mark Hancock
The Sultan sandwich photographed on a table in their dining room before it is rolled up in typical gyros style, at Byros By Ali.
When you think about it, eating any meat is pretty decadent.
What is meat, really, but saying, "My hunger is more important than that thing being alive"? Which is no knock against meat. I love meat. I eat a lot of meat. But I also try to understand exactly what that entails.
Perhaps that is why I was so drawn to The Sultan at Gyros by Ali, 3214 N. Classen Blvd. At least a couple animals made the ultimate sacrifice for this sandwich: gyro meat and seasoned chicken wrapped up in a pita and slathered with a thick, flavorful tzatziki sauce that might just be the best anywhere.
The Sultan ($8.49 for a combo with fries and a drink) is my favorite sandwich at Gyros by Ali, and not just because I'm a morbid weirdo. This restaurant does a tremendous job cooking its meats.
Believe it or not, there is an art to cooking a gyro cone. The thickness of the cuts makes a difference in the moistness of the sandwich. If it is shaved too early, the meat is pale and limp. Shave it too late and it's crispy and near burnt (which isn't a bad snack, honestly).
Gyros by Ali packs its sandwiches with meat that is deep brown and glistening with all the tasty fat that makes gyros so irresistible.
But don't give short shrift to the chicken. It's seasoned then moved around a sizzling griddle to unlock flavor while retaining tenderness.
Wrapped in a pita with lettuce, tomato, onion and tzatziki, the end product is The Sultan, a sandwich so tasty you will scarcely want to take a breath while plowing through it.
If you're not keen on mixing delicious gyro meat with chicken, the Prince Ali ($5.99 sandwich, $7.99 combo) is Ali's traditional gyro. You should also try the Big Bird ($5.99 sandwich, $7.99 combo), which replaces gyro meat with seasoned chicken.
The quality of the french fries varies from day to day. They're never amazing and are sometimes a bit salty, but they're usually just fine.
The hummus, which you can substitute for fries in a combo meal for 99 cents, is better.
Not quite a gyro is the Philly Ali ($8.49 combo), which kicks the pita to the curb and uses a 6-inch hoagie bun. Here, the meat is married with grilled onions and bell peppers with cheese melted into every crevice. One thing I recommend: Ask for tzatziki sauce on the side. The cheese is wonderful, but there's nothing that goes so well with gyro meat as tzatziki sauce.
For those who are less inclined toward sandwiches, Gyros by Ali does have a few platters. Mostly, the meat that would normally go in a sandwich instead goes on a plate with rice. The gyro plate ($8.99) puts that glorious meat on top of a Greek salad with some pita slices.
But are you really coming here for a salad? When I walk into Gyros by Ali, I want expertly seasoned meat haphazardly folded into a pita with a tangy cucumber yogurt sauce, wrapped in foil, aimed at my face.
Because this food might be decadent, but nobody said that was a bad thing.
Print headline: Prince Ali, Boy, does that guy know how to prepare a gyro.