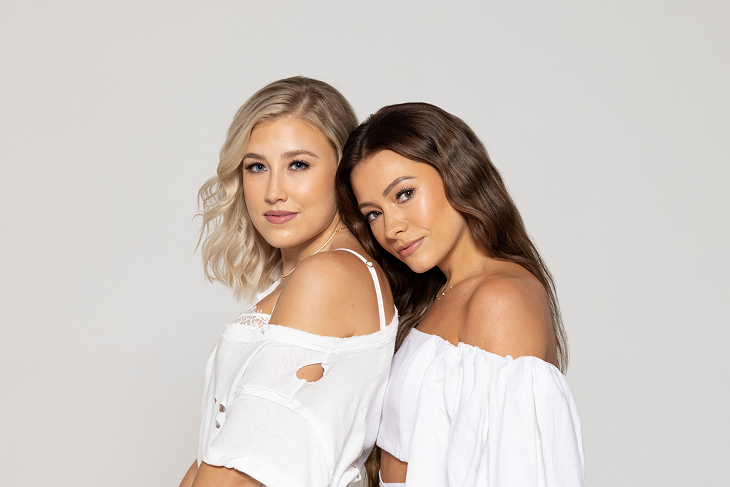 Joseph Llanes
Maddie and Tae
Country Music Awards vocal duo nominees Maddie & Tae launch their headlining 16-city tour in Oklahoma City. multi-platinum duo Maddie & Tae teaming up for the All Song No Static Tour, which kicks off Jan. at Tower Theatre.
The headlining tour also features special guests Callista Clark and CMT Next Women of Country inductee Sacha.
Made up of singer/songwriters Maddie Font and Taylor Kerr, Maddie & Tae got their big break in 2013 with their bold response to "bro-country." Their platinum-selling smash, "Girl in a Country Song," took country radio by storm. The breakout hit skyrocketed to the top of the charts and established them as only the third female duo in 70 years to top the Billboard "Country Airplay" chart. "Girl in a Country Song" received critical acclaim, as well as backlash, as two young women called out the trend in cis-het white male dominated music on the country radio airwaves. Lyrics from Luke Bryan are quoted word-for-word, and the unapologetic response to the tired female stereotypes so prevalent in country music put the young duo on the map. The tune is empowered and fed up, and it changed the game for the industry. The fearless song and its follow up singles "Fly" and "Shut Up and Fish" established the musicians as unique voices and breaths of fresh air amongst the sea of sameness.
When asked about the All Song No Static Tour, Maddie and Tae responded in a Dec. 15 email:
"This is by far our favorite show we've ever put together, and we can't wait to see our fans' beautiful faces up close and personal again."
About performing for a hometown audience, Tae, who is from Ada, said "Singing in front of a hometown crowd is always an honor and so surreal. Oklahoma was where my dream started, so to play in my home state means a lot every time."
Maddie & Tae have proven themselves as more than just female singers in a male dominated industry. They write and perform heartfelt, down to earth music, the way the country and western genre was always supposed to be. Country music, the music of American life, conveys heartbreak and happiness, and speaks truth to the feelings we all feel but don't know how to say. This dynamite duo puts on a heck of a show and the Next Women of Country Tour is likely no exception.
Photo provided
Album art for Maddie & Tae's Through the Madness Vol. 1.
In addition to the headlining tour, the duo recently announced their upcoming studio release Through The Madness Vol. 1, which drops Jan. 28. Together as longtime friends and music collaborators, Maddie and Tae co-wrote each of the project's eight tracks, including their latest single, "Woman You Got," plus recent radio release "Madness." The pair drew praise for their previous album The Way It Feels, which included the Recording Industry Association of America certified double platinum number one hit single "Die from a Broken Heart." When it topped the country airplay charts, Maddie & Tae became the first and only female twosome with multiple number one hits. "Die from a Broken Heart" is honest and heart-wrenching, true to life and relatable. It details how it really feels after a breakup, and it's no doubt a firsthand account of what it feels like to be young and in love.
Citing an unbreakable bond, honest songwriting and signature harmonies, the eight new tracks on Through the Madness Vol. 1 feature notable collaborations with Mrs. Chris Stapleton herself, Morgane Stapleton ("Don't Make Her Look Dumb"), and lauded Nashville songwriter Lori McKenna ("The Other Side"). The duo promises that the upcoming release will "exude familiarity and truth." "These eight songs are the start of a new chapter for us," they wrote. "We couldn't be more excited for them to be out in the world."
Praised for their "pristine harmonies" and "glorious songwriting," Maddie & Tae have previously released a self-titled EP and two studio albums, including their debut album Start Here in 2015, and their sophomore album, The Way It Feels, in 2020. The duo co-wrote 14 of the 15 tracks on The Way It Feels, including "Bathroom Floor" and "Friends Don't." In 2020, Maddie & Tae released their first ever holiday album, titled We Need Christmas. The six-track project features two original tunes, "Merry Married Christmas" and title track "We Need Christmas." "Friends Don't" was named one of Amazon Music's Best Country of 2018 and landed on Rolling Stone's weekly Ten Best of Country and Americana Songs list. Maddie & Tae have also served as CMA Foundation Artist Ambassadors, working with students and teachers across the country on the value and positive influence of music.
All Song No Static is the duo's third headlining tour, having previously headlined the Start Here Tour in 2015 and the Tourist in this Town tour in 2020. The celebrated duo has toured with some of country music's hottest stars, including another of Oklahoma's country music superstars, Carrie Underwood. Prior to the All Song No Static Tour, they wrapped performances on the 33-city Weekends Tour with Brett Young.
The All Song No Static Tour featuring Maddie & Tae kicks off Jan. 6 at 8 p.m. at Tower Theatre, 425 NW 23rd St. Tickets are available at towertheatreokc.com.