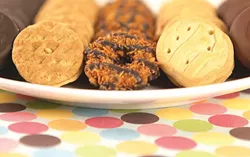 Cookies, cocktails and community support become a favorite combination at an upcoming fundraiser. Girl Scouts Western Oklahoma hosts its sixth annual Cookies & Cocktails event 5:30-8:30 p.m. Aug. 17 at Science Museum Oklahoma, 2020 Remington Place.
Chefs from local restaurants create hors d'oeuvres featuring important ingredients: Girl Scout cookies. In previous years, restaurants have treated guests to Samoa-crusted shrimp, Thin Mint truffles, Trefoil short ribs, Savanna Smile-infused doughnuts and more. This year, participating restaurants include Cattlemen's Steakhouse, La Baguette Bistro, Hacienda Tacos, La Gumbo Ya Ya and more.
"Our supporters get more creative and more competitive with each year," said Misti McClellan, public relations and communications specialist at Girl Scouts Western Oklahoma.
Guests will have the opportunity to sample the snacks while a panel of local celebrity judges determines the winners of the sweet and savory categories. This year, the judges are Kaci Summers and Jacob J with KYIS-FM, Karl Torp with KWTV Channel 9 and Matt Pierson of Insperity, the presenting sponsor. One restaurant will receive the People's Choice Award.
Gold standard
The funds raised during the event support local Girl Scout troops and assist in funding the Girl Scout Gold Award scholarship. It provides two recipients college scholarships to reward their exceptional leadership skills and efforts in their Gold Award projects.
The program encourages scouts to "discover needs in their communities, connect with teams to share their vision and take action to make their corner of the world a better place," McClellan said.
"Now, more than ever, we need to invest in girls," McClellan said. "As the largest girl-serving organization in the world, Girl Scouts is committed to ensuring all girls develop to their full potential."
Girl Scouts Western Oklahoma serves 39 counties in Oklahoma, providing programs to over 14,000 girls.
Girl Scouts aims to provide programs that encourage learning in fun and interactive ways, McClellan said. They promote healthy self-esteem, strong relationships and community service. These efforts are particularly valuable, as presently, more girls are living in low-income housing and poverty than there were 10 years ago, according to data from the Girl Scout Research Institute.
"I get really fired up about our girls in Oklahoma," McClellan said. "They face the worst statistics for women, but they are so mighty and so fierce, I have no doubt they will be the ones who change our world."
Fun fundraiser
In addition to the dining portion of the event, there will be a raffle fundraiser. Items include two packages from iFly Indoor Skydiving; Fun in OKC packages with tickets to National Cowboy & Western Heritage Museum, Oklahoma City Philharmonic and Lyric Theatre of Oklahoma; and a Rust & Rot OKC piece valued at $500. A few surprise big-ticket items will also be revealed. Local singer-songwriter Stephen Salewon provides musical entertainment throughout the evening. Anthem Brewing Company, COOP Ale Works and Vanessa House Beer Co. will treat guests to beer, while Alterra will provide wine.
Guests must be at least 21 years old to attend. Tickets are $30, and sponsorships are available. Visit gswestok.org/cookiesandcocktails.
Print headline: Smart cookies, Girl Scouts Western Oklahoma readies its Cookies & Cocktails fundraiser.