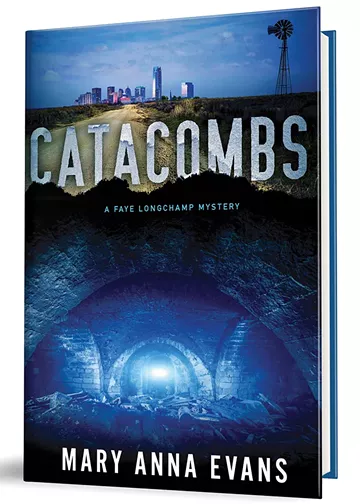 Poisoned Pen Press / provided
Catacombs by Mary Anna Evans
Oklahoma City's abandoned underground catacombs built by Chinese immigrants remain the most underappreciated wonder of local urban lore, but Mary Anna Evans is taking readers down into the depths for the latest archaeological mystery novel in her Faye Longchamp-Mantooth series that follows the exploits of an archeologist crime fighter.
Catacombs begins with an explosion in a historic downtown hotel. A movie celebrity/wayward son of Oklahoma is embroiled in the search for a terrorist hiding out in the barren, subterranean city. Utilizing a tightly constrained, rotating perspective, readers piece together the clues doled out by various witnesses to the crime as well as a shadowy character that set the entire series of events into motion.
It is a quick and energetic read for fans of whodunits but also interesting as an imaginary roam through an underground community hidden beneath the city's bustling downtown.
Evans teaches professional writing with a focus on genre fiction and commercial nonfiction at University of Oklahoma. She said that one of the pitfalls of mystery writing she tries to avoid in her work is the Murder, She Wrote conundrum in which a detective series populates a small community with a shockingly high number of unexplained murders.
Since Longchamp-Mantooth lives in a plantation home on an island, there is not a lot of opportunity for gumshoeing and derring-do. Instead, Evans has her hero trotting around the country, using her unique insight into American antiquity to unravel mysteries wherever they might arise. But getting Longchamp-Mantooth into the right place at the wrong time can be a challenge.
"I have an archeologist friend who enjoys putting my feet to the fire, always asking, 'Why is she there and who's paying her?'" Evans said. "I may have this fabulous idea for a novel, but there might also be no reason for her to be there other than I thought it was interesting."
Getting her heroine off the island and into the thick of things is the big trick. When Evans first learned about a series of tunnels and rooms under downtown Oklahoma City that once housed as many as 200 Chinese immigrants, Evans strove to construct a storyline that believably lured Longchamp-Mantooth below the surface to utilize her archaeological expertise to solve the otherwise unsolvable.
She opted for a Native American cultural festival as the reason why a movie star, an archeologist and a bomb-wielding fanatic walk into a hotel on the same day. A positive, pre-existing relationship with law enforcement actually helps Evans place Longchamp-Mantooth into the heat of the action as a consultant.
"Where some people call science fiction 'the literature of ideas,' I see crime fiction and mystery as the literature of justice," Evans said. "With my book, something happens that sets the world askew, which is generally a murder, since that's the most askew the world can get — to take a human life. Then the rest of the book is configured around restoring order. You can't make it right since you can't bring that person back to life, but you can honor their memory and survivors by bringing about justice in the end."
The research was tricky for this novel because there is not much in the way of official documentation about the Chinese catacombs outside of an expedition by former mayor George Shirk in 1969. There are certainly no guided tours ongoing.
"It was mostly an internet deep dive," Evans said. "But there's a lot online because people are fascinated with the place. The most fanciful posts were from the urban explorers. I'm not going to go down there with a bunch of 15-year-olds with the light on my head, but there are people looking, trying to find it. That's where I got the idea that it's probably close to a storm sewer, which is what I used in the book."
Evans also talked to Public Works of Oklahoma City officials to discuss the project and ask questions about the storm sewer system. One of the staffers followed up with a phone call.
"She said, 'First off, you're not in trouble. But there is a policeman who wants to talk to you,'" Evans said.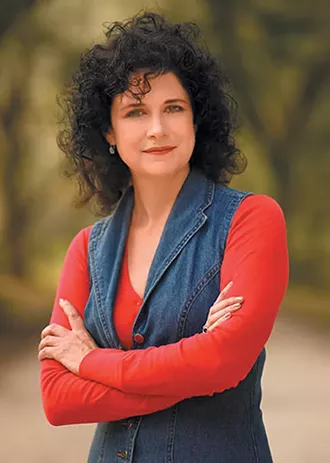 Randy Batista/ provided
Mary Anna Evans teaches genre fiction at University of Oklahoma.
When she called the policeman, Evans said he began with, "'You're not in trouble. But I really want to talk to you about this book. Because you're not going to, like, draw a roadmap for somebody to set off a bomb under Oklahoma City, right?'"
Once Evans convinced him that she was not trying to inspire hordes of copycat, subterranean terrorists, he wished her good luck on the project.
"I've been doing this for 12 years. It's the first time I got the attention of the police," she said.
This will be her second novel set in Oklahoma after Longchamp-Mantooth helped solve a missing person case 29 years prior in Creek Nation. Other stories have her unlocking the secrets of a small town in New York founded by spiritualists, roaming through post-Katrina New Orleans and excavating a site on a sacred mountain.
"She was also working in south Louisiana at the time of the Deepwater Horizon explosion," Evans said. "It's about the ticking clock. Set during the two weeks it took the oil to reach the shore, she is trying to save antiquities as people are looking around at their livelihoods, now gone. Whether you worked for the oil companies, fishing or tourism, it was all gone. So there's this tension in the air that was interesting."
It's a unique challenge to write a long series focused on a primary character, but can still be read out of order. Trying to keep the story accessible to readers new to the series can be tough when you also don't want to alienate those who've been reading since the very first novel.
"I've written now 12 books about one person, basically in real time," Evans said. "I've slowed time a little bit for the last few, but there is a continuity. She has her life, there is a husband, there are children, she has her island. I always feel like the descriptive passages should be subtle so, even in the first book, I don't want to open up with, 'She is 5-foot tall.' I have to find other ways to incorporate it."
Evans works those sensory details into narrative action so she does not need to slow the pace of the story to catch new readers up on the characters others might already know.
Evans also writes academically about the links between crime fiction and psychological needs.
"We need the dreams of science fiction and fantasy, and we need the love of romance," Evans said. "And I think we want the world to make sense. It doesn't always in the real world, but it can in crime fiction."
Visit maryannaevans.com.