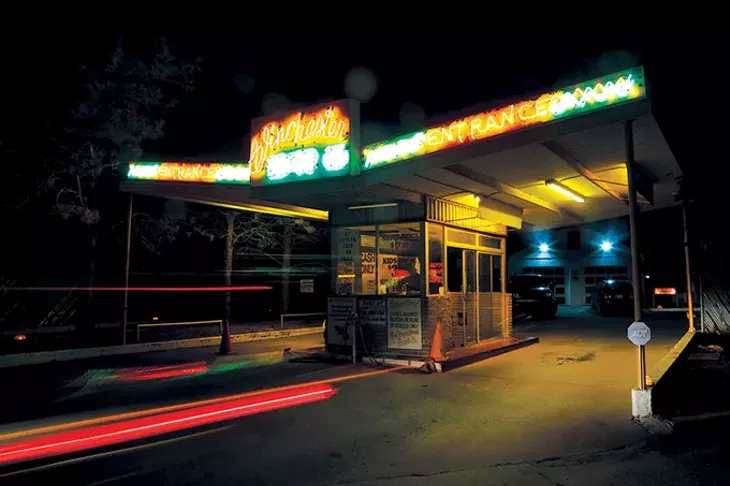 Gazette / file
Winchester Drive-In Theatre has been in business for 50 years.
An icon of the Great Plains celebrates its 50th anniversary throughout July. Established July 3, 1968, in southern Oklahoma City, Winchester Drive-in Theater has offered an authentic and comfortable cinematic experience more consistently than any other establishment in the metro. Notable for its giant and welcoming neon cowboy, Chester, and a similarly gigantic projection screen, the theater has been owned and operated by the same proprietor since its inception.
Lindy Shanbour opened the theater alongside his late brothers, Farris and George, shortly after his family established several traditional theaters throughout Oklahoma. However, after more than a half-century in the business, only the Winchester, 6930 S. Western Ave., remains.

"I remember back then, we would show movies for $1.25 a ticket and kids got in for free. Gasoline was about 33 cents a gallon, if that's put anything into perspective," Lindy mused.
The Winchester prides itself on an experience Lindy has carefully curated over his career. The facilities, screen and feel of the drive-in has been a constant. Chester, the Winchester's iconic mascot designed by Insignia Signs, epitomizes the friendly demeanor Lindy has strived to maintain throughout the years.


However, Lindy wouldn't be able to maintain such an experience without acknowledging when it's time to adapt.
"After fifty years, Chester needs a new pair of britches," Lindy said, laughing.
Expert experience
Though the Langston's Western Wear for a giant, illuminated cowboy might prove elusive, Lindy has been able to maintain the quality of his establishment by continuing to upgrade his equipment. The projector the Winchester currently boasts exceeds the quality of many IMAX experiences. More recently, Lindy made vast advances to his audio equipment, fully encapsulating his theater's stadium with industrial-grade speakers as well as an improved FM transmitter to listen to in the car.
The quality of the Winchester has echoed throughout the theater industry. Often, Lindy finds himself to be one of the most influential voices of insight to fellow drive-in operators
"Over this time, I've learned the drive-in experience very well, and I know what people want," Lindy said. "We are consistently listed as one of the top 10 drive-ins in the country. People are always calling me, wanting to know my opinion on changes and trends, even executives from MGM and Disney. If you can continue to stick a good product out there, people will continue to come."
Part of maintaining an exceptional experience, Lindy found, was to adapt to an ever-changing audience. When the theater first opened, a trio of films was often shown as opposed to the now commonplace double feature. Premiering with The Secret War of Harry Frigg starring Paul Newman, the drive-in has played host to thousands of different pictures.
A lifelong fan of film himself, Lindy lives for the atmosphere the Winchester fosters, often watching movies alongside his patrons out of his office window overlooking the theater. Even with the transformation of content and moviegoers, Lindy still finds a consistent glow when it comes to his customers.
"I've had customers that are 60 years old and have come to my drive-in since they were children," Lindy said. "All those little kids are grown up now, and they revisit me with their own children, often for their first time at a drive-in. It's hard to explain but an absolute thrill to see."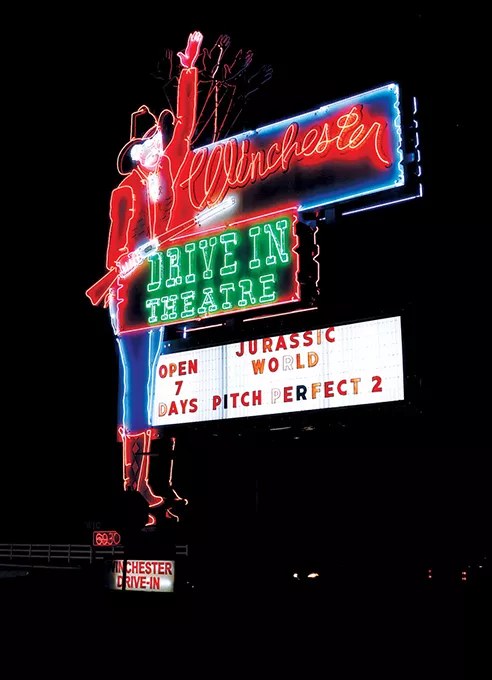 Gazette / file
Chester the cowboy has been looking over Winchester Drive-In Theatre for 50 years.
Consistent quality
Previously a year-round establishment, Lindy now closes the theater in December before bringing the lights back on in early April. When the theater is in mid-season, he is present every day of the week, often until 2 a.m. His diligence is born from a love for his craft and a feeling the drive-in conveys something that he finds can't be felt anywhere else.
"I'm here seven nights a week, and after all these years, that's come down to one reason: I enjoy it," Lindy said. "There's no other way to answer it. The atmosphere you get when there's a full moon out there, everyone out there with lawn chairs and blankets. The Winchester is one of the most beautiful things in the world when you come in, and it's even prettier by the time you leave."
Lindy's passion comes from a lifetime of experiences and lessons. He began his journey when he was 15 years old at the Midwest Theatre, and a quick ascent through nearly every possible position one could hold at a theater brought perspective. Such an experience gave Lindy an appreciation for the business, but perhaps more importantly an appreciation for the staff helping keep Chester's smile bright.
"We have the best service, and my employees are very good at what they do," Lindy said. "Most of my employees have been with me for over 10 years, and they do so because I take care of them. That's what you got to do when you're running a drive-in; take care of your people."
In the era of theaters constantly shifting the nature of the business, especially how a theater is managed, Lindy has found one of the most surefire ways to ensure quality is to simply remain consistent.
"When you get a place that changes hands three or four times, it's never going to be the same," Lindy said. "That's why the Winchester is so consistent and the way it is now. There's not a thing in the theater that I don't know about and that isn't right. It's updated, maintained and cleaned all the time. You change hands often, you can never expect things to stay the same."
He understands change for any business is necessary for its survival. However, at the same time, he cannot envision a Winchester in which he's not involved. After 50 years, he has had multiple occasions where retirement would have been an option, but he has turned the prospect away repeatedly.
"I don't think I'll ever retire," Lindy said. "Age is just a number. You go out there to the Winchester, and I promise you it will change your attitude if you're feeling down. I can't explain it, but I feel so much better sitting in my office, looking at all the posters and movie stars I have up on my wall, so much more than sitting at home. I even enjoy being there with the people half-asleep in the early morning. If I love it and I'm still healthy enough to do it, why should I retire? I love it too much."
There is a certain air that permeates not only from Lindy, but through the Winchester itself. It's both a time capsule and a nursery for new memories. It's a place for people to cheer, laugh and grow close within a slice of Americana.
For Lindy, the last 50 years have proven the Winchester to be a place of love and enjoyment, a place where "memories will never go away."