While the temperatures haven't completely cooled off, hope is on the horizon. For those who love food and like it hot, Aug. 31 is National Eat Outside Day, and there's no better way to celebrate than with one of Oklahoma City's many amazing food trucks. There are far too many amazing mobile eateries to list here, but here are seven great food trucks where you'll find a delicious meal.
Photo provided
OAK Mobile Kitchen
OAK Mobile Kitchen
facebook.com/OfAllKindOKC
OAK has become a breakout hit since opening this year thanks to a simple yet eclectic menu which includes a combination of knockout confit chicken wings and healthy twists on culinary classics. The Super Bowl is the star of the menu with mixed grains, arugula, pico, pickled onion and feta with your choice of braised beef, chicken or lemon pepper roasted cauliflower. Burger lovers shouldn't pass up the Triple B. The third-pound Angus burger comes with a blueberry fig and vanilla jam that is simply delightful.
Photo provided
Some Like It Tot
Some Like It Tot
405-287-9012
facebook.com/gourmettots
Tots loaded to the brim with every topping under the sun — this truck offers visitors a slice of flash-fried potato heaven. Savory dishes like Thanksgiving Leftover and Shrimp Etouffee grace the menu, along with more unique flavors like the Loco Moco, which is certainly worth a try. This bowl of golden brown tots is piled high with ground beef, grilled pineapple, brown gravy and a fried egg. For a slightly 'healthier' option, try the sweet potato tots topped with honey-drizzled pulled pork and red pepper flakes with a side of Thai peanut sauce.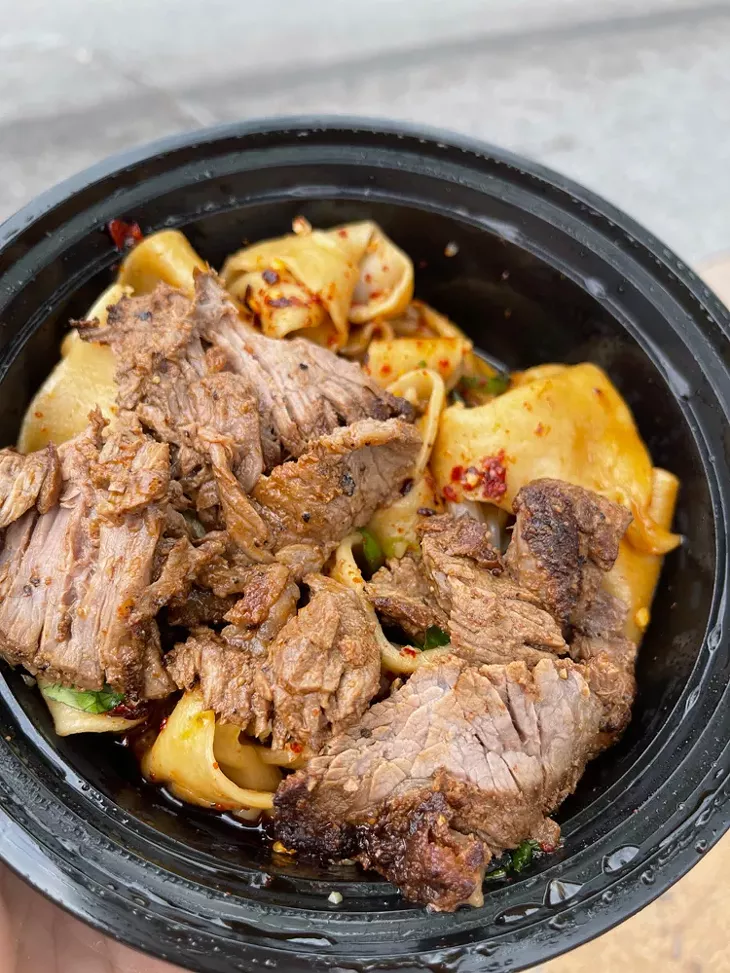 Photo provided
Big Biang Theory
Big Biang Theory
405-254-6622
bigbiangtheory.com
This aptly-named food truck offers an explosion of flavor in every dish. Biang biang refers to hand-pulled noodles that are stretched, slapped and pulled to make bowls of killer stir fries, fragrant with black vinegar, chili oil and pepper. Enjoy your noodles with steak, chicken or go vegan and enjoy a bowl with their decadent wontons. The chicken jalapeño egg rolls, each packed with spice and flavor, are no slouch either and serve as an excellent appetizer or meal on their own.
Photo provided
Plato's Provisions
Plato's Provision Co.
facebook.com/platosprovisionsco
If you didn't think vegan food could be mind-blowing, Plato's will change your mind. This plant-based mobile kitchen offers a rotating selection of vegan eats each week, including 'chxn' sandwiches, gyros, breakfast items and seasonal specials that even the pickiest of carnivores will enjoy. Each dish is mindfully crafted with fresh ingredients to create a nutritious and flavorful meal, including their housemade seitan, which is at the core of many of their dishes.
Photo provided
Peace and Pancakes
Peace and Pancakes
405-519-1513
peaceandpancakes.org
At Oklahoma's only made-to-order coffee and pancake food truck, you'll find much more than your average pancake. Treat yourself to a classic stack or try something truly unique like the Whitchy Stack — lavender-infused pancakes topped with chocolate chips and cream cheese syrup or the 101 Stack, a caramelized pineapple with cream cheese syrup and cinnamon butter. Try any selection with coffee made with some of Italy's finest espresso beans for a satisfying experience.
Photo provided
Nick's Tamales
Nick's Tamales
405-938-9423
nickstamales.com
In 2018, Paula McKinney and her husband JD opened a food truck in honor of her uncle Nick and they've been serving up high-caliber tamales ever since. These made-from-scratch tamales are stuffed with a half pound of the protein of your choice. Whether you choose the succulent chicken drenched in salsa verde or tender pork marinated in a hot chili pepper sauce, each is presented in a light, fluffy masa shell accompanied with flavorful ingredients like fire-roasted corn and poblano peppers. Try it loaded and get the tamale of your choice smothered with mouthwatering toppings.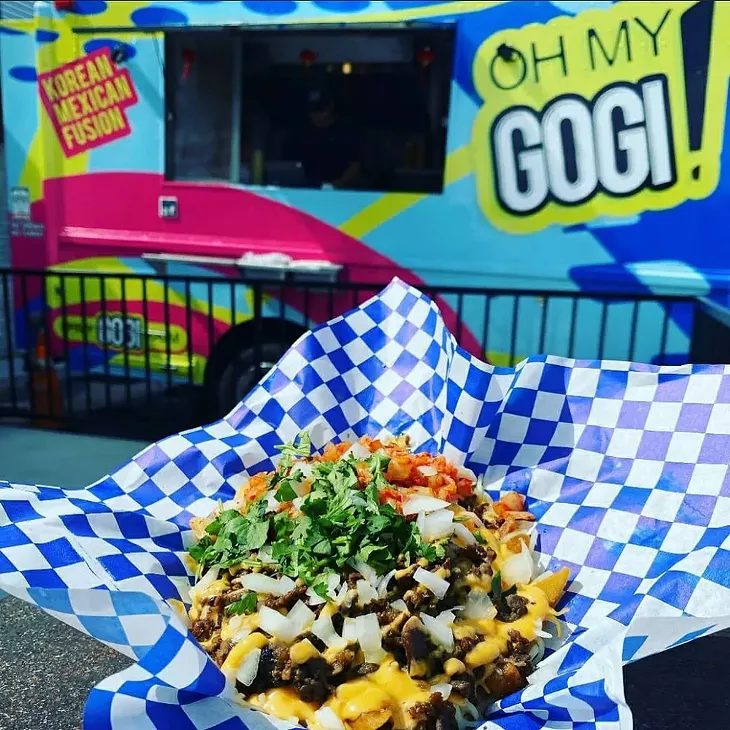 Photo provided
Oh My Gogi
Oh My Gogi
405-492-6888
ohmygogi.com
Oh My Goji offers a unique twist on Korean fusion with a bit of Mexican flair. This food truck aims to satiate your appetite while tantalizing your taste buds with the distinctive flavors of their bulgogi beef or BBQ chicken. Try either protein in a variety of forms atop fries, in a rice bowl, folded into tacos or as a quesadilla, each as delicious as the next. It's hard to leave without trying an order of the pork and vegetable dumplings that come with a sweet chili sauce that's simply delicious.