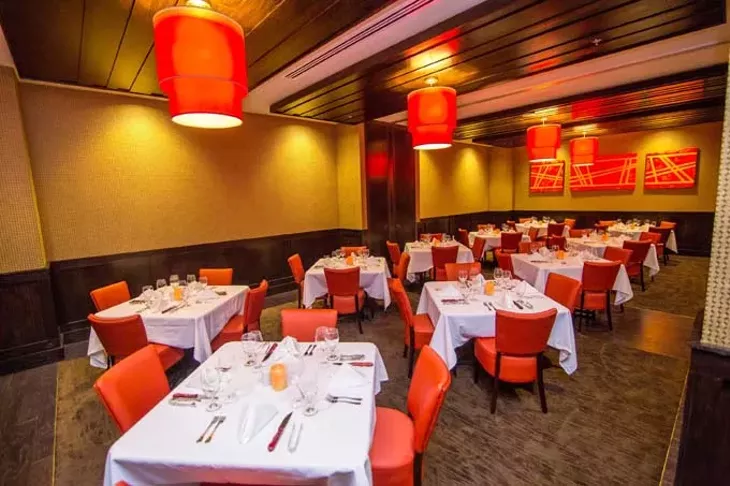 When one hears the word "steakhouse," especially in Oklahoma, images of 72-ounce cuts of meat and tacky Western curios on the wall probably come to mind. However, the proprietors of Flame Brazilian Steakhouse, the new restaurant located in Shawnee's Grand Casino, are more than prepared to change the way these casas de carne are experienced.
Also known as a churrascaria, Brazilian steakhouses offer a buffet-style sampling of numerous meats, complete with Brazilian flair evident from the charcoal used to the way food is served. Recent franchises such as Fogo de Chão and Texas de Brazil have popularized the culinary art form recently in the United States, but Flame is looking to perfect it.
Grand Chairman Rocky Barrett fell in love with the concept after visiting one during his travels, with the added bonus that no one had ever opened up a true Brazilian steakhouse in Oklahoma. He felt it would be a great dining experience for patrons to have while either enjoying the casino or just as a standalone dinner visit.
Flame Brazilian Steakhouse serves dinner Wednesday through Sunday, with an additional brunch offering on Sunday mornings. Reservations are highly recommended.
Paul VanRaamsdonk, director of food and beverage at Grand, has helped open such notable eateries as Red Piano Lounge, Park Avenue Grill and Mahogany Prime Steakhouse, but he never faced a challenge as big as opening Flame, mostly due to the way this form of cooking is closely guarded by those who practice it.
"Finding someone who knew how a Brazilian steakhouse worked was very, very difficult," VanRaamsdonk said. "Texas De Brazil or Fogo De Chão purchases the visas for their staff to come over, so they're very loyal and it's a very tight-knit community. We did research all over Dallas before we opened up, and they just did not want to give out any information. Actually locating someone like Ramon was difficult, and it took us about year."
With more than 23 years of kitchen experience that started in Miami, Florida, Head Chef Ramon Tolentino, a seasoned veteran of many restaurant concepts, was selected for the unique way he brought his own personal recipes as well as plenty of passion and verve for Latin food to the idea of churrasco cooking.
"We use a lot of charcoal when we cook the meat fresh every day," Tolentino said. "The meat is aged at least 23 days. We use a lot of beef that gets its flavor from the charcoal in how you sear in the juice — the meat gets heated to 800 degrees and it sears all the juices inside so it's always going to be flavorful and tender — and how you cut the meat. Everything is authentic. Everything is from scratch. Everything."
VanRaamsdonk added that because the more popular Brazilian steakhouse are franchises, Flame will be less standardized, avoiding the constant and repetitive nature of chains and offering more of a personal feel to the upscale restaurant. Adults can enjoy a romantic night out and children will be clamoring to have their birthday parties there.
The setup is simple: Start off with a trip to the stocked salad bar that features items such as lobster bisque, prosciutto, imported and domestic cheeses and tomato mozzarella. Then, as authentic Brazilian music plays overhead, highly stylized servers called "gauchos" — clad in authentic Brazilian uniforms — serve a wide-ranging variety of meats off skewers right at the table. This allows customers to sample and savor specially cooked items ranging from chicken, pork and lamb to sausages and numerous cuts of beef, including the ever-popular picanha, a tender, prime cut of sirloin that is flavored with smoked sea salt and considered the coup de grace of any churrasco dining experience.
"What we've gotten most of our comments about, is the overall experience," VanRaamsdonk said. "From the moment that you check in with the hostess stand and get seated, the way that our servers are trained at a very high-end capability with wine knowledge, drink knowledge, food knowledge — it's all done with a distinct Oklahoma country/home spirit where they've got great personalities and really talk with the guests. It's not pretentious at all."
Tolentino echoed the sentiment.
"It's really simple," he said. "We've got the best service, the best food, the best ambiance, the best atmosphere. We take care of our guests like it were their own house. They feel like they're in their own home with their family. You go to visit the tables and the people are happy. You actually get to know the guests, and it's a family restaurant. They come here and feel like they are part of the family."
Print headline: Flame on, Grand Casino Hotel Resort brings the art of the Brazilian steakhouse to Oklahoma.