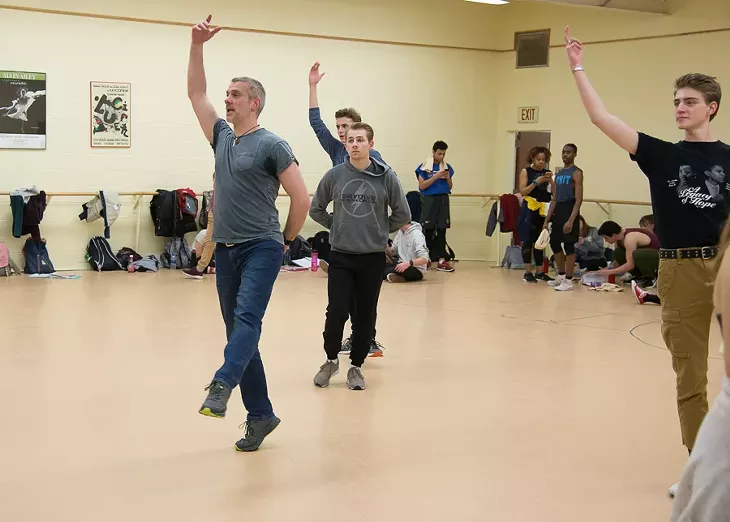 provided
Guest director and choreographer Adam Cooper works with the cast of the University of Oklahoma theater department production of Grand Hotel, which runs Friday-Sunday at Elsie C. Brackett Theatre in Norman.
Artist-in-residence Adam Cooper said there's one main difference between the version of the musical
Grand Hotel
he earned a Laurence Olivier Award for choreographing in 2005 and the version he's directing for the theater department at the University of Oklahoma (OU): The new Norman production is much bigger.
"I don't know if you know the Donmar Warehouse in London," said Cooper, "but it's a tiny venue. So we didn't have a full cast. We had a much smaller cast in attrition form and a smaller band and no set … but it's nice now to sort of make it grand again, as the title suggests. … It's much bigger, much bigger. There's much more of it than last time, not only because of the change of setting that we've got, but also because I wanted to make it new and I wanted to make it more exciting than I had done before. It's got some nice big set pieces in it with, with many, many dancers."
Grand Hotel
runs Friday-Sunday at OU's Elsie C. Brackett Theatre, 500 W. Boyd St., in Norman. In 2004,
The Guardian
praised Cooper's "expressive choreography" for giving the audience a taste of "the hedonistic flavour of the Berlin 1920s." Now as choreographer and director of Luther Davis' adaptation of Vicki Baum's novel about an eccentric cast of characters in the titular German hotel, Cooper has the chance to make the production his own.
"It's absolutely a no-brainer because it's a show that I've done before; it's a show that I love, and it's great to be able to do it my way," Cooper said. "The last time I tackled the show, I was choreographing it for Michael Grandage … so it was very much his production of it that I was fulfilling, so it's nice now to be able to do it in my own way and on a bigger scale. … I'm trying to sort of bring it to life as visually as I can because I think it deserves that, and I think it helps tell the story because it's a fascinating look at society, particularly at that time, between the wars in Berlin and the different class system and also the strange characters that come into this hotel. So I've just tried to find every possible kind of visual help to help bring it to life."
The challenge with making
Grand Hotel
as a larger-scale production, Cooper said, is to retain the small nuances, character moments and "gritty drama."
"The great thing about doing it on a small scale is you have to really concentrate on the intimate drama that the piece has as well as the sort of grandeur," Cooper said. "It's making the intimate smaller scenes feel intimate. … That's going to be the challenge, making those scenes feel small and intimate and dark and moody, which is what the story requires in a big space."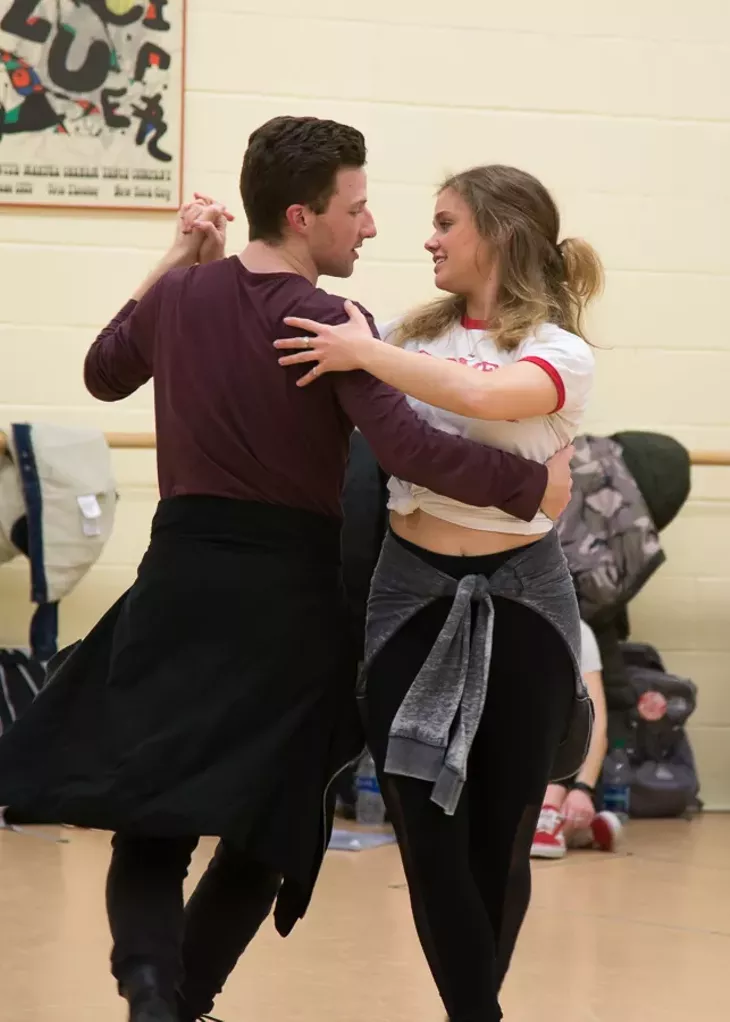 Provided
University of Oklahoma theater students rehearse for Grand Hotel.
Cooper said working with students in OU's theater department is comparable to working with professional actors in London.
"They're very smart, they're very professional and they're very open in the same way that the professional actors are," he said. "These guys are extremely talented and extremely smart, and it's been very easy working with them and very enjoyable too."
However, he did wish he had more time to work with the students and help them understand the historical context of the play.
"It's important that they have an understanding of where it's set and how it's set, what life was like at that time in order to bring those characters to life," Cooper said. "So, yeah, we've done a bit of work with it, but obviously when you only have three weeks to get a show together, you're limited as to how much you can do. Also because they're students, I have them for only four hours every day, which is right at the end of the day, sort of, from 7 p.m. to 11 p.m., and they've already done a day of classes, so that part of it is not easy, but we've managed and we've got it together."
He also wishes he'd had more time to see Oklahoma, which he visited for the first time in November, when he flew in to cast actors for the production.
"I haven't had the chance to explore quite as much as I would like," Cooper said. "My assistant and I went up to Oklahoma City and enjoyed that very much, the [Oklahoma City Museum of Art], and we went to the Civic Center [Music Hall] and stuff and walked around. We went up to [Turner Falls] to see a bit of nature, which was nice, too."
Cooper returned to the UK on March 3 after the first two shows, and from there, he will be heading to Munich to choreograph a production of
On the Town
, but he said he'll remember Oklahoman actors for their willingness to participate in many different forms of theater, something he can appreciate as an actor, director, choreographer and ballet dancer.
"What I've enjoyed most about this place is the way that they kind of cross over from one genre to another," Cooper said. "You see musical theater students building pieces of scenery or doing lighting. You see drama students in jazz class. I think it's great that there's an opportunity to cross over because for a career in the performing arts, you need to have as many strings to your bow as possible, and I think the fact that they're doing that here with the training is fantastic. So I will certainly take that with me and try and encourage that in some of our institutions back in the UK."
Tickets are $10-$30. Call 405-325-4101 or visit
ou.edu/finearts/universitytheatre
.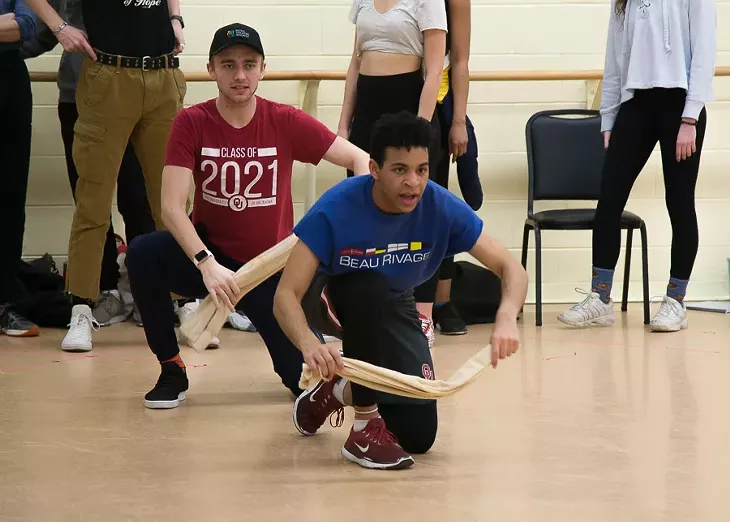 provided
University of Oklahoma theater students rehearse for Grand Hotel.
Grand Hotel: The Musical
8 p.m. 8-9, 3 p.m. March 10
Elsie C. Brackett Theatre
University of Oklahoma
500 W. Boyd St., Norman
ou.edu/finearts/universitytheatre
405-325-4101
$10-$30