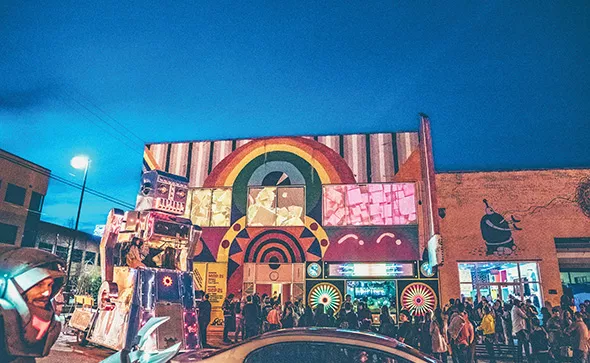 Todd Clark / provided
Factory Obscura estimates more than 1,000 visitors attended the phase one opening of its interactive installation Mix-Tape.
Mix-Tape
11 a.m.-7 p.m. Thursdays-Saturdays and 11 a.m.-5 p.m. Sundays
The Womb
25 NW Ninth St
factoryobscura.com
Free
Neil Diamond's "Song Sung Blue" reminds Tammy Greenman of a Volkswagen.
"I have a very strong visceral memory of my mom driving around England in a yellow VW bug, listening to that song," Greenman said. "I associate it with feelings of wind and freedom and sun, and for some bizarre reason, I think of bluebirds."
Greenman, director of strategic creativity for Factory Obscura, said the artist collective's latest installation, Mix-Tape, is inspired by ideas, memories and other sensations and experiences music creates for listeners.
"Everybody chipped in and picked a song that they felt really spoke to them on an emotional level, and we kind of worked through that," Greenman said. "We talked about how it made us feel, what kind of visuals or physical sensations we associate with that song. What time of the year do you associate with that song? How does it feel? How does it move you? Is there a movement that you associate with that? Is there a specific sound from that song that you identify with? We went through all of that. We go pretty deep on our design."
Phase one of Mix-Tape, Factory Obscura's third installation following Shift and Beyond, opened March 21 at Wayne Coyne's psychedelic art gallery The Womb, 25 NW Ninth St. A gift shop selling items created by Factory Obscura artists as well as merchandise from Coyne's band The Flaming Lips and Santa Fe, New Mexico, artist collective Meow Wolf is open on-site 11 a.m.-7 p.m. Thursday-Saturday and 11 a.m.-5 p.m. Sunday. The lobby also contains a tire swing-sized flora pod from Shift and The Flaming Lips' interactive installation The King's Mouth, which the band recently refurbished and improved.
"It's a full experience," Greenman said. "You get inside of it. There's a music and light show that goes along with it and it's pretty powerful."
An interactive shop window partially inspired by Greenman's background in creating retail window displays and designed to mimic a boom box cassette player can be operated by visitors even outside the gift shop's operating hours.
"Since this is just phase one, we wanted to do something that the public have easy access to," Greenman said. "We started to talk about what it could look like if that window was interactive. … One part of it was, 'How can we make this accessible to the public for long periods of time?'"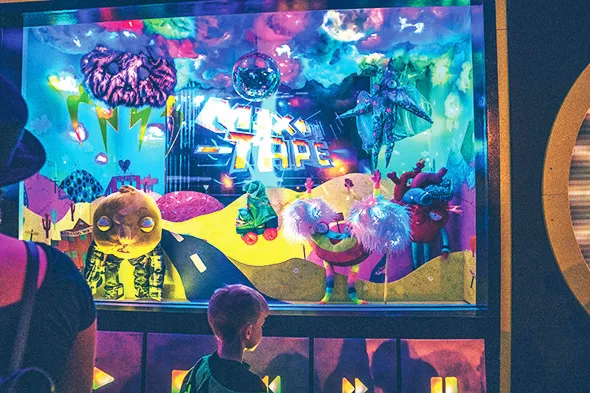 Todd Clark / provided
Characters in Mix-Tape's interactive shop window display will be incorporated into the 6,000 square-foot installation scheduled to open Sept. 21.
Nearly 1,000 visitors attended the phase one opening, Greenman said, many curious to see The Womb reopened.
"When The Flaming Lips had the space, it wasn't open to the public, so you had to be invited to come to any sort of party or gathering that they had," Greenman said. "And toward the end, they were few and far between. So I think that there was a real interest in seeing it, even though in reality, we completely changed everything."
Visitors wanted to have a look, but Greenman said many had to be convinced it was OK to push the interactive installation's buttons.
"One of the things that I enjoy is watching people interact with what we create," Greenman said. "What I found interesting was people were hesitant to touch anything at first, which we find with our experiences in general. It's something that we have to remind people — they are allowed to touch. So getting them to touch the buttons at first was interesting, and then when they did touch it, sometimes the idea that you could touch more than one was interesting. We do have some, if you push a few buttons at the same time, it does a whole new different thing. … What I loved about it, and what I love about what we do in general, is the joy and wonder that come across people's faces and how excited they get when they realize, 'Oh, it'll do something,' or 'I can make it work.' So that was super fun."
Another round
Phase two, scheduled to open Sept. 21, will expand Factory Obscura's first permanent installation to 6,000 square feet, doubling the area of the collective's previous installation, Beyond. In its expanded form, Mix-Tape might feature augmented and virtual reality elements, Greenman said, but the collective wants its creations to retain a "hand-crafted" feel.
What we wanted to do is introduce a little bit more technology because we really feel like that's an important part of the experience also," Greenman said. "But we always want to maintain a balance between those two things because the tactile and physical environment are just as important as the visuals and the auditory. … It's really important that we engage as many of our participants' senses as possible."
The completed installation will use the characters featured in the phase one window display as "jumping off" points for an interactive exploration of music's relationship to memory, emotion and creativity.
James Banks / provided
Mix-Tape's boom box features interactive light displays that are accessible 24/7.
"The whole idea of Mix-Tape is to create, basically, an audio autobiography from the team of Factory Obscura and put that out into the public," Greenman said. "So we're taking songs that we would put in our own mix-tapes to kind of tell people who we are and interpreting those in a physical, 360 [degree] environment. … You won't walk in and be like, 'Oh, there's a literal interpretation of this song.' It's more going to be the feelings that are associated with that song, and we're going to try and create those feelings and these spaces. They'll flow together. It'll be similar to what we've done before, but we're just going to step it up. … There are numerous aspects of it that are going to be things that we have never done before, that I have personally never seen before. I'm really excited to show that to the public and have people come in and participate in this experience with us."
Founded by Greenman with Kelsey Karper, Laura Massenat, Laurent Massenat and Hugh Meade and sponsored by Mason Realty Investors, Factory Obscura currently employs seven artists full-time with benefits and five part-time artists, Greenman said, and the collective plans to employ 85 people or more when it realizes its long-term goal of opening a 40,000-60,000 square-foot permanent space. In all of its installations, Factory Obscura wants to offer visitors a personal experience combining elements from art galleries and amusement parks.
"Within our larger spaces, we create smaller spaces," Greenman said. "We want this to feel authentic and for there to be an organic-ness to it, in a way. All that stuff at Universal and Disney is super cool, but there is — and this is just me personally — there is a feeling of a plastic-ness to it that we would like to shy away from. We think that there's room for everybody within this new experience economy, and this is just the route that we've chosen to go. That's why there will always be that organic, kind of tactile, handmade, handcrafted-ness to our work."
Admission during phase one is free. Visit factoryobscura.com.