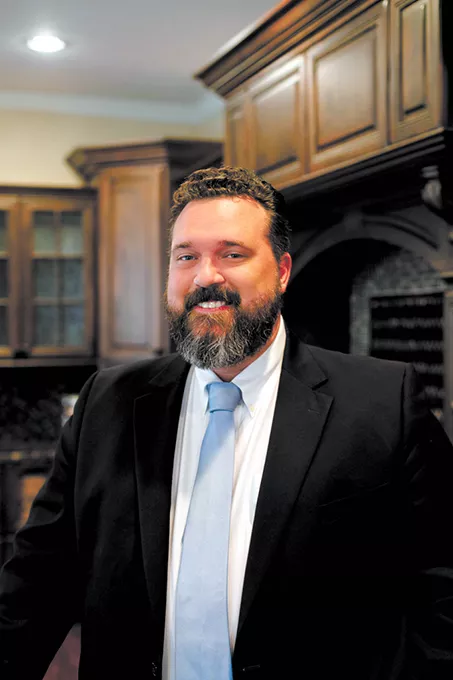 provided
Bud Scott, executive director of New Health Solutions Oklahoma, is working with potential operators to build an equitable medicinal cannabis economy.
Editor's note: This article is part of a series examining cannabis and cannabinoids in Oklahoma leading up to the June 26 medical marijuana referendum.
If State Question 788 passes on June 26, Bud Scott's yearlong campaign to create an industry framework for medical marijuana in Oklahoma will be ready to set in motion.
Scott, an Oklahoma City attorney who serves as executive director of the industry trade organization New Health Solutions Oklahoma, said his group is working closely with about 30 potential state-based operators in multiple sectors of the medical marijuana economy. The goal, he said, is to help steer these individuals to where they can best thrive if Oklahomans choose to legalize the medical use of tetrahydrocannabinol (THC), the psychoactive ingredient in cannabis.
"They're all Oklahomans, by the way," Scott said in an interview with Oklahoma Gazette. "These are all Oklahoma investors looking to be direct licensees, either cultivators, processors, distributors, laboratories, security companies and ancillary services like banking and financing. So we have all different interests represented in our organization. They basically call the shots — they tell me what they want to do and then we work on implementing that policy."
For now, New Health Solutions Oklahoma is actively lobbying for passage of SQ788, but the state question is not a panacea — it simply opens the door. Scott's group is working to do something different with the state's potential medical marijuana industry: establish a road map for its startup and growth.
"This is something that has never been attempted in other states," Scott said. "That is the coordination of investment and market development around the cannabis industry prior to its birth. We're attempting to coordinate investments so you don't have market saturation in the product here."
Like any industry, economic principles of supply and demand will hold true for medical marijuana. Scott points to implementation in Washington and Oregon, where operating licenses were issued freely and without much consideration for the ramifications of a glutted marketplace. Because Oklahoma is coming to this legislation more than two decades after California passed medical marijuana legislation, groups like New Health Solutions Oklahoma can learn from the experiences of those who have gone before.
"Licenses were just handed out like Xanax," Scott said. "You had way too much product coming out in the market to a point where it was no longer profitable for anyone to actually participate in the industry. And you have black market develop, as well. So we want to make sure that doesn't happen."
That potential oversaturation applies to the individual sectors, too. For instance, Scott is working with investors to help them find their level in a medical marijuana economy, attempting to ensure that not too many people go into farming, distribution or other areas. He said that organizing a well-rounded industry before implementation will be easier than trying to adjust after a disorganized cannabis gold rush.
Cautionary tale
Scott points to what he calls "abject failures" among states that either implemented without a carefully created system of rollout or created unwieldy systems that limited the economic benefits of medical marijuana.
"Let's look at Arkansas," Scott said. "Well, Arkansas is a big problem because they attempted to do what we call a monopoly program."
According to Scott, the state's Medical Marijuana Commission split Arkansas into five regions and then issued only one license per region, giving single companies virtual control over cultivation, processing and distribution of medicinal cannabis.
Problems with the system continued. According to Associated Press, an unsuccessful applicant filed a lawsuit against the commission, claiming that its system for scoring applicants was flawed and citing conflicts of interest with two of the commissioners. In March, Pulaski County Circuit Judge Wendell Griffen effectively shut down the program in response to the complaint, saying the process violated the language of the constitutional amendment that made medical marijuana legal in Arkansas.
In his ruling, Griffen wrote that "Arkansans who suffer from chronic, debilitating, and life-threatening health conditions must now endure more delay before gaining much needed access to locally grown medical marijuana because the defendants — state agencies responsible for implementing the Medical Marijuana Amendment to the Arkansas Constitution — violated their constitutional and administrative duties."
Scott said the issues facing Arkansas and other states like New York and Texas can be used as an object lesson for Oklahoma to create a workable system.
"This is an opportunity for us to avoid that scenario, he said. "There's a lot of people who are going to want to come in and claim the entire industry. The way we view this is there is plenty of room. We can evolve into a healthy, sustainable industry. However, it has to be done judiciously and with a lot of care."
Legislative roadblocks
Other states passed legislation that restricted conditions under which medicinal cannabis could be licensed to a patient. In Oklahoma, Senate Bill 1120, authored by Sen. Ervin Yen, R-Oklahoma City, sought to restrict licensing to what it called serious medical conditions such as "neuropathic pain, persistent muscle spasms due to multiple sclerosis or paraplegia, intractable nausea or vomiting due to chemotherapy or loss of weight or appetite due to cancer or HIV." However, the bill died with the end of the legislative session.
Scott points to New York as an example of what can happen when restrictive legislation effectively narrows how many people can benefit from medical marijuana.
"In New York, you had a medical program develop, but it was so strict by virtue of the Legislature and their rule-making process that you only had a handful of qualifying conditions, you required the pharmacist to own portions of the facilities, you made it so unattractive that the industry would just never develop," Scott said. "And obviously, that's usually on purpose."
Scott said New Health Solutions Oklahoma is hopeful that the state question will pass next month, not just for the advancement of medicinal cannabis as a treatment for multiple ailments, but because of the potential revenue that could come to a cash-strapped state.
"Hopefully, what Oklahomans will recognize is that this is a tremendous opportunity to attract a multi-billion-dollar industry in this state, to alleviate pain and suffering for so many Oklahomans and also hopefully provide some funding to these school kids and teachers."