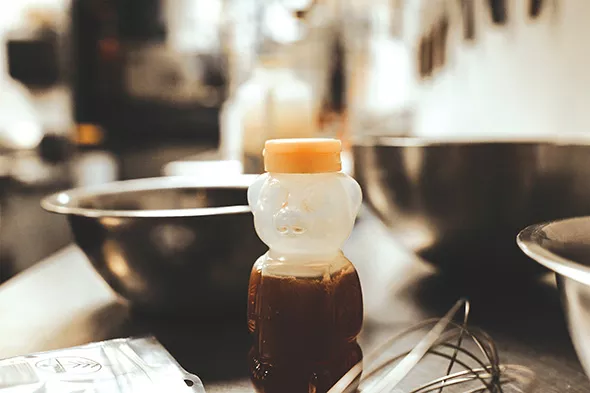 Alexa Ace
Infused honey allows home cooks to control how much medicine they apply to the salad.
Spring has sprung, and the warmer temperatures pair nicely with cool greens. This season, that salad can be extra relaxing with the right dressing.
Oklahoma Gazette teamed up with the chefs at Guyutes, 730 NW 23rd St., to offer some infused dishes off the beaten path.
Guyutes owner Jarrod Friedel and chef Matt Pryor have created medical marijuana-infused recipes absent of the cannabis aftertaste. This month, they've prepared a salad dressing with infused honey.
First, the honey has to be infused, which is a longer process than most THC extractions or infusions.
But before that, the cannabis has to be decarbed. Decarboxylation is the process by which heat separates the THC from the plant matter and readies it for absorption by the liver.
Friedel recommends breaking up the medical marijuana — about 10 grams will be needed to make infused honey — either by hand or with a grinder. He cautions not to grind the flower into a fine powder. Put the marijuana on top of parchment paper on a baking sheet and preheat the oven to 220 degrees Fahrenheit. If the oven rises above 300 degrees Fahrenheit, it will burn the flower and rob it of its medicinal effects.
Once the cannabis is decarbed, fill a Crock-Pot halfway with water and set it on low. Place the cannabis in a cheesecloth and tie it with string. Drop the bundle into a Mason jar, pour a cup and a half of honey inside and put the lid on it. Drop the jar in the crockpot. Make sure the jar is submerged past the level of the honey, but the water doesn't cover the entire jar.
Every two hours, remove the jar from the water and open the lid to release pressure and submerge the jar again. Repeat four times, or up to eight hours. Two four-hour sessions can achieve the same results. Allow the jar to cool before removing the cheesecloth bundle.
"Slow-cookers would also work for people that had actual slow-cookers with timers. They can do a set time for the cooking process," Pryor said. "So by itself, it's super, super-duper strong, so that's why we're going to go ahead and make it into a salad dressing. You can control your temperature a little bit more so the actual strain came out stronger into the honey than it did any other process."
For this honey, Friedel used Zsweet Inzanity from Nice Tree, his grow. This particularly strain tested at just over 24 percent THC.
To make the dressing, combine lemon juice, lemon zest, honey, mustard, thyme, salt and pepper in a large mixing bowl. While whisking, slowly add the olive oil until emulsified.
"We'll use probably half a cup; half a cup or more. It all depends on your intensity of the flavor that you want and the intensity of the marijuana that you want," Pryor said. "Some people do like broken vinaigrettes. You don't have to be perfect with it. You can stay broken because I like the idea that it's just kind of imperfect because people are imperfect and their cooking is imperfect."
Spread the dressing lightly over mixed greens and toss by hand.
"It's just going to be roughly one and a half spoonfuls. Nothing huge," Pryor said. "You just want a nice coat. That's why, even with the amount of THC in there, it's still not going to be heavy on you. You're not wanting to drown it."
Top the salad with strawberries, goat cheese, chopped bacon and fried wonton strips. Pryor recommends also using baby radishes instead of larger ones.
"They're not as peppery, not as hot. … You're just using the crunch factor. They're tasty that way," he said.
This recipe makes about six servings. Additional honey can be used to make more dressing or flavored teas or be stored in a cool, dry place for later use.

Making the infused honey
1. Fill a Crock-Pot half full of water, set the temperature to low.
2. Place 10 grams of decarbed marijuana inside a small cheesecloth and tie it up like a sachet with butcher string.
3. Place the sachet inside a Mason jar and pour 1 ½ cups of honey into the jar.
4. Place a lid on the jar, set it inside the Crock-Pot and add more water if necessary to submerge the honey but not the jar completely.
5. Place a lid on the Crock-Pot and set a timer for two hours. Every two hours, carefully remove the jar from the water and carefully remove the lid to release pressure.
6. Replace the lid and return the jar to the water. After eight hours the honey is infused. This can be done in two four-hour sessions if you do not have eight hours of time.
7. Allow the honey to cool before removing the sachet. Scrape the sides of the sachet and discard or steep in some hot tea for a real fun time.
8. Store the honey in cool, dark place.
This recipe used Zsweet Inzanity, 24.02 percent THC
10 g x 1000 = 10,000
24.02 percent x 10,000 = 2402
1 cup = 16 tablespoons
24 tablespoons/2402 = 100.08
100.08 mg THC per tablespoon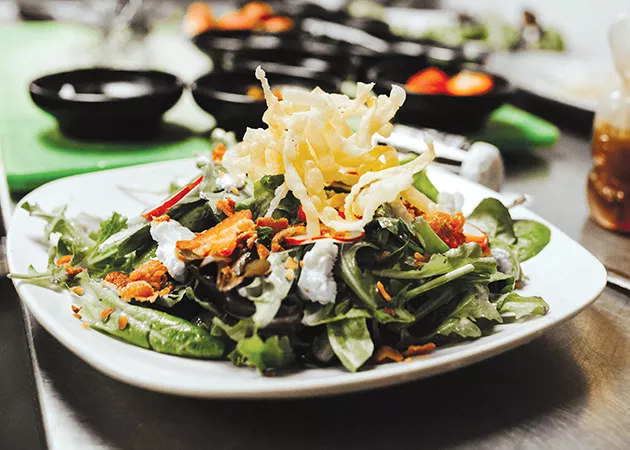 Alexa Ace
The Guyutes salad tops mixed greens with strawberries, goat cheese, chopped bacon and fried wonton strips along with its infused honey dressing.
Salad dressing with infused honey 3 tablespoons of fresh lemon juice
2 teaspoons finely grated lemon zest
2 tablespoons honey
1 teaspoon chopped thyme
2 tablespoons Dijon mustard
1 pinch of kosher salt and freshly ground pepper
1/2 cup extra-virgin olive oil
Combine all ingredients except the olive oil in a mixing bowl and whisk thoroughly. While whisking, slowly add the oil. Whisk until fully emulsified.
mixed greens
strawberries
baby radishes
goat cheese
chopped bacon
fried wonton strips
Drizzle lightly over the salad to coat and toss.
Review
A refreshing salad hits the spot, especially when the weather gets warmer. The combination of strawberries and radishes provides crispness and sweetness that is well balanced with the addition of salty goat cheese and bacon crumbles. It's becoming a trend with the recipes provided by Friedel and Pryror, but there is no marijuana aftertaste. After combining all of the ingredients in the vinaigrette, it was balanced between the sweetness and the acidity of the lemon. The fried wontons are a nice replacement for the traditional crouton crunch. The fun thing about this recipe is that you can use many citrus variants if you'd like to try something other than lemon. Pryor said he wanted to use citron but wasn't able to find any before our test. He also said yuzu would work very well, and those ingredients will likely become more readily available as spring turns to summer.
As was the case with the pesto and mustard sauce in previous editions of this feature, the salad dressing allows the user to control how much medicine is applied to the dish. There is no guessing game like there is with a baked good that uses infused butter or oil. Since a tablespoon of dressing has 100 milligrams of THC, I used the dressing lightly on the salad, drizzling a few teaspoons. I got a slight body high about 40 minutes after ingestion that lasted about four hours and helped put me to bed around 11:30 p.m. I recommend making sure the vinaigrette is good and emulsified because the infused honey is much heavier than the other ingredients, so it would be easy for it to sink to the bottom and make for an inconsistent dosage. —Jacob Threadgill