Book in hand, OKC Ward 5 Councilman, David Greenwell boards bus #16 driven by Anthony Sistrunk, at the downtown Metro Transit terminal, just blocks from his work. mh
David Greenwell's Twitter feed often includes photos from the No. 40 or the No. 16 bus. It depends on which route he takes.
The Ward 5 councilman recently embraced public transportation, which not only gives him a car-free commute between his south Oklahoma City neighborhood and downtown but offers him a closer look at a department the city has said it wants to grow.
"There is very little difference between me catching the bus and me just driving on my own," Greenwell, 60, said. "Anyone that will listen to me, I tell them that if they can, they ought to ride the bus."
Greenwell works at Cole & Reed, P.C., an accounting firm several blocks from the downtown transit center. Greenwell isn't the only newcomer to the city's bus system, as an additional 500,000 riders a year have boarded a city bus over the past two years.
The number of routes and riders in OKC still falls short of other peer cities, but there has been an effort by city leaders in recent years to increase funding and frequency.
Greenwell is not just a passenger on the city's growing transit system. As a member of the Oklahoma City Council, a firsthand look at the city's buses gives him additional credibility in calling for increases to transit funding.
"It's very encouraging to have somebody from city council or other leaders riding our buses," said Jason Ferbrache, director of the Public Transportation and Parking Department, which oversees Embark, OKC's bus system.
Ferbrache said the council has pushed more funding to transit over the past few years and he believes it is because city leaders like Greenwell have a deeper understanding for the importance of transit.
"I think increased ridership is probably the No. 1 indicator [of success]," Ferbrache added. "But I also think that if a city official, or any new rider for that matter … walks away feeling like Embark provided safe, reliable and friendly service, that's important to us as well."
Greenwell said he has found the bus system to be all those things. And by riding the bus, he also gets to hear the thoughts of his constituents.
"You never know who you are going to meet on the bus," said Greenwell, who never mentions he is a member of council. "I get to engage in many conversations during the ride."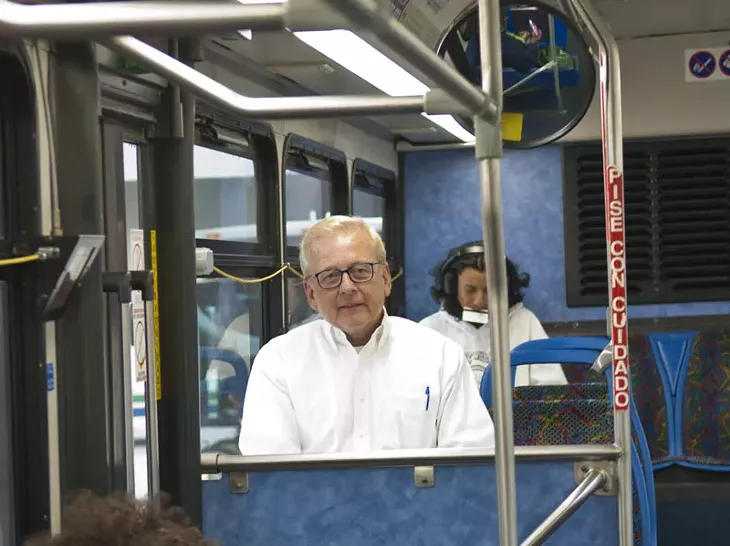 OKC Ward 5 Councilman, David Greenwell takes bus #16 home, walking to catch it at the Metro Transit terminal, just blocks from his work. mh
Getting connected
Public transit isn't the only new addition to Greenwell's life — he also recently became a Twitter user (
@GreenwellOKC
).
"What I continue to hear is that there is a shift from Facebook ... to platforms like Twitter that appear to be more current," Greenwell said. "I thought I should try it."
Zach Nash, creative services manager for the city, helped Greenwell create his Twitter account and offered tips on how to get started.
"We talked about what Twitter is and the best uses, and not just the best uses for what is going on at the city but also how to engage and connect with his constituents," Nash said. "He was really eager to get it going."
Nash, who oversees many of the city's social media accounts, said it has become a great tool for interacting with citizens and addressing concerns in a quick manner.
"You really get an understanding of what people are talking about and are able to engage in those conversations," Nash said. "That's the really great thing about Twitter for government and government officials."
It's not uncommon for public officials to gain attention for inappropriate tweets, but the majority seem to use common sense in their approach. Greenwell said he has been a Facebook user but has noticed a trend toward Twitter.
A Pew Research study from 2013 showed that urban residents are much more likely to use Twitter than their rural or suburban counterparts. Twitter also has a higher appeal to younger users than Facebook, according to the Internet analytics firm comScore. The average age of a Twitter user is 35, and it's getting younger each year.
That stat makes Greenwell's recent Twitter use all the more impressive since it's not usually a hobby taken up by those in their 60s.
"There are other [councilors] that are using social media, but Councilman Greenwell really wanted to sit down and see how the city is using it," Nash said.
A person's embrace of public transit and social media might not be too newsworthy. But as a member of the city council, Greenwell has shown an effort to connect more with his surroundings.