Bigstock
An unidentifiable womans hand holds Medical Marijuana aka Pot, Dope, Mary Jane, Joints, Wacky Weed, Loco Weed, Ganja, Medicine, Bud, Shake, herb, cannabis, purple kush, kush, thc, prescription.
Oklahomans for Health, the local grassroots organization spearheading an upcoming petition drive to allow medicinal cannabis in the state, has an ally in Joe Dorman, a former Oklahoma state representative and gubernatorial candidate.
Dorman favors legalizing medical marijuana and is helping with the wording of the upcoming petition.
"Somebody's got to do something," Dorman told Oklahoma Gazette. "We need more courage out there from people in all areas, especially politics, to step up and consider what's best for the people."
The upcoming petition drive is the third cannabis petition to circulate the state in as many years. Oklahomans for Health collected signatures in 2014. A separate group, Green the Vote, collected signatures last year. Both fell short of the number of signatures required to force the issue onto a ballot for a public vote.
Oklahomans for Health said this effort marks the last marijuana petition of this political season before the November vote.
Organizers noted that even if supporters signed each petition that came before, this one is new and they will need to sign it if they want their voices heard.
Also, a petition signature isn't valid unless you are registered to vote.
A launch date is pending, but the group expects to begin circulating petitions sometime around the end of April or the first part of May.
This petition differs from previous efforts, said Frank Grove, Oklahomans for Health co-chairman.
"It's a referendum instead of a petition initiative for the constitutional amendment," he explained.
That means the group needs 65,000-66,000 valid signatures, or about 86,000 signatures to buffer for its expected error rate.
Having crunched numbers from previous petition drives, Grove said the goal is easily within reach.
"I don't know if I will ever run for office again," Dorman added. "I'm certainly considering it, but it is far more important to address issues and do what's right rather than do what is the most politically valuable."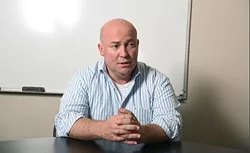 Mark Hancock
Joe Dorman
Compassionate policy
Dorman explained why he supports medical marijuana. He watched his father, who was in an accident when Dorman was 4 years old, suffer with chronic pain throughout his life.
"He took pain pills for as long as I could remember, and he progressively got worse until he was in a wheelchair in his later years," Dorman said. "My dad was scared to death to take the full prescription of painkillers that his doctor prescribed to him. He would cut them in halves or quarters. He would live with the amount of pain he could deal with and not take the full pill because he didn't want to get zoned out or addicted.
"I don't want to have to see anyone go through something like that. It's barbaric to limit people's opportunities for a normal life through whatever means a doctor prescribes. Even Gov. Mary Fallin agrees with that. One of her top issues she promoted is limiting access to prescription narcotics and trying to deal with that problem."
Dorman said he was one of the first Oklahoma lawmakers to look into allowing the use of cannabidiol (CBD) to treat Dravet syndrome, a rare type of epilepsy with seizures that often starts in infants when they turn six months old.
"Governor Fallin came on board with that later, but there's still not a movement that is going far enough to address all of the problems," he said. "That was only for kids. We have people of all ages that have issues with seizers, or epilepsy or chronic pain. There needs to be something that is available and accessible for all Oklahomans."
Dorman said he is working with Oklahomans for Health because he wants to make sure the petition language best addresses the needs of those who would benefit from this law.
"I certainly want to make sure that this goes under a doctor's care, that it is prescription and we address the laws and make sure people are using this without breaking any laws," Dorman said. "We have to look through the statues and make sure [it] will stand up to legal scrutiny because I am certain there will be challenges. … We have to have an airtight case to present."
The costs associated with end-of-life-care comprise the bulk of overall health care costs, and Dorman said access to marijuana would significantly reduce that burden for patients and families.
He expects a major challenge to come from big pharmaceutical companies. Dorman believes the petition must clearly convey that pot use would be legal for medical reasons only. He sees the resistance to marijuana as simple fear people have from believing everything they've heard about the issue.
He said he does not favor marijuana legalization for recreational use.
Divided states
"I'll be honest — and I want to point this out very clearly — I have never smoked marijuana in my life. I have been around people who have smoked, but I have never personally tried marijuana. It is not for me. It is against the law, and I just don't believe you should do that," Dorman said. "I think it is ridiculous, though, that if a doctor says that it is the best treatment for an individual to deal with some kind of health issue, that it is automatically ruled out because of a societal belief that every aspect of it is bad."
When asked if he drinks alcohol, Dorman said he does, and the only real difference he sees between alcohol and marijuana is in their legal status.
"I think alcohol is bad, even though I do drink," he said. "But we do have restrictions on alcohol."
Dorman spoke with the Gazette Feb. 6, the day after political commentator and comedian Bill Maher made headlines by lighting up a joint on his live show Real Time with Bill Maher. Within his commentary leading up to the stunt, Maher brought up the case of Raymond Schwab, a Kansas-based Gulf War veteran with post-traumatic stress disorder. Schwab planned to move his family to Colorado to grow marijuana. Kansas Child Protective Services heard about his intention and removed his five children from the family home.
Maher pointed to Schwab's case as an example of how having contradictory medical marijuana laws from state to state tears apart families and said that Schwab's case is not unique. Ultimately, Maher called for Congress to legalize marijuana at the federal level.
Dorman said he agrees with Maher's argument, but he also feels it is important to take action at a state level.
"A piecemeal hodgepodge of laws by different states is not truly effective," Dorman said, citing the lawsuit Oklahoma Attorney General Scott Pruitt filed for the U.S. Supreme Court to strike down Colorado's marijuana laws because they violate federal law.
If Oklahoma and Nebraska, which also filed suit against Colorado, are successful, many say it would be a major blow against states' rights. Theoretically, using the same legal argument, one state could sue another for guns coming across a state border.
"You've seen what's happened here in Oklahoma with our attorney general trying to waste millions of dollars to fight the issue because Colorado allows it," Dorman said. "Until something happens at the federal level, there's not really going to be a good system in place for people to have access to this for medicinal purposes. However, I do think each individual state should look at it, because that is how you influence change at the federal level."
Agricultural impact
Medicinal marijuana can positively affect many areas of Oklahoma, Dorman said. He pointed to how many farmers and agricultural organizations — including American Farmers & Ranchers Mutual in Oklahoma City — are now in favor of allowing industrial hemp farming in the U.S.
This country has a high demand for hemp products, though hemp production was made illegal with the prohibition of marijuana. Canadian farmers make a lot of money exporting hemp products to the U.S.
"So you have a group that is traditionally very conservative-minded, but sees the benefit of this as an agricultural product," Dorman said. "This is the first time we've had a major organization being in full support, in Oklahoma, of one aspect of this publicly. So I do think the attitude is changing on different levels."
When asked if he saw the medical marijuana issue as something the Democrat party can use to reach out to younger voters, Dorman said he saw it more as an opportunity for young people to get involved with the process and help shape the party's message. His major concern is voter apathy.
"We had the lowest turnout in state history of voters in 2014. In 2012, we had the third-worst turnout in the United States," Dorman said. "We need to find ways to get voters engaged, and if voters are interested in those issues, then they need to take it one step further and get involved with the process and try to make change in the system."
When asked if he would be willing to debate the issue, Dorman said he feels what we need is not a debate, but a healthy discussion with experts involved.
"I would certainly defer to a doctor or someone who understands the treatment of chronic pain or the issues with treating seizures or the different aspects where you would see this treatment used," he said. "I think that would be a far better panel to discuss this. There are going to be people opposed to this, but I would rather the people who are opposed to it be opposed to it for legitimate reasons and not just from fear and paranoia."
The biggest problem facing Oklahomans for Health is the paranoia professionals have about being associated with the medical marijuana movement. Politicians, doctors, lawyers and professionals of all types told the organization they support the group, but few have publically done so. Even a few group volunteers work surreptitiously for fear of reprisal from their employers.
"Hopefully, we'll see the medical community get onboard, we'll see individuals who will realize this is an acceptable way to treat different medical conditions and we'll see a much more positive response," he said. "There are far too many people trying to tie this to 'It's just people wanting to smoke marijuana' or that it is one more step toward full legalization — just the multiple stereotypes you hear.
"We are going to try and overcome that image and show people that this is a serious issue and this is a serious effort."
Exhale
Just as the issue has attracted younger voters to the Libertarian Party, Grove said he believes it hurts the Democratic Party to sit on the fence on this issue.
"It is so obviously scientifically correct. … It has the support of the majority of Oklahomans. It is obviously the way of the future. It seems easy to make the right decision and be on the right side of history," Grove said. "I appreciate Joe. He showed up at one of the Occupy State General Assemblies years ago, when he was a representative. He handed out a bunch of documents about how to lobby and about the legislative process. He's always been a friend to grassroots politics. I think him being on the fence has hurt him on this issue, but him coming out for medical marijuana will help both him politically and us politically."
Grove is happy to have Dorman working with Oklahomans for Health.
"Joe Dorman has a name people recognize because he ran for governor and he got a lot of votes," he added. "I'm hoping people see his name and associate him as being a pretty reasonable individual because he's pretty reasonable; he's pretty centrist about everything."
Oklahomans for Health holds a March 5 Cannabis Coalition meeting in Norman. Location and time were not finalized at press time.
Print headline: High time, Former Oklahoma state representative and gubernatorial candidate Joe Dorman speaks out about his support for legalizing medical marijuana.