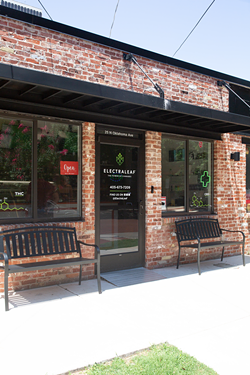 Gazette / file
ElectraLeaf and its other brands won first or second place in eight categories at this year's Oklahoma High Times Cannabis Cup.
The first Oklahoma
High Times
Cannabis Cup was a muddy and sweltering affair attended by tens of thousands of people. This year, the awards ceremony was two dudes livestreaming from a couch, which definitely felt more like the right vibe.
Of the 10 categories, the clear winner was one brand family. ElectraLeaf; its grow operation, ALTVM; its Crispy's and Swerve edibles; and the soon-to-be-launched Sweet Stuff line took 10 awards, either garnering the cup or a second-place finish in eight of them.
The easier way of putting it is that it did not place in the pre-roll or hybrid flower categories, which it also entered.
ElectraLeaf took cups home for its vape cartridges and roll-on topical while ALTVM's Lilac Diesel flower won best sativa strain and its Crispy's Iced Out Oreo Bar won the food edibles category.
"I was shocked," co-owner Pedro Sotomayor said. "We hoped and expected to win something because we were really proud of the entries that we put in, but to win 10 was a blessing and a testament to all the hard work we've put over the years. It was definitely a lot of hard work, even getting all that ready just to put it in. We have specialists, you know, in every department that do what they do really well. And we all come together as a team to bring it all to market."
He said a large number of patients do not even realize that all of those products actually belong to the same cannabis brand family.
"People that know just know by chance or so to speak," he said. "We don't necessarily always advertise it that way. But really, we just hope people follow the quality."
While ElectraLeaf is the brand that took the topicals cup, it also won a medal in the category for its line of women's products soon to be released.
"Sweet Stuff is a new brand we're about to launch," Sotomayor said. "Sweet Stuff won second place for topical with their Flawless Anti-Aging Moisturizing Cream, so that's a new brand that we're about to launch here sometime in August."
Sweet Stuff will also have pink and rose gold vape carts, among other products.
"We're also going to be donating a portion of the profits of that brand to organizations that support women's rights and women's equality," Sotomayor said.
This month, Crispy's has released its Ruffled Cereal Bar, which is ridged potato chips and marshmallow drizzled with chocolate. Meanwhile, the Swerve brand, which took second place in food edibles for its Lights Out Indica & Melatonin Gummies and second place in non-food edibles for Cherry Cough Drops, is expected to release a line of cartridges in August.
"Those carts are going to come in five different boxes that are collectible. Basically, each different box has a different charity organization that it's going to project profits towards," Sotomayor said. "So we have one box with the tiger on it, and that's gonna be for animal rights. We have one with a fist for quality. We have one for LGBT, and we have one for veterans as well."
Still with me? Got all that straight? Good. Because I've saved the best for last.
ElectraLeaf and ALTVM have also forged a deal with the popular California brand Cookies.
"We're growing the Cookies strains right now. They're going to be launching this fall," Sotomayor said.
"We are in a partnership with Cookies right now, and we're going to be growing a bunch of their stuff," ALTVM grower Dave Dodson said. "We have their first batch in flower. Should be a very small, limited release dropping sometime in late summer, early fall."
So in addition to growing the Cannabis Cup-winning ALTVM strains, he is also tending to those Cookies strains in their new 9-acre, 70,000 square feet greenhouse. Between the Cookies and ALTVM strains, they currently have about 10,000 live plants. The ability to grow an unlimited number of cannabis plants is what enticed Dodson, who has been growing medically for a decade, to sell his company and move to Oklahoma from Michigan.
"I like to focus on pheno-hunting and different genetics, and in order to do that, you really need to have a lot of plants," he said. "You need to test a lot of plants, you need to grow a lot of plants from seed, and the only way to do that is to be able to have a lot of plants."
Many of those plants are grown in a building attached to the new ElectraLeaf location in Edmond as well.
"Our new dispensary is there as well. It's right at the grow," Dodson said. "If you ever want to get the freshest stuff, come right to the source."
The Edmond location, 225 Garage Drive, is now open but is currently only providing curbside service.
"I'm not here to say we're the best. I just say we're among them," Sotomayor said. "The best is an opinion, and so is the Cannabis Cup, but at the end of the day, the people of Oklahoma spoke."
High Times Cannabis Cup Oklahoma:
People's Choice Edition 2020 winners
Indica Flower
First Place: Tina — Red River Pharms x Exotic Genetix
Second Place: Garlic Breath — ALTVM
Third Place: Glue 4 — Texoma Labs
Hybrid Flower
First Place: Tropic Truffle — Red River Pharms x Exotic Genetix
Second Place: Biscotti — Trade Craft Farms
Third Place: Orange Krush — Higher Up Cannabis Co.
Sativa Flower
First Place: Lilac Diesel — ALTVM
Second Place: Nebula — Kured Cannabis Co.
Third Place: Thai Flower — Texoma Labs
Pre-Rolls
First Place: Biscotti Infused Blunt Pre-Roll — Trade Craft Farms x Infamous Woodz
Second Place: StrawNana Infused Pre-Roll — Gorilla Gardens
Third Place: Thunderstick — Releaf Labs x ALTRD & Troy Buds
Solvent Concentrates
First Place: NC Fire — Sunday Extracts
Second Place: Garlic Breath Diamonds in Lilac Diesel Sauce — Oil Tycoons x ALTVM
Third Place: Crystal Queen Live Resin Sugar — Desert Extracts
Non-Solvent Concentrates
First Place: Garlic Breath Solventless Daily Delight — ALTVM x Leaf Logic
Second Place: Sundae Strudel Live Rosin Batter — Stability Cannabis
Third Place: Sundae Supreme Live Rosin — Nature's Kiss Oklahoma x 918 OG
Vape Pens and Cartridges
First Place: Ultrapremium Hi-Cee Vape Cart — ElectraLeaf
Second Place: New York City Diesel Vape Cart — Sunday Extracts
Third Place: Watermelon OG Cart — Releaf Labs
Edibles: Food
First Place: Iced Out Oreo Bar — Crispy's
Second Place: Lights Out Indica & Melatonin Gummies — Swerve
Third Place: Dill Pickle Chips with Green Crack — Tina's Cannabis Kitchen
Edibles: Non-Food
First Place: Bloos Kloos 1000mg Tincture — Mr. Mack's
Second Place: Cherry THC Cough Drop — Swerve
Third Place: 500mg Capsules — Helix Extracts
Topicals
First Place: Extreme Pain Relief Cooling Roll-On — ElectraLeaf
Second Place: Flawless Anti-Aging Moisturizer — Sweet Stuff
Third Place: Cannabis-Infused Salve — Mary Jane's Medicinals x Desert Extracts
Source: https://hightimes.com/events/cannabis-cup/winners-high-times-cannabis-cup-oklahoma-peoples-choice-edition-2020