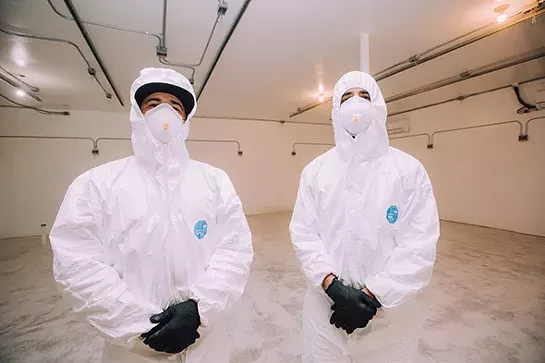 Out Here Visuals / provided
from left Cesar Herrera and Som Kiani
On a quiet block on the western edge of downtown Oklahoma City, street artist Jeks stands atop a scissor lift, painstakingly filling in the wrinkles on Albert Einstein's face with cans of spray paint.
A door bursts open and out walks model Christy Mack with a group of girls wearing identical outfits, a photographer and videographer on their heels.
A line of workers trickles in behind them in the parking lot for a look at the work in progress.
Another man walks up, blending quietly into the crowd, admiring the enormous mural, no small feat for a man standing over six feet tall with nearly every visible inch covered in tattoo ink.
His name is Darin Delaney. If the rest of this crew are the fingers of the B.C.C. Collective, he is its hand.
B.C.C. stands for "Blue Collar Criminals," and it's no misnomer. The inside of the building, 1015 NW First St., is a flurry of labor.
Beyond the area that will serve as the storefront for OKC's first hydroponic growhouse, a massive undertaking is unfolding in the nearly 11,000 square-foot building. Hundred-gallon water tanks sit on the other side of a wall for what will be the center of a clinically clean grow operation.
Inside a small room in the heart of the building, several dozen cannabis plants are currently growing, the first batch of the company's product. Many of the strains being cultivated will be exclusive not only to B.C.C., but the world.
"There is going to be a lot of what we refer to in this industry as 'mids,' meaning mid-grade, in this state. I guarantee it. And for some people, that's fine. For a lot of people, that's cool. But for the others, it's not. And we want to be synonymous with a very high quality," Delaney, 38, said.
He expects to have samples of what's to come available for a soft opening around the first of December. He said the operation will be running on all cylinders early next year.
What once was the factory floor of the Boaz Candy & Tobacco Co. will be a veritable jungle of cannabis plants.
Delaney purchased the building in August and loves to tell its story. For decades, it served as a cigarette-rolling and candy factory. He plans to honor the life of the site by framing and mounting several pieces of its history, including the first tobacco order from R.J. Reynolds in 1947.
Pre-rolled smokeable cannabis and marijuana edibles will replace the cigarettes and confections of last century.
"It just made this place absolutely perfect for a segue into our industry, the cannabis industry," Delaney said.
Big plans
Delaney is a man who has worn many hats. Born in Osage County and a Ponca City High School graduate, he has lived alternately here and in California, working in a variety of ventures, including the oil and gas industry, as a real estate flipper and as the co-founder of the clothing line that gave B.C.C. its name.
"It was just kind of more like a glorified hobby. We barely made enough to keep it alive, but people liked it a lot, people always liked the name. When we first opened up in L.A. and whatnot, dispensaries were some of the first people that emailed us and reached out to us and said, 'We'd like to carry your brand in our store,'" Delaney said.
Expecting a future federal rescheduling of marijuana, Delaney decided to reboot his brand at home. It now bills itself as "Oklahoma's premier cannabis company."
"I keep seeing this thing in two, three, four, five years. Ultimately, I'd love to have a Blue Collar Criminals cannabis product on a shelf in all 50 states one of these days," Delaney said. "For a long time, states were still giving people who were in our industry legally a hard time for a long time in the beginning. ... I think it starts to grow on you after you hear it, and then you realize you're kind of reclaiming the name in a sense. There's a lot that was illegal before that's now legal, and all those people were criminals at one point, and on these federal levels, it's still kind of this gray area, we'll say."
Cultivating talent
He has brought in Cesar Herrera, a well-known and highly respected grower from northern California. Among others, he's credited for the popular Do-Si-Dos and Mendo Breath strains.
Delaney and Herrera met about a decade ago.
"It always stuck in my mind, if it ever became legal in Oklahoma, I would definitely want to partner with him and do this thing," Delaney said. "So, lo and behold, it happened and I called him up a few months ago."
"I've never had a job," Herrera, 35, said.
But if you ask him a question about cultivating cannabis, prepare to take notes. Herrera's work is a labor of love. Taking a semester off after high school, he first smoked marijuana with some friends. That quickly led to him doing research on underground internet forums and then to experimenting with plants in his closet at his mom's house before moving out and starting a larger operation.
He has brought that experience with him and will debut some strains he has been working on at B.C.C.
When asked whether they'll be some of the best the world has ever seen, Herrera refuses to brag.
"It's an agricultural crop," he said. "You have some that are better and some that are worse, but as you go on — 17 years I've been doing this — you definitely learn how to avoid having problems."
Delaney's other local business, Premium Hemp & CBD Company, will be rolled into the B.C.C. Brand.
"I think it helps a different group of people," Delaney said. "I know it helps people that are getting up there in age just because of the aches and pains that come with making it that long in life. You have a cannibinoid system; you don't have a Pfizer system."
The Blue Collar Criminals Instagram has now been wiped of nearly five years of clothing content, but its more than 11,000 followers are growing rapidly. Delaney has given his girlfiend, Mack, carte blanche to run the account.
With planned weekly videos, it will also be the place to get up to speed on B.C.C. product.
"They'll line up like they would at a Foot Locker to get a new pair of Jordans," he said. "It's the same way. Because now you have connoisseurs and collectors.
Delaney loves to drop names, not to impress people with who he knows but because he likes to praise his friends.
"A lot of us — my friends, my team, my group — which again, I'm so proud of every one of them, they're all from kind of rougher backgrounds. Most of them. Almost all of them," Delaney said. "And I kind of take pride in that. Because if we can come from that background and really make something out of this industry, well, then that changes the stigma."
They're his friends. They're his employees. But above all, they're his family.
"I'll never use the term 'self-made' because I've had help along the way," Delaney said. "I just want to see all my homeboys eat. I just want to see everyone eat and do well. I'm excited to put money in everyone's pocket."
He has other plans for B.C.C., including block parties. And Jeks will be back to put more art on the building. Delaney said to expect big things.
"We want them to be like, 'That B.C.C. Collective, that place is like the top. That's the premier spot.' That's what we're after. We'll let everyone fight over what's left. I'm coming for the top spot," Delaney said.