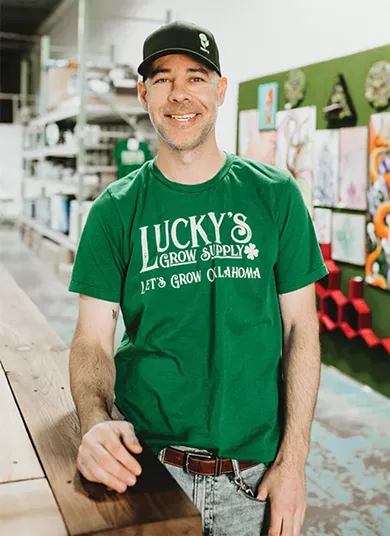 Alexa Ace
John Degerness of Lucky's Grow Supply, 7507 Broadway Extension, said his business is supplying hobbyists, commercial growers and medical marijuana patients.
If you're looking to take your green thumb to the next level, marijuana might be the crop for you.
Strange Leaf Dispensary, 4700 NW 39th St., currently carries two brands of cannabis seeds. On the low end, one package of three seeds sells for $35, while the female seeds in a five-pack of another brand tops out at $65, manager Caitlyn Truitt said.
"A male cannabis plant produces seeds, and a female is going to yield flowers, so generally, most people want the female plant so that they can see the flower and not get a whole bunch of seeds. However, we do have some people who want to do the newer genetics, so they do get the male plants," she said.
Strange Leaf orders 200 packages at a time and Truitt said it has already sold out four or five times in the month they've had them on shelf.
"We have had a lot of people come in from different areas to pick them, and even some commercial growers have come to pick some up," Truitt said.
Still considered mostly a niche or novelty product, seed sales are not widespread in the state. Truitt said growing at home is the best bet for people who can't get around easily, but the plants do require strict attention.
"So many people love their plants. I love it," she said. "I didn't have a green thumb before I started working here. When we did have the clones — we don't have any now, and I don't think we necessarily will for a while — it was fun to get back there and work on them and see them grow and all that good stuff. ... We aren't able to have employees back there for the amount of time it takes to maintain them."
"It is like having a baby at home," she said. "It's a lot of work."
If patients are attempting to cultivate cannabis themselves, Truitt recommends getting all the gear you need to grow before you start.
"They definitely want to have a good light system," she said. "Most people do like to have a grow tent, or they could use a closet, but a lot of people do get the grow tents. You want to have your fertilizers and all your nutrients. With the seeds, you do have a little bit of time to spare, but I think it'd be better to have it all prepared so you don't get in a spot where your plants are dying."
And that's where someone like John Degerness at Lucky's Grow Supply, 7507 Broadway Extension, comes in.
"We are a grow supply store that's really kind of gotten ourselves intermixed with the creative community at large. We are big supporters of this new cannabis industry. Our tagline is 'Let's grow Oklahoma,' and that's really what our mission is. We're trying to do our part as an ancillary industry to help support this new infrastructure and economy that's been allotted through the power of our democratic process," Degerness said. "We're your one-stop shop for the hobbyist grower, the medical patient that can't afford to go to dispensaries as well as the commercial side."
Degerness, 41, grew up in the Pacific Northwest. His wife is from Mangum, and they moved to state seven years ago.
"I love living here," he said. "It's a totally different thing from what I expected. I'm just about as much of an Oklahoman as anybody, with the exception of actually being born and raised here. All of my employees are."
Degerness worked in information technology, and his life took a drastic turn when SQ788 passed.
"Oklahoma in general since I've lived here over the past decade, it's going through a renaissance where it didn't truly surprise me that this had occurred because there's so many new things going on," he said.
Degerness is no stranger to weed. He's actually the third generation of his family that has grown cannabis.
"My mom always had plants growing in the garden," Degerness said. "My grandmother always had a couple. For me, it's been a normal thing, and they went about it as if it was a normal thing, so I grew up with a very mild concern about cannabis and people's consumption of it."
Lucky's does not sell seeds or clones or hydroponic growing supplies, but it has everything else covered.
"We didn't want to be looked at as taking advantage of our wholesale ability to compete with these guys who are looking to us as a vendor," Degerness said. "We're sitting in front of a table with a shitload of pie on it. There's no reason anybody needs to go home with a stomach ache because they're trying to eat so much of it."
Lucky's offers 10 percent off a purchase with a receipt from a locally owned dispensary where you bought your seeds or plants. In addition to an in-house art gallery, the store also features a large bar in the middle for customer service. But Degerness said that's mostly just talking shop.
"We want to have conversations, talk to people about what it is they're doing, educate people on how to grow cannabis. ... At the end of the day, we sell lights and we sell dirt and nutritional systems for that dirt. We're all here for the same thing. This is the new normal, so let's just be comfortable in our own skin and talk about it," he said. "We've been so segmented for so long, everyone running their outlaw program this way or that way, looked at as criminals or drug dealers, and now we can actually just take a breath."
Lucky's has a 30-seat area in which it offers classes on how to grow cannabis, from beginner to expert levels. It will double for viewings of industry-related movies and documentaries on Friday nights. After Christmas, it will start putting on monthly events open to the public.
"If we can cover our costs through our business, anything we make beyond that, we want to reinvest in Oklahoma," Degerness said. "If that means we're paying for talent to come out and perform, for chefs to come out and cook or the food from the farmers we do business with to cook for those people, that's what we want to do."
And all of it is free.
"It's important," he said. "If you want to learn about growing cannabis, you shouldn't have to be hiding on the internet, getting terrible information. You should be able to come and talk to people. I don't see any other way to accomplish that if I feel like every time I do something, I'm having to impose a fee.
"It's bringing Oklahoma back to its agricultural roots, and it's bringing an economy that the state can sustain itself with and not be dependent on geopolitical motives or national pricing. ... We're really just trying to build a community within a state that has been so desperate for something like this, and it's a good time. We're having a lot of fun with it," Degerness said. "We're less motivated to be Richie Rich and counting our money while everybody is trying to scramble around trying to figure out what the fuck we sold them and more into the education and outreach perspective of it. We truly want to grow Oklahoma and its economy, and this industry specifically."