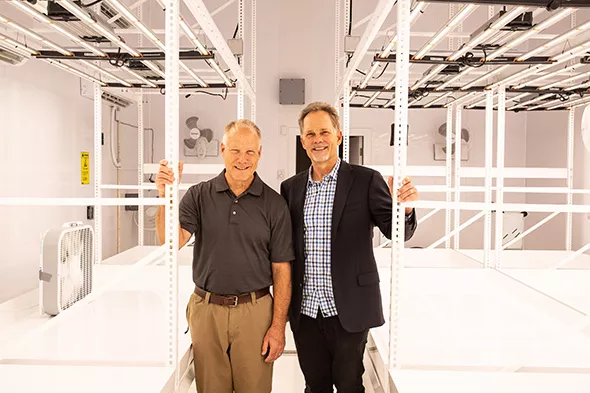 Alexa Ace
from left David Donnell and Dan Donnell
David Donnell was one of the first Oklahomans to receive his commercial growing license but still has not been able to harvest a single crop.
Euno Grow received its approval last September, and then Donnell went about getting the city of Piedmont to sign off on his remodeling permit.
"We have 35 acres. It's a naturally secure location. The only way in is across a gated bridge on a long road up to our property," Donnell said. "I obtained my building permit from the city of Piedmont in January. I told them I was building some rooms out in my garage. We have a kind of a big metal building. Half of it's our house; the other half is a shop/garage area. … The community development supervisor basically pulled out the forms, she checked the boxes, said that would be a residential remodel and that was pretty much it. I didn't tell them what I was going to do. It wasn't required. They didn't ask."
Donnell began construction. Weeks later, Piedmont's city council passed Ordinance 660, which regulated cannabis businesses in the city. The ordinance states that commercial grows must be located in areas zoned for agricultural use in the city. Euno Grow is zoned for agricultural use.
"They set the rules and regulations and permits and all that. We had no knowledge of that. They never posted it on the website. No one knew about this, this new ordinance. In mid-March, the inspector came out and delivered a new building permit application that included commercial marijuana establishments, which required all this additional information like building plans, engineer drawings," Donnell said. "The city inspector did that inspection and gave me the little green approval inspection card and then turned around and handed me what is called a notice of stop work order, and I said, 'What's this for?' And he said, 'You can't be doing that.' I said, 'Doing what?' and he said, 'You can't be growing.' While we were under construction, we had our grow tents out in the area, keeping our genetics alive and doing some testing on some strains. And he said we couldn't be growing, and I said 'Yes, I can. I have gotten state license to do so.' And he said, 'No, you don't have a city permit.'"
A few days later, a Piedmont police officer came to his house and issued a municipal complaint.
"Defendant has not obtained a marijuana commercial grower and business license through the city of Piedmont as of April 26, 2019. Defendant is growing on this date," the complaint reads.
The case was continued until July. Meanwhile, Ordinance 660 was then amended on June 24, stating that growing operations must now be located in commercial or industrial zones. Donnell said he was not notified of the change.
"We were agricultural originally. That's what it said in the ordinance, and they changed it in June for some reason," Donnell said. "Finally, there was communication between our attorneys and the prosecuting attorney, and they basically said, 'Look, they don't like your client. There's like a vendetta against them or something. They've basically vowed that we would never be approved or get a license.'"
Donnell continued to go back and forth with the city of Piedmont, jumping through all the hoops required of him to get square with it.
"I have a state license to be doing what I'm doing," Donnell said. "We have provided and supply them with everything they've demanded this whole time. When we went in to [submit an application] in the middle of September, they rejected it on the spot."
In a letter on City of Piedmont letterhead dated Sept. 24, community development supervisor Kayla Cornett wrote, "It has come to our attention that work is continuing to proceed on the marijuana growing facility. … Due to not having appropriate permits and licensing to do so, the City of Piedmont requests that all work and growth ceases until the issue is resolved. This issue needs to be resolved by October 15, 2019, otherwise the City of Piedmont will pursue it with the District Court."
Cornett declined to comment on the basis that it is a legal issue. Piedmont's city attorney did not return a request for comment.
Donnell's attorney, J. Blake Johnson, has never seen anything like it.
"Literally never, in my experience, working with dozens, if not hundreds, of local authorities at the municipal or county level have I encountered this level of obstruction," Johnson said. "They have changed the rules mid-game on multiple occasions and refused a reasonable request that we be excepted from those rules, at least until such time that we can make reasonable efforts to comply. And let me add also that, in my experience, again dealing with a lot of local authorities, it is highly unusual to prohibit cultivation in an agricultural zone in the first place. The fact that our dispute with the city on this issue had already begun prior to them making that change in the ordinance is highly suspicious to me. Knowing that they have an applicant for permit in an [agricultural] zone that they have already made efforts to prevent from operating there, that they would prevent the cultivation of an agricultural commodity in an agricultural zone, is already highly suspicious, especially as compared to almost any other jurisdiction.
"To be clear, we absolutely don't want to litigate. It's not in anyone's benefit. It's not in the interest of our clients, for whom it will cost time, money and considerable stress, and it's not in the interests of the city of Piedmont, who, as a review of any public record will indicate, is resource-starved to begin with and doesn't need to accrue unnecessary litigation expenses. We do not want to litigate, but we obviously cannot walk away from a half a million-dollar investment in this facility or the literal millions of dollars in anticipated [return on investment]. We earnestly have endeavored at every turn to comply with every lawful request that has been made by the city, and some that I'm not sure are lawful. We have paid permit fees that I believe are onerous. We have made improvements or sought certifications that we believe were unnecessary, all at our own considerable expense. We have done everything asked of us. They just don't want us there."