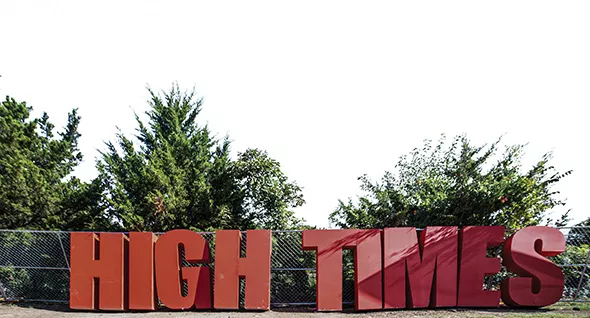 Alexa Ace
Oklahoma's first Cannabis Cup was met with mixed reviews.
Oklahoma has made it through its first year of legal cannabis containing THC. Meanwhile, Oklahoma Gazette is now marking its first year of THC itself — the High Culture section, that is.
In early October 2018, I was asked to start writing a freelance piece each week on the legal cannabis market. From the time that I met my first source, J. Blake Johnson, then the co-chair of Crowe and Dunlevy's Cannabis Industry Practice Group and now founder of Climb Collective and Overman Legal Group, for a chat and interview over drinks on a sunny day at The Pump Bar, I knew that my new gig was going to be much different from the past decade I had spent covering crime and breaking news.
Like many others, I was caught unaware on Oct. 26 when a handful of dispensaries were bold enough to start selling cannabis flower, edibles, concentrates and clones on the first day they were legally able. By a stroke of coincidence, one of the first dispensaries to open was Cannabis Aid, and some quick research led me to discover that one of my previous sources, Elijah Mothershed Bey, was one of the co-owners.
I picked up the phone and dialed the store's number.
"I'm looking for Elijah," I said to the man who answered.
"May I ask who's calling?" came the reply.
"Yes, it's Matt Dinger. Elijah will recognize the name."
"Matt! Get down here."
And so it began. Little did I know that just shy of three months later, I would be attending Elijah's funeral, as he was a victim in a triple homicide at his home in northeast Oklahoma City that still remains unsolved.
While spending opening day with Elijah was a high, no pun intended, and his funeral the nadir of my first year documenting the first year of Oklahoma's medical cannabis market, some of the discussions we had in those early days informed the nine months of coverage since his death and will have an impact on The High Culture in the coming year.
As I write this, a list containing the names of the largest mass commutation in American history sits on Gov. Kevin Stitt's desk. By the time you read this, nearly 500 men and women, doubtlessly some of whom were imprisoned on cannabis-related crimes, will walk free.
Replacing cannabis possession, which had the punishment of jail time in Oklahoma City rescinded on the same day cannabis sales became legal, is a wave of cannabis-related property crimes. While no link has been made between Cannabis Aid and the murders of Elijah and his family, the implication is there. Aside from that and one reported armed robbery of a cannabis business in Oklahoma City, the rest remain burglary cases. While it might seem from the headlines that these break-ins represent a wave of crime unique within the cannabis community, that is simply not so. Retailers, restaurants, convenience stores and so on still outnumber dispensaries for burglaries and robberies but have become so commonplace that they rarely make the news.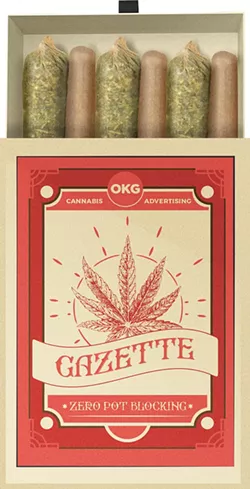 Phillip Danner
Social media has not welcomed medical cannabis advertisements with open arms. However, Oklahoma Gazette has been a great source for advertising.
While cannabis prices by the gram spiked to a head-spinning $35 during the first days, the market quickly stabilized and $20 a gram price tags are now the exception, not the rule. While pricing does provide an important reference point to where the market currently stands and the direction that it is heading, so do the businesses that comprise the legal cannabis space.
Cannabis Aid and Strange Leaf, which did good trade this time last year, both have since closed their doors. In their places are now 1,651 other licensed dispensaries as of Oct. 1, though that number will certainly change as more receive licenses while others close their doors or choose not to renew theirs. While there was no special legislative session to provide a regulatory framework prior to the start of business, the state has also seen a wave of adjustments, both good and bad, to the way that cannabis companies do business both from the legislative session and from special rulemaking committees within state agencies. With the next legislative session around the corner in February and more rules adopted by Oklahoma Medical Marijuana Authority (OMMA) this week, expect to see the landscape shift again.
Undoubtedly, owners have seen their businesses evolve in the first year with the market that now includes more than 200,000 licensed cannabis patients, more than doubling predictions after the passage of State Question 788. I was invited to tour the facility of Blue Collar Criminals Collective during the days when it was being built out and reported on it. I was there on the day of its first full-sized harvest, and I was there the day flower went into its second, larger grow room. I was also there the day that the dispensary opened its doors and the day it closed them to the public for now. BCC Collective has been my barometer for the growth and evolution of the industry in the city that I have always called home, though it is but one of the dozens of dispensaries, growers and processors that I have met, visited, interviewed and profiled in this first year.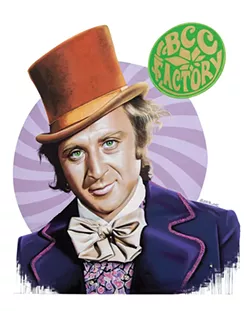 Alexa Ace
A mural by Jeks on BCC Collective
On a personal note, my Christmas present to myself was my own medical cannabis card, which arrived on Christmas Eve. From the front row, I have watched as the higher price tags for cannabis containing more THC are mostly removed from the equation as a legal cannabis consumer market quickly became savvy to the influence of other cannabinoids and, most importantly, the terpenes that direct Oklahoma's legal highs. I like to think Oklahoma Gazette's sister publication, Extract, which began publishing in April, has played a role in educating cannabis patients new and old in our market.
While we are all enjoying the shiny new object that is THC and building our own personal favorites among local, legal brands, last year's farm bill rescheduled on a federal level hemp, a form of cannabis sativa containing trace THC that is used as the basis for the CBD market that boomed here before the passage of State Question 788. While it has gotten less attention than it deserves in the first year of The High Culture, expect to see more stories about this rapidly developing industry that had deep roots in the Sooner State prior to World War II for its industrial uses.
It has been a wild ride this first year, with our first Green Grow Expo, two CannaCons and a High Times Cannabis Cup under our belts. There have been as many surprises as fulfilled expectations. The only thing we know for sure is that there will be plenty of unknowns as we move forward. Whatever direction the industry takes, The High Culture will be there to cover it.