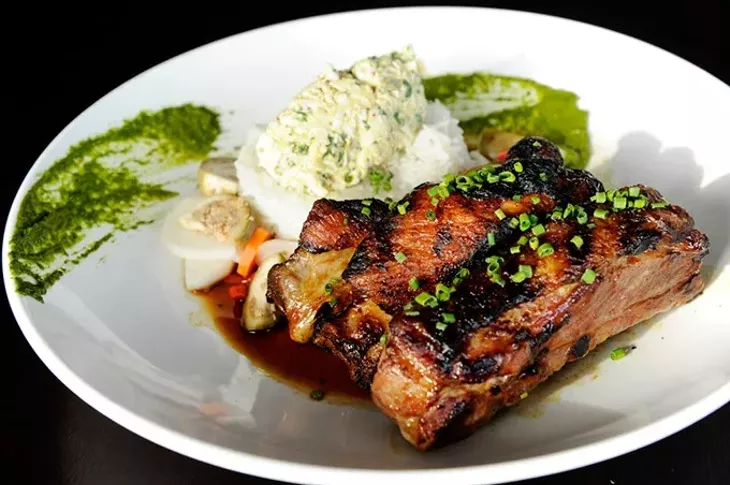 Garett Fisbeck
Thitkho ribs at Guernsey Park in Oklahoma City, Monday, Jan. 4, 2016.
Despite a large sign poking out on NW 23rd Street, it's easy to understand why Guernsey Park is still one of Oklahoma City's hidden culinary gems.
Despite a flurry of buzz and great food when it opened, the restaurant, 2418 N. Guernsey Ave., was bogged down by inconsistent hours and a location that often requires GPS to find. Since then, two chefs have moved on (Vuong Nguyen opened his own restaurant, Bonjour, and Sam Salinas helped launch sister eatery Covell Park) while a host of other competitors have come to market.
So what can the restaurant do, short of tearing down Cuppies & Joe, to get more visibility? That's a problem executive chef Paul Langer is working on.
"The philosophy at first was that they wanted to be a word-of-mouth, hip restaurant," he said. "That's nice for a while, but the way the industry has grown here in the last few years, it takes more than word of mouth to sustain a business."
Word of mouth might fill up a 30-seat place once a night. But Guernsey Park's boldly designed multi-level space seats 150.
"There's a lot more overhead involved," Langer said.
And there's another problem: Somewhere in between opening and chefs moving, the consistency in food and service tanked.
"We had guests who lost faith in us," Langer said. "So it's my job to make sure they still get the same quality service and food they had when they first came in."
Garett Fisbeck
Chef Paul Langer works in the kitchen at Guernsey Park in Oklahoma City, Monday, Jan. 4, 2016.
That has meant a trickle of changes to re-center the business and make the kitchen more fluid. Speed and quality don't always go together, but Langer knew Guernsey Park needed to rebuild its customer base by better understanding what its customers need.
Lunch was an obvious problem. The business crowd had abandoned the restaurant after a few too-long waits kept people from returning to the office on time. And the menu, which was fine for the leisurely dinner crowd, didn't mesh with those seeking a filling midday meal.
"I've come up with about six different rice bowls and focused on proteins that are a little faster to cook without sacrificing the flavors people want from Guernsey," he said.
Diner satisfaction is key. The restaurant will never be fast food, but Langer said it's not fine dining either. Visitors must feel like they're getting something special, but still with value.
Distinctive dishes
That's what makes brunch such an inspired choice for Guernsey Park. Everyone has eggs Benedict, but what makes a restaurant stand out is what it serves that is unique to the community.
Okonamiyaki ($9) is one of the boldest breakfasts in Oklahoma City. It's a mix of traditional early morning eats with an Asian flavor palette.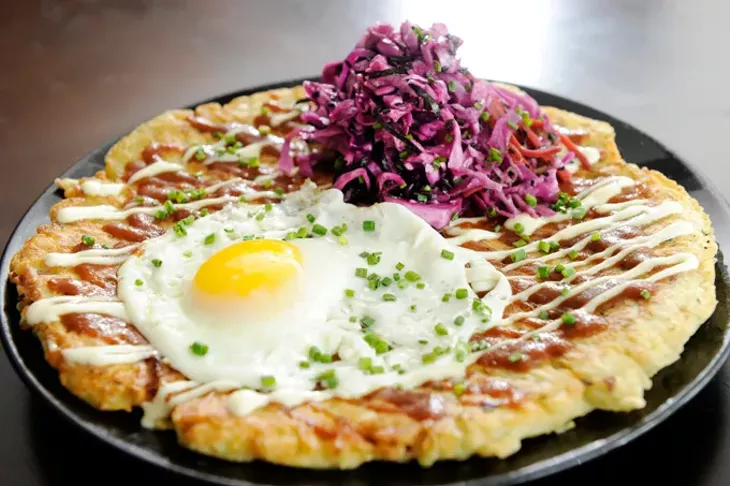 Garett Fisbeck
Okonomiuaki at Guernsey Park in Oklahoma City, Monday, Jan. 4, 2016.
"It's kind of like a pancake, but in the batter is cabbage, onions and bacon," Langer said. "Then we add tonkatsu sauce, our house aioli and an egg on top. It surprises me how many people get it. I'm not surprised they love it — it's just so different."
But don't fear, brunch purists; Guernsey also has steak and eggs and eggs Benedict (served on steamed buns). And that's key, because the culinary explorer can find something new and wonderful, but those less inclined to striking out can find a comfortable dish at the same table.
The big biscuit ($9) might be a casualty, though. Langer said an extra-large biscuit appetizer off which everyone at the table can tear a hunk is a concept that hasn't quite caught on. Instead, it might be replaced with a more traditional biscuit and gravy.
Guernsey's chefs aren't obsessed with making "statement food." Langer said they are trying to find a balance between crowd-pleasing food that customers love and interesting, innovative twists and new flavors that will allow diners to discover new dishes that are just outside their comfort zone.
"The city is constantly expanding, and we want to be on the forefront of the expansion by introducing new flavors and techniques," Langer said. "But we don't have a huge crowd of foodies yet. It's getting better. But rib-eye is still our best seller. It's a great dish, but from a chef's perspective, it's just steak frites."
The challenge — not just for Guernsey Park, but for restaurants of all stripes — is finding the balance, making dishes that keep chefs inspired to create while still bringing people back in.
Garett Fisbeck
48-hour short rib at Guernsey Park in Oklahoma City, Monday, Jan. 4, 2016.
"Especially with the local economy, we all feel it," Langer said. "Once it recovers and people are more comfortable with going out, we want them to feel excited about coming here."
With a mix of high-end sushi, food-forward dishes and a renewed focus on customers, Guernsey is quickly regaining the buzz it once had. Now all Langer needs is for the city to find out where the restaurant is hiding.
Print headline: Secret's out, Guernsey Park regains its buzz with new dishes and a brunch service.