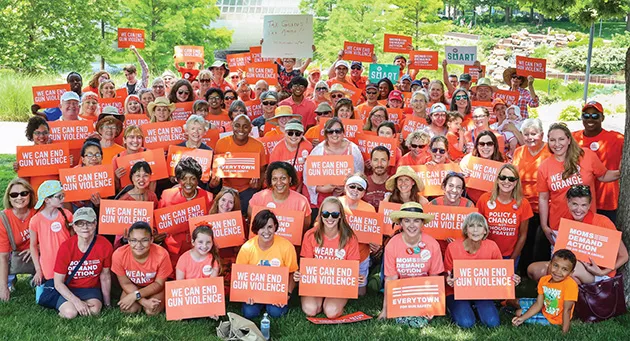 Provided
Several members of Moms Demand Action Oklahoma are gun owners but still advocate for "common sense" gun legislation.
It has been about three weeks since permitless carry went into effect. The law, which some call "constitutional carry," was the first law signed by Gov. Kevin Stitt.
Cacky Poarch, a Moms Demand Action volunteer, was an active advocate against the law. She said enough incidents have already happened to prove the law is dangerous.
"I listened to discussions on the Senate floor and the House floor, and we were really disappointed, of course, that it passed and that the governor signed it," she said. "It's proven to be a reckless, dangerous policy."
Poarch cited three incidents that happened since permitless carry took effect Nov. 1.
On Nov. 5, a 3-year-old found a semi-automatic handgun in a La Baguette bathroom stall despite the restaurant having a sign that reads, "No handguns." The man who left the gun in the stall admitted it was his fault, and no charges were pressed.
On Nov. 11, Stillwater Police Depart-ment responded to a call at a Walmart where a pistol had been accidentally discharged. Officials believe a strap on the holster got hung up on the trigger. Walmart has a no-firearms policy, so they immediately asked him to leave.
On Nov. 12, Timothy Harper was arrested for carrying a weapon where alcohol is consumed after bringing a rifle into Twin Peaks. Though the law makes exceptions for handguns, Harper broke the law by bringing his rifle.
"He has a Self-Defense Act permit, so that permit does allow him to carry a handgun into a restaurant of that nature," said Capt. Larry Withrow, Oklahoma City Police Department spokesman. "It does not allow you to carry a rifle. Constitutional carry does not allow you to carry a rifle into an establishment that sells alcohol."
Harper is one of many so-called 2nd Amendment "auditors." He visits public spaces carrying various visible firearms and films the reaction he gets from the public and police. Harper typically uploads his interactions on YouTube, where he has more than 20,000 subscribers, 230 uploads and 3 million video views.
Though Withrow didn't want to generalize about Harper's motives, he said at times it seems like auditors simply want to get a rise out of people. He said as long as they're not actually breaking a law, they're free to conduct the audits.
"They have the exact same rights as every other citizen, and they would also be prohibited from doing anything like any other citizen," Withrow said. "Any time somebody calls the police to report a suspected crime or suspicious activity, we're going to respond and investigate. That doesn't mean that any offense has occurred. It could be that someone's actions were just suspicious to the caller. … If a citizen believed that their actions were suspicious or criminal in nature, then absolutely call. If they recognize, 'Oh, this is just someone performing what we're calling an audit,' but they don't see any crime or offense or danger to the public, I wouldn't see the need to call. But if they perceive a threat or danger, then absolutely call."
After Harper's arrest, Oklahoma Second Amendment Association (OK2A) released a statement distancing itself from him.
"Harper is NOT a member of OK2A and has never had any authority to use or represent OK2A at any time," the statement by board chairman Tom Vineyard reads. "His actions draw attention to himself while escalating tensions for profit of a social media platform is uncalled for, unwise, and does not hold to the values of … OK2A or the majority of Oklahomans."
The statement goes on to mention that for more than six months, the organization has asked Harper to stop conducting the audits, calling them "unwarranted unless there has been a previously established problem."
"OK2A has kind of distanced themselves from him, but they were very encouraging of him when he was doing audits before the policy went into effect," Poarch said. "Timothy Harper has gotten a lot of notoriety out of this. Right now, he has 20,000 YouTube subscribers because he does these audits. … It's scary to see someone with something that looks like an AR-15 or an AK-47. It's intimidating, and it's really disturbing to see that at a park when you're playing with your kids.
"If the 2nd Amendment is meant to protect yourself, that's not what these gentlemen are doing. They're using force of intimidation. After permitless carry passed, Harper went to Rep. [Jason] Lowe's district, which is on the east side of Oklahoma. He went to a place of worship, and he went there to intimidate them."
Rep. Lowe made several efforts to prevent the law from going into effect, but all were unsuccessful. He has said he will continue fighting for the safety of Oklahomans and against the law.
Nov. 18, there was a shooting at a Walmart in Duncan. Three people were killed, according to Oklahoma Highway Patrol. The shooting was still under investigation at press time. Walmart stopped allowing customers to open-carry in its stores earlier this year following pressure from the public.
Preventing violence
Various churches and local businesses have started putting up signs that say firearms are not allowed. Withrow said businesses have the right to create and enforce those policies.
"They can make whatever house rules they like. They can totally ban weapons in their establishments, and if they saw that you had a weapon, they could ask you to leave," he said. "If you refuse to leave, then it's not necessarily a weapons violation. If someone had a handgun and the owner asked him to leave and he refused, we don't have a gun violation, but we would have trespassing if the owner wanted to press charges."
The Oklahoma chapter of Moms Demand Action provides free stickers to indicate firearms are not allowed. Poarch said the organization is not against guns — in fact, many of its members are gun owners — but advocate for "common sense" legislation that can help prevent gun violence.
"We live in Oklahoma. There are a lot of people that grew up with guns, but that's a little different. If you grew up with guns and you have a respect for firearms, that's very different than what we're seeing now," she said. "We feel like the cornerstone of responsible gun ownership is permitting. You should be trained before you carry a firearm. To me, that is common sense, and that has been eliminated, which is really too bad. … One program that we do is our Be Smart program, which is how to store your firearms responsibly. That is our most visible advocacy effort. … That's one of those things that I feel like everyone can agree on. It's a reasonable thing to engage in, to responsibly store your firearm."
Harper isn't the only 2nd Amendment advocate that conducts audits in the state. Some of the main targets for the audits are places like parks, libraries and even some government buildings. His bond was set for $100,000, and a judge denied a bond reduction Nov. 15. He also added stipulations to the bond that if Harper bonds out, he must wear an ankle monitor and surrender his weapons.
"It's a change for everyone," Withrow said. "It's something entirely new, and I think it's just going to take some time for people to get accustomed to it."
Visit momsdemandaction.org.