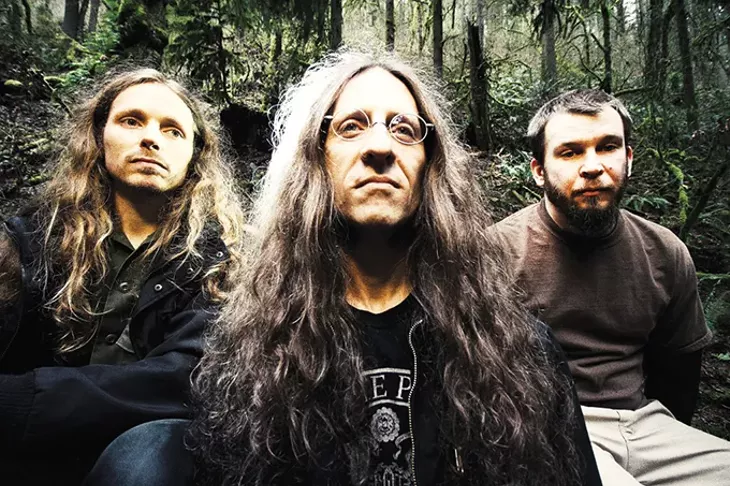 Jimmy Hubbard / provided
Yob
Last year, Yob's metaphysical doom metal was playing in an operating room. The patient on the table was lead singer and guitarist Mike Scheidt, undergoing the seven-hour emergency abdominal surgery that ultimately saved his life.
"Once they started having these complications and they were trying to get Mike to stabilize and they needed like an X-factor or they wanted every extra bit of help they could get just to keep him responsive for treatments and everything, they played Yob apparently," said bassist Aaron Rieseberg. "I don't think Mike was conscious for it, but they totally did it."
Since Rieseberg wasn't there at the time, he can only speculate about the reaction anyone overhearing such heavy music coming out of an operating room might have had.
"Everybody outside the room is like, 'What the hell?'" Rieseberg imagined. "'They're going through some shit in there.'"
Yob plays 7:30 p.m. Thursday at 89th Street-OKC, 8911 N. Western Ave. Our Raw Heart, the band's latest album released June 8, is inspired in part by Scheidt's near-fatal medical emergency.
Doctors diagnosed Scheidt with the intestinal disease acute diverticulitis in 2016, but Rieseberg said he hadn't heard about his bandmate's problems until the frontman and primary songwriter texted Rieseberg and drummer Travis Foster to cancel their weekly practice in January 2017.
"Mike sent Travis and I a message saying, 'Hey guys, I'm feeling a little off today, like maybe I shouldn't practice,'" Rieseberg said. "It wasn't like he was freaked out or anything. He was just like, 'Oh I'm feeling some discomfort.'"
Scheidt wrote about the attack that followed last year on the music site Noisey.
"When we went to the store, in the deli section to be exact, a bout of pain hit me so hard the entire room spun and I broke out in a cold sweat," Scheidt wrote. "I stood there clutching the shopping cart until Kris [Keyser, Scheidt's girlfriend] found me, and I told her, 'We needed to leave, like, now.'"
After Scheidt went to the emergency room, doctors determined his sigmoid colon had become infected and inflamed and one of the diverticula in his digestive tract burst, causing a perforation that allowed air to leak into his abdomen. The surgery required to remove the infected part of his colon was complicated and followed by several days Scheidt describes as full of hallucinations and other bad reactions to medication. Even after the deliria and nausea began to subside, he was still physically weak.
"I'd go down and visit, but Mike couldn't even pick up the guitar for a while," Rieseberg said. "Even sitting with the guitar, whenever he'd lean in to strum with his right hand, it would just send these shooting pains through his body. … Just strumming the guitar was like torqueing his innards."
During Scheidt's monthslong recovery process, Foster and Rieseberg were uncertain if Yob would ever play together again. Rieseberg completed work on an album released by his other band, Norska. Before he could think about playing guitar or singing/screaming the way he once did, Scheidt had to rest and change his diet.
"So he just laid off for a long time," Rieseberg said, "and once he did start playing guitar again, that's kind of all he did at the house and just wrote a whole heap of new material along with some stuff that we had already been working on."
Though the lead-up to the new album was harrowing, Rieseberg said the recording process was similar to previous albums once they hit the studio.
Billy Barnett, who recorded 2014's Clearing the Path to Ascend, even returned to co-produce. Rieseberg said the only notable difference in the process is how much the band played the material before recording.
"We just demoed it over and over again and refined it and listened a lot and then re-demoed it again," he said. "So we were extra-prepared for the studio this time. We were extra-surefooted going in and there was a little bit more of a relaxed vibe. Once we were in the studio recording, we were super up on the songs. It leant a little more relaxed kind of vibe when we were tracking."
Reassured they would be able to continue as a band, they wanted to take full advantage of any chance they had to make music.
"We were just so elated to be still playing together and for Mike to be healthy," Rieseberg said. "Not only alive but healthy and fully functioning. … There was a different kind of feeling in the studio this time, for sure. … I don't think we've ever played that much together. It was like every free moment we had we were getting together."
Rieseberg said Scheidt also seems happier.
"I would say one thing I've really noticed is it seems like he's less tightly wound and he's got a — how should I put this? — it's like this level of gratitude, or I don't know what he's feeling, but he's a lot more relaxed these days and just a little bit more going with the flow," he said. "It really put things in perspective for him."
Our Raw Heart is unmistakably touched by the experiences of surviving an existential threat.
"It really just makes you remember how quickly it can all just go away," Rieseberg said. "It just shifts your priorities a little bit or puts you in check, like, 'Oh yeah, it's that quick.' … And there's not a lot of mercy in situations like that. … Coming out of it and being like, 'Holy shit; we're going to make a record and we're going to keep making these songs.' There's this perpetuating stokedness and gratitude and love within our band between us, and also it just bled into the songs and it's very evident in the lyrics, I think."
The inescapable, merciless nature of death has been a favorite topic in metal since the days of Black Sabbath and Coven, and Our Raw Heart contains one of the heaviest songs Yob has released to date ("The Screen"). Less common themes such as gratitude for "love from miracles" and the Andean concept of ayni, or sacred reciprocity, give a spiritual optimism to the title track, and "Beauty in Falling Leaves" finds Scheidt repeatedly proclaiming, "Your heart brings me home."
Metal, Rieseberg said, is an expansive musical genre capable of conveying the complexity of the human experience, even if some fans are put off by any shade lighter than pitch black.
"Maybe it's because of what our heroes have wrote about in the past," he said. "The bands that shaped us maybe didn't sing about the same things. So I think it might be uncomfortable for people to sing about that or yell about it or roar, but I feel like there's a lot of room for it."
Even when the music is dark, Rieseberg said the experience of playing metal with Yob remains a highlight of his life.
"But as far as us playing together and being in the room together, we've never been better friends," he said. "We got tighter as friends and as a band. It really just shifted perspective for me. These guys are hugely important to me as people in my life, and I love what we make together."
Visit 89thstreetokc.com.