The chicken enchilada plate comes with a hard-shell taco. | Photo Jacob Threadgill
Like many millennials, far too many of my childhood memories revolve around weekend excursions to the mall with my parents when I was younger and as a respite in my teenage years.
Part of me still gets excited to go to the mall, even though it seems like a relic of a different time, before online shopping and easy-access strip malls took indoor malls' shoppers.
During a recent trip to Northpark Mall, I was surprised to see many of its shops closed before 7 p.m. In fact, the only retail space with any sort of a crowd was Fun N Games, a dedicated space for Oklahoma City's Duplicate Bridge Club, which isn't exactly helping the mall's outreach to Generation Z.
Even on a Tuesday night when temperatures dropped below 15 degrees Fahrenheit, healthy crowds showed up at Rococo, which is long established as one of Oklahoma City's institutions in East Coast fine dining under Bruce Rinehart, five-time Gazette Best of OKC winner of best chef in the city, and Hacienda Tacos.
Hacienda Tacos opened in the location formerly occupied by a City Bites in 2016. A collaboration of restaurateurs Bryan Neel (the B in S&B's Burger Joint) and Robby Vernon (a top server at La Baguette), Hacienda Tacos markets itself as a mixture of Neel's Tex-Mex roots in Oklahoma and Vernon's home of Roswell, New Mexico.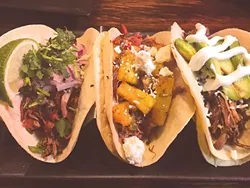 Hacienda Taco's most popular item: street taco combination with carnitas, al pastor and barbacoa | Photo Jacob Threadgill
As the menu has expanded from five items at opening to more than 25 items, not including a dedicated weekend brunch service, its street taco combo ($10) remains the most popular item.
If it's my first trip to a restaurant, I feel that it's my duty to eat its most popular item because it's an indicator of the restaurant's success. I ordered the combo, which includes three corn tortilla tacos made with al pastor, barbacoa and carnitas, preferring to leave the mojo chicken for a second entrée, a combination plate featuring chicken enchiladas and a hard-shell Hacienda taco.
The street tacos serve as a fantastic vehicle for chef Stephen Schmidt's meat smoker, which is nicknamed Norma Jean. The smokiness is in full force through pulled pork (carnitas and al pastor) and barbacoa (brisket) — so much so that I even had a thought during a second taco: Is it possible to have too much smokiness? Of course it's not, but it is what lingers in my memory longest and overpowers the other ingredients.
Despite its name, only the carnitas, with a traditional preparation of onions, lime and cilantro, is what I would actually consider a "street taco," but enough on semantics; I've got a bigger issue with that later.
The barbacoa, which is piled high with beautifully smoked brisket, is topped with avocado and sour cream. The brisket is already heavy and full of fat; it doesn't need more fat. I would've preferred a traditional preparation on the barbacoa because the onions, cilantro and lime would cut through the richness of the brisket.
The carnitas once again showcase a great product in Hacienda's pulled pork, but it would've benefitted from getting crisped up on the flat-top before being added to the tortilla. The crunch is my favorite part of a carnitas taco, and I found it lacking in an otherwise high-quality product.
Customers decide how chunky to make the DIY guacamole. | Photo Jacob Threadgill
Al pastor is my favorite taco ingredient. I consider it the pinnacle of sweet, savory and spicy and the barometer by which I judge a taco establishment. Once again, the smokiness of the pulled pork dominated the taco, but that's just it. Al pastor isn't slow-braised pork shoulder. It should be marinated blade steak that is layered and cooked on a rotating spigot or standing upright in an oven. In fact, al pastor's history is traced back to Lebanese immigrants to Mexico, which is why it looks similar to shawarma when being cooked.
The smoke of the pulled pork made it hard to denote the dried chilies and spices of its normally bright-red marinade. It's a good product, but it is not what I would consider traditional al pastor.
As a place that Neel considers "Mexican outside the box," I understand Hacienda Taco's commitment to using its smoked products because they're really good, but it's disappointing when your craving doesn't exactly get scratched.
The chicken enchiladas are smothered with a sour cream-based sauce and two types of cheese. They're probably my favorite iteration of chicken enchiladas I've had in Oklahoma City, benefitting from juicy and smoked mojo chicken.
As slightly disappointed as I was for the street tacos, I found the hard-shell Hacienda taco somewhat of a revelation. I've been so conditioned to expect sad ground beef at the bottom of a hard shell taco — be it Taco Bell or a grocery store kit — that Hacienda Taco's version might've been my favorite item of my meal. The beef had more of a braised texture than normal ground beef, and it was a pleasant surprise to end my visit.
When I read about Vernon's New Mexico heritage, I was hoping that it would make a bigger mark on the menu. Outside of a green chile pozole special, I didn't see anything that I would classify as New Mexican food, which is some of my favorite cuisine in the world. Can we at least get a dang sopapilla as dessert?
I don't think anyone will get Hacienda Tacos confused for a neighborhood taqueria, but it is certainly good enough to get people to go back to the mall, which, in 2018, is no small task.
Print headline: Relic wranglers; Hacienda Tacos is good enough to get people to go back to the mall.