Paige Powell / provided
Magic Lantern ends with a parade through a pumpkin-shaped labyrinth painted in the street.
Halloween gets most of the attention in October, but Lorrie Keller, director of Theatre Upon a StarDanceSwan and founder of the Magic Lantern celebration, wants people to know the season can be about more than scares.
"Costumes, pumpkins, lanterns are all part of what we think about when we think about fall," Keller said,. "The fall is a beautiful time to offer the arts. It's a change in the seasons, a change in the light. There's always mystery in the air in the fall, and people are ready to get out and celebrate and express themselves."
Magic Lantern, now in its 18th year, offers parents and children the chance to create costumes and commemorate the arrival of autumn without the scares.
"In the first several years, we worked very hard to get the word out in publicity and through the community that it wasn't a frightful event," Keller said. "We consider this a day of light instead of fright."
The event is scheduled to take place 3-6:15 p.m. Sunday in the Paseo Arts District. Keller said she dreamed up Magic Lantern in 2000, inspired by a verse from The Magic Lantern Celebration, a choreographed piece performed by the StarDanceSwan dance company.
"In that piece, the verse that kind of empowered the whole performance is 'We are all magic lanterns lit by the light of imagination,'" Keller said. "If you want to know what StarDanceSwan is all about, that's what we're all about — sharing imagination, igniting imagination, encouraging imagination in children of all ages."
For centuries, people have imagined ghosts, monsters and other frightful specters prowling in the night, especially as the days grow shorter and the temperature drops, Keller said. But the seasonal shift can also be a good time to celebrate illuminating lanterns.
"I love Halloween," Keller said, "Moving into the dark time of the year, people for hundreds and hundreds and hundreds of years have acknowledged the change in light, but we think of not the fearfulness but the wonder in the change of our seasons because this change naturally brings out the best in our creativity. We're offering another way of looking, another spectrum or another lens, another way of seeing the changing in the seasons. … Many parents are really happy that their kids can celebrate the way we celebrate versus with some of the horror."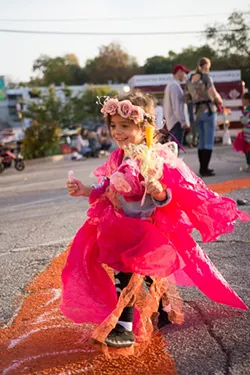 Finding light
Instead of vampires, witches or skeletons, artists volunteering to help children create costumes from paper to wear over their clothes will be encouraging them to dress up as insects known for their attraction to light.
"There's an emphasis this year on moths," Keller said, "so they'll be creating wings, then they'll be creating crowns with antennae for their moth creatures. When they go to the lanterns they'll be working with actual light and transparency and creating a small moth to put on their lantern. … They can create any kind of character they wish, but we're going to be saying, 'Hey, let's try a moth.'"
Part of Keller's reason for creating Magic Lantern, she said, was her disappointment with the prevalence of store-bought costumes, which she considers less fun and interesting than homemade creations.
"In the beginning when I started, I looked around and I saw so many commercial costumes," Keller said. "They were kind of brash and not subtle or beautiful, so I said, 'We have all this creativity within us, and maybe if we offer this workshop, families will be encouraged to explore other possibilities for creating costumes and for the way they view this time of year.'"
With the help of their parents and artists, children can create costumes at several stations set up in Paseo studios. They can also make portraits of themselves on a pumpkin. The celebration ends with a costumed parade through a pumpkin-shaped labyrinth painted on the street, accompanied by songs performed by Steve McLinn of Ojas Music.
Paige Powell / provided
Children can create handmade costumes from paper and other natural and recycled materials at Magic Lantern 3-6:15 p.m. Sunday in the Paseo Arts District.
"We call it the Pumpkin Labyrinth, and the dancers with StarDanceSwan will dance into the labyrinth, inviting everyone to join them," Keller said. "Then everybody will go home in the twilight."
At 18 years old, Magic Lantern has become a tradition for many of its participants.
"We will get a 25-year-old that says, 'Oh my gosh! I did this when I was a child,'" Keller said, "and they're coming back now to volunteer. In fact, the StarDanceSwan dancers are made up of dancers who danced with the company when they were children and their children. We have an artist who has worked with us for years, and she's dancing with her grandchildren. So there is a family that has grown with this company."
Visit thepaseo.org.