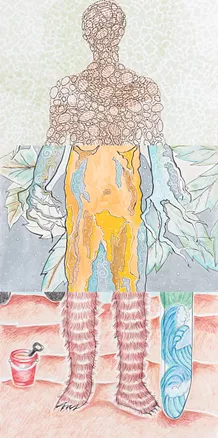 provided
Exquisite Corpse combines a total of 60 Oklahoma artists.
Tracing its roots to the early 20th century France, Exquisite Corpse is part parlor game and part surrealist art revelry that will make its debut at [Artspace] at Untitled for a fundraiser and preview event Friday before its public four-week showing beginning Oct. 31.
Exquisite Corpse is a technique invented by surrealist artists that were inspired by the old parlor game Consequences, in which players write a phrase on a sheet of paper, fold it over and pass it to the next person in the group.
"It was like Mad Libs in a way," said Meredith Zerby, designer with [Artspace] at Untitled, 1 NE 3rd St. "You'd have this long, elaborate story that took twists and turns because it was rearranged. We wanted it to be an artistic experience rather than a literary one."
Over a six-month period, [Artspace] enlisted 60 Oklahoma artists to create the Exquisite Corpse exhibit, which Zerby said is their second such collection. Twenty artists created outlines of different bodies: human, bird or animal. Then 40 additional artists took those outlines and used a variety of mediums to finish the work, using everything from fabric, collage, paint and mixed media to create one of three parts: head, torso and legs.
provided
[Artspace] at Untitled board members and staff in Halloween costume.
The resulting art was divided and mixed to combine for interesting pairings. The public viewing of Exquisite Corpse runs Oct. 31-Nov. 24.
"You might have the head of a bird with the body of a joker and the feet of a chicken," Zerby said.
The resulting works showcase local artists in a unique setting. Differing styles create cognitive dissonance and highlight Artspace's mission to create a collaborative and diverse community of artists and art appreciators.
A preview for the event begins 7-10 p.m. Friday with an All Hallow's Eve Celebration & Auction. Tickets are $100, which includes a drink ticket and access to snacks like popcorn and candy. Additional tokens can be purchased that will give guests access to additional adult beverages at the bar and a cavalcade of interesting and Halloween-themed activities.
The gallery space will be filled with fortunetellers, sword swallowers and more interactive booths like karaoke, carnival games and photo opportunities. Exquisite Corpse works will be blown up for pictures to be taken, and The Rocky Horror Picture Show will be projected on the side of the [Artspace] building. A vodka and tequila pool will be held in which guests exchange tokens for a mystery bottle of either liquor, which could be high-end or low-end in quality.
"After looking at so much art, guests will also be able to pick up the pen and create their own addition to an Exquisite Corpse," Zerby said.
Exquisite Corpse serves as the primary annual fundraiser for [Artspace] at Untitled, which was founded by Joe and Laura Warriner to provide the community with contemporary artwork from Oklahoma artists.
"It's going to be much more involved as a community event. While all fundraisers tend to be that way, we really want it to be a night where people come to celebrate the artwork," Zerby said. "It is a testament to the imagination of the artists, volunteers, friends and staff who collaborate at [Artspace]. We really want this to be a night where you realize we're forward-thinking and that it takes all kind of people to make an event successful like this."
Visit 1ne3.org.