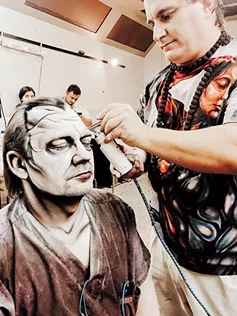 Jo Light
Jim Baughman sits for makeup at The Sanctuary.
On a chilly October Saturday, a long line of people stretches through a parking lot. Along one side of the nearby building, a door occasionally jolts open. Someone is trying to get out. The door barely muffles the loud metallic clangs and high-pitched screams of terror coming from inside.
It's just another night at The Sanctuary.
Before the fun starts for guests of this haunted experience at 12101 N. Interstate 35 Service Road, the building is a flurry of activity as staff prepare. Cast members spend hours getting into ghoulish character, dressing in tattered, stained clothing and sitting for long periods in makeup chairs.
A typical day starts around 3 p.m. By then, owners Tino and Cathleen Pascuzzi are already hurrying all over the building to finish last-minute preparations.
They have been operating a version of their haunted attraction since 2012 and had a previous location in downtown Oklahoma City. They've been in their current building, a 35,000-square-foot former General Motors training facility, since 2015.
Tino Pascuzzi said Halloween has always been their favorite holiday. He and his wife are originally from Los Angeles, and they met while working as actors on Melrose Place. A mutual friend from Dawson's Creek held a big Halloween party every year, which eventually got passed to the Pascuzzis.
Alexa Ace
Actors sit for hours to get their looks just right at The Sanctuary.
"Of course, when we took it over, we went nuts," Pascuzzi said.
They blocked off their street and transformed their entire house, hiring actors and building animatronics. A designer from the makeup company Cinema Secrets suggested taking the idea commercial. The Pascuzzis considered using an abandoned Kmart in Northridge, California, for a haunted house, but it was burglarized and the plans fell through.
Then the Great Recession began. At the time, one of their neighbors happened to be from Edmond. The family decided to move to Oklahoma to follow a job opportunity, and they brought the idea for the haunted attraction with them.
The Sanctuary has proven to be a great success, and they've expanded to include other holiday events. Their current location also hosts escape rooms and The Ruins Bar & Grille, where the décor has a distinct Indiana Jones vibe.
As far as the haunt goes, Pascuzzi said the story for the Sanctuary changes from 20 to 30 percent every year, continuing the plot and keeping the scares fresh. And it is, of course, a huge undertaking. During the attraction, there are about 90 team members on staff per night, including around 60 actors.
At the end of our conversation, Pascuzzi quickly eats a hot dog and takes off to find his phone, which he thinks is in the ticket booth outside. It's time to meet the talent backstage.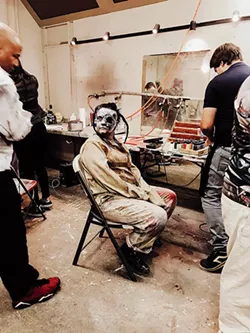 Jo Light
Actors sit for hours to get their looks just right at The Sanctuary.
Made up
There, the makeup room is filled with a fine mist as artists work on airbrushing the cast. Queen blasts from a speaker in the back.
Each makeup artist working the event brings in several years of experience. They include Bryan Crump, Troy Scott and Raymond Griffith. To prepare for this job every night, they have to remain constantly on their toes and be adaptable to any problems that might arise.
"Something happens with makeup, paints [or] colors go missing, so we have to improvise, create new things," Crump said. "You might have a new haunt that's developed, so we have to come with new things on the spot."
Together they have to make sure that the actors get done in a timely fashion.
"As a team, three or four of us may work on one person," said Scott, who specializes in application of prosthetics.
Griffith points out that the makeup is always done with lighting in mind.
"It's a lot darker in there," he said. "So stuff that looks good in the light, you can't see it in there. And stuff that looks almost cartoonish will look great in the dark."
Scott said he spends some time every week coming up with ideas and sculpting new makeup pieces.
He shows me a gelatin prosthetic he's working on. It looks like a round electrical socket. He said he wants to do a character that could be plugged into fake wires, which pull out when the actor moves.
Soon, head of makeup Nate Bright and another artist, Kirstie Bouthillier, join the team, and the atmosphere becomes hectic.
Bouthillier (who has a tattoo of Freddy Krueger from A Nightmare on Elm Street on one arm) paints a woman's hands black while Bright applies a zombie piece to another's eyes. Bright has been with the haunt for a year and said a major goal is to keep the makeup as realistic as possible.
The actors themselves are all ages and backgrounds.
One married couple, Angel and Brandon Dolan, has been participating for four and three years, respectively. Brandon Dolan is playing a surgeon this year, while Angel Dolan is a patient. One of her eyes is covered in a bloody prosthetic. In the other is a shocking white contact lens.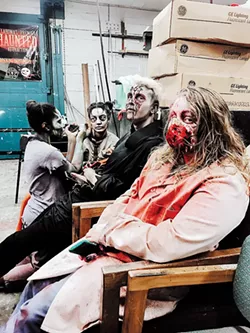 Alexa Ace
Actors sit for hours to get their looks just right at The Sanctuary.
They both call the experience "cheap therapy." But more importantly, Angel Dolan said the haunt is always like a family get-together.
"It's our home," she said.
Nearby, Crump works on painting Jim Baughman's face a ghostly gray with black wrinkles. Baughman, who has performed in the haunt for three years, said he has always loved Halloween because his birthday is in October.
Baughman would later chase me through a dark hallway as a demented, masked doctor. And it would be spectacularly scary.
The experience itself uses a standard haunted house setup. Small groups are sent into a labyrinthine warehouse, moving through rooms that tell the story of The Sanctuary, which is basically a sanitarium gone horribly wrong.
Even this journey through horror creates a small, temporary sense of family. One woman in our group said she comes to the haunt every year but warns she'll probably grab onto me if she gets scared. And she does, more than once.
The haunt is atmospheric, and the jump scares effective. I want to pause and admire the gory details of the set design by Pascuzzi, Louie Hernandez and Brooke McWilliams, but other members of my group are too nervous and urge us to go faster. I recognize several of the actors. They never break character.
The winding maze of scares takes about 20 minutes to walk through. After we emerge into the cold night, we share high-fives. There's nothing like the bond of being terrified together.
The Sanctuary will be open Friday, Saturday and Sunday as well as Halloween night. Tickets can be purchased online or at the event location.
Visit thesanctuaryokc.com.