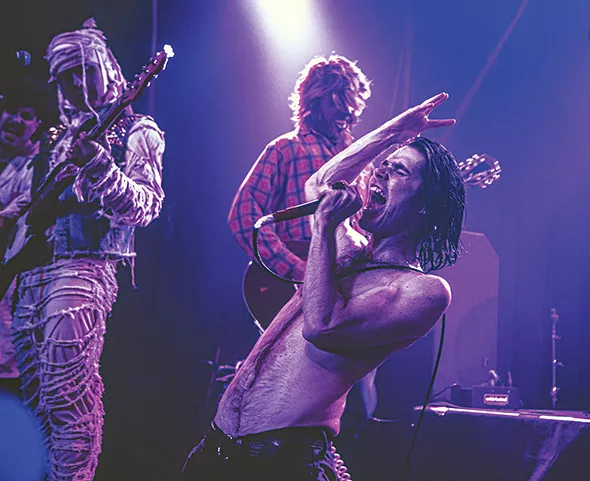 Provided
Drac & the Swamp Rats plays 8 p.m. Oct. 31 at Blue Note Lounge.
At Oklahoma Gazette, we typically try to avoid email interviews in favor of more personal interactions. But if there's one thing we try even harder to avoid, it's getting too close to a group of weirdoes claiming to be a vampire, a werewolf, a mummy, a Frankenstein's monster and a … whatever lab assistant/Theremin player Igor is, so this interview with self-described "classic monster rock" band Drac & the Swamp Rats is a time when we were more than happy to keep our distance.
Drac & the Swamp Rats terrorize OKC 8 p.m. Oct. 31 at Blue Note Lounge, 2408 N. Robinson Ave. Featuring a lineup straight out of Bobby "Boris" Pickett's "Monster Mash," the Swamp Rats plays Misfits and Cramps informed pop-punk with a surf rock swagger. Songs such as "Dead of Night," "Bite Down" and "I Want You Dead" provide a playlist for a raucous haunted house party, and the band's fake-blood-soaked live shows are appropriately ferocious. On raucous nightlife anthem "Fuck the Sun," Drac snarls "I drank myself to death, but I can't die / Smoked all your weed, but I ain't high" before commanding "you little middle school girls" to "get those chubby middle fingers in the air."
Having seen Interview With the Vampire (and heard the Swamp Rats "Watchin' U Die") we declined Drac's suggestion to invite him into our offices in the dead of night for "drinks" and opted instead to communicate with the band in the most fangs-off way we could think of. What follows is a transcript of our electronically transmitted conversation, lightly edited for clarity and (hopefully) scrubbed of all vampiric hypnotic suggestions.
Oklahoma Gazette: How did this lineup come together? Where did the name Swamp Rats come from?
Drac & the Swamp Rats: One hundred years ago, Dracula brutally murdered Dr. Frankenstein with a siq [sic] decapitation and took his castle. He then ordered his newly acquired Igor to: build him the best drummer to ever exist, Franky; find a young, hunky guitarist and infect him with the werewolf virus, Wolfë; and last, but not least, wrap up a dank Mummy and strap a bass to him (easier said than done, mummies are a very powerful breed). Welp, the idiot Igor fuckin' did it, so here we are. Also we used to live in a swamp that was full of rats so...
OKG: As such a disparate group of monsters with different dietary restrictions and rules for survival, what kind of requirements do you have on your tour rider? How do you find food on the road?
Drac & the Swamp Rats: We eat our audience, other bands, bookers, people who suggest that we are not actually monsters, and journalists. Our rider is mostly Four Lokos and Cherry Sours from 7-11 and zero mirrors in the fucking green room. We used to ask for virgins but the normcore wokers ruined that for us.
OKG: How does being undead change your relationship to music? Has your musical style evolved over the decades? Are there any mortals you consider influences?
Drac & the Swamp Rats: Being alive forever really lets us cut through the bullshit. You can tell right away if a band is for real or not. Like that Beethoven guy? Total bitch. Body Count rules, though. Ice-T is a true monster.
OKG: What equipment modifications do you have to make to have a Frankenstein's monster playing drums and a wolfman playing guitar?
Drac & the Swamp Rats: The drums are pretty much normal. Igor blood-proofed them for him, obviously. They are pretty much like the inside of a Nissan Xterra. And Wolfers ironically plays silver strings. He loves 'em. LIkes the sting.
OKG: Have you received any cease-and-desist letters from Universal Studios?
Drac & the Swamp Rats: We've actually sent several to them.
OKG: How does Drac make sure he's looking good before a show without being able to see his reflection?
Drac & the Swamp Rats: He uses a Wooly Willy.
OKG: Do you have any upcoming releases or other news that we should mention?
Drac & the Swamp Rats: We got exclusive tour tapes with new shit on them (old shit too) thanks to Sexy Tornado Recordings. [They're] only for sale in person, so you have to talk to Igor, no way around it. Good luck. [We're] also currently working on a vinyl we hope will be big enough to block out the sun.
OKG: Is there anything else you would like to add?
Drac & the Swamp Rats: What kind of fucking questing is that? Ask us something! This your interview! (Drac turns into a bat and flies the fuck away.)
Admission is $10. Local monsters LCG & the X and Net share the bill. Call 405-600-1166 or visit facebook.com/BlueNoteOKC.