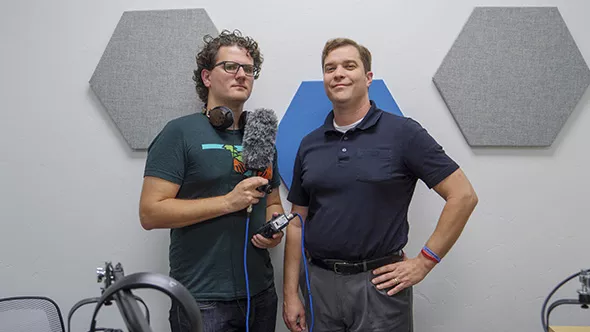 Greg Elwell / provided
Dennis Spielman and Jeff Provine interview Oklahomans about their supernatural encounters for their podcast Tales Unveiled.
Dennis Spielman and Jeff Provine play fictional ghost hunters on their podcast Tales Unveiled, but the people who share their ghost stories are (mostly) real.
Now in its second season, the podcast follows reporter Sam Saxton (voiced by Uncovering Oklahoma producer Spielman) and professor Geoff DeRoot (Haunted Oklahoma City author Provine) as they interview Oklahomans about local urban legends and personal encounters with the supernatural. Some of the more outlandish characters are also actors, but the interviews feature real people. While season one, recorded in 2018, explored legendary local haunts such as Overholser Mansion, the Skirvin Hotel and Tower Theatre, season two broadens its scope to include statewide supernatural hotspots such as Medicine Park, El Reno and the Parallel Forest in the Wichita Mountains.
"All the places we've visited had some sort of little creepiness to them in their own special way," Spielman said. "It seems like the more we dig, the more we've found. We've also found stories that weren't published. For example, in our second season we were doing Route 66, and we were just kind of traveling along the road and visiting businesses and asking them, 'Hey, do you have any ghost stories?' We found some places that happen to have ghost stories that weren't really shared or widely known outside the community that we were pretty much the first to report on."
Though Provine and Spielman both remain skeptical about the supernatural, they try to keep an open mind during interviews.
"There's so many different people with so many different experiences that definitely something is going on," Provine said. "I have no counterevidence, so I just listen and see it from their perspective."
They've discovered that many Oklahomans, when asked, have a supernatural tale to unveil.
"Once you start digging, everywhere has got stories," Provine said. "You can even look at my family members. I come from a pretty quiet family when it comes to spooky stuff like that, and then one day I was chatting with my mom on the phone, telling her I was working on the Haunted Norman book, and she said, 'Your great-great-grandmother used to come back after she passed away.' … I got this whole family story about how as an old farm wife, she'd come back and check on people and make sure they were OK. It'd be weird if you just brought that up at a party or something, but once people start telling ghost stories, everybody's got something to share. It's been great to get these stories recorded since so many of them are just oral history. There's not much chance that they would last more than a couple of generations."
Though they often conduct interviews in purportedly haunted spaces, Spielman said that he and Provine usually go during the day, so they haven't collected many spooky stories of their own in recording the podcast. However, Guthrie's Stone Lion Inn, featured in episode eight of season one, is an exception.
"I wanted the sound of the door opening because it's an older door that makes this creepy sound," Spielman said, "so I have my hands on the equipment. Jeff's opening the door for me, and we go inside. A moment later, there's a knock on the door, and [a woman] was outside, and apparently the deadbolt had been turned and she got locked out. I had my hands full, and Jeff was opening the door for me. There's no way he could have accidentally turned that deadbolt and locked her out. That was probably one of the creepiest things."
Dennis Spielman / provided
Manvel Avenue Coffee Co. in Chandler is featured in the fourth episode of season two.
Spielman attributes another incident at the inn to an electrical wiring issue.
"We were trying to talk to the ghosts, and it wasn't happening," Spielman said. "I was sort of provoking it like, 'Oh nothing's going to happen. Nothing's going to happen,' and eventually, they agreed and decided to turn on the lights, and the moment they turned on the lights, one of the light bulbs popped and kind of burnt out."
Other guests at the inn report closer encounters with the supernatural, Provine said.
"Several people have claimed they'll be spending the night there, and they'll wake up in the middle of the night and they'll see this little girl standing over them, petting their hair," Provine said.
If that type of tale keeps you up at night, Spielman said you can rest assured most of the spirits they hear about seem relatively harmless.
"One of the more common things is how friendly some of the ghosts are," Spielman said. "Few people on our podcast have very malicious ghost stories. I think we've had one or two people who've told us some malicious ghost stories, but for the most part, a lot of the ghost stories are rather playful. They're not nearly as scary. A lot of them are more playful or annoying in a way, like turning on radios, pushing things down, locking doors, stealing coins … more like, 'Just stop it. You're driving me nuts.'"
Visit talesunveiled.com.