Michael Hyatt / provided
The Real Oklahoma Ghostbusters based in Claremore use proton packs and other equipment created with a 3D printer.
If there's something strange in your Oklahoma neighborhood, who you're gonna call might depend on where your neighborhood is. A quick Facebook search for "Oklahoma Ghostbusters" returns five results: Oklahoma Ghostbusters, Central Oklahoma Ghostbusters, Ghostbusters of Southern Oklahoma, Texhoma Ghostbusters and the Real Oklahoma Ghostbusters.
"Think of us as individual franchises, if you will," said Michael Hyatt, founding member of Real Oklahoma Ghostbusters, based in Claremore. "We get phone calls and messages on our website asking us to do shows and stuff in Norman or in OKC, and that's when I point them in the direction of the Oklahoma City team. The same holds true if they get calls and messages in regards to things around the Tulsa area; they holler at us. So it's kind of like a franchise thing. We all cover different areas, and sometimes if we're really lucky, we can all hang out and do one big show."
Hyatt, who said his group is named after the cartoon The Real Ghostbusters because of the animated way they perform, insisted there's no rivalry between the different groups.
"Each team has their different ways of doing things," Hyatt said. "Earlier on, there was a little bit of, dare I say this out loud, but feelings getting hurt, but all the guys realized we're all doing this for the same reason, and we're all just trying to do things better under the whole Ghostbusters banner."
The Real Oklahoma Ghostbusters began in 2005 when Hyatt and his friends began dressing up and restored a Cadillac ambulance to look like the car from the film.
"It started as a big fan project that kind of got crazy from there," Hyatt said. "We were having fun being big kids. We started going to a lot of events, doing things around Halloween, fundraisers for people that needed help, and it really, honestly just started snowballing from there. At that point in time, we were unaware of any other Ghostbuster groups in Oklahoma."
Proton packs
The Central Oklahoma Ghostbusters, serving the Oklahoma City and Norman areas, began in 2006 as a spinoff from the Star Wars club JediOKC. Ryan McKinley, one of the group's founding members, said they were originally just looking for something else to dress up as.
"We'd kind of been burned out on Star Wars by then," McKinley said. "We'd costumed all the Star Wars stuff that we'd wanted to do so we started a Ghostbusters group."
McKinley and his friends began making vacuum-formed proton packs like those worn in the film from plans available on the fansite gbfans.com.
"People have meticulously researched these packs," McKinley said. "If they've been on display at Planet Hollywood or anything, they'll get access with rulers and calipers."
After making the equipment for Ghostbusters costumes, McKinley said the Central Oklahoma Ghostbusters noticed at least one difference between Star Wars and Ghostbusters.
"People love Star Wars, but not everybody loves Star Wars," McKinley said. "Everybody loves the Ghostbusters. It's the craziest thing. You don't get any negative reactions from people when they see that you're doing Ghostbusters. I don't know if it's 'cause Bill Murray is the everyman, with that Caddyshack crossover, but you'll get some jocks that would never do anything Star Wars but they're super into the Ghostbusters. Everybody loves Ghostbusters. You don't run into anybody who's like, 'I just don't get them.' That just doesn't happen."
In an effort to make fan conventions more interesting, the group developed a mock sales presentation that pitched ghostbusting as a multilevel marketing scheme and performed at conventions around the state and in Texas, Kansas and Florida, where they met Ghostbusters actors Dan Aykroyd and Ernie Hudson. They also met more fans like them.
"At the conventions there would be a local contingent of Ghostbusters, kind of a small number, one or two, three guys," McKinley said. "They would see what we were doing, and they were like, 'OK, we can replicate that here.'"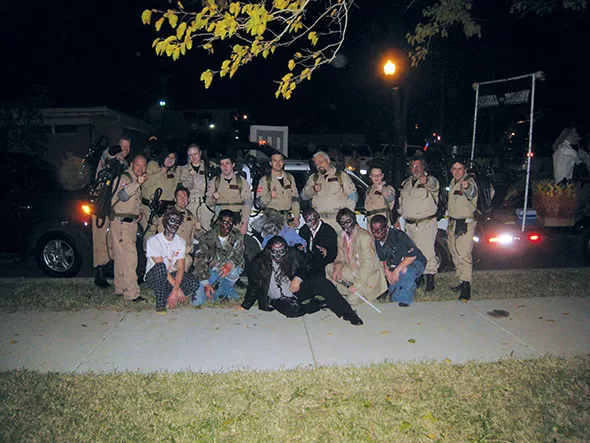 Ryan McKinley / provided
The Central Oklahoma Ghostbusters appear at conventions and charity events in the Oklahoma City and Norman area, but don't try to call them about actual ghosts.
Keymasters and gatekeepers
In a press release from Sony Pictures, Ghostbusters director Ivan Reitman said that more than 1,000 fan groups exist around the world. In 2016, the Ghost Corps production company began accepting applications for these groups to become officially licensed "franchises." Some Ghost Corps franchises have elaborate shows like the Central Oklahoma Ghostbusters' comedic sales pitch, or The Real Oklahoma Ghostbusters' stage show at Tulsa Zoo for its annual Hallozooween event, which includes lasers, a fog machine and a 20-foot inflatable Stay Puft Marshmallow Man. Other groups just appear in costume at conventions and charity events. The Real Oklahoma Ghostbusters appear at events benefitting Cancer Sucks and the National Multiple Sclerosis Society, and the Central Oklahoma Ghostbusters make an annual appearance at Integris Mental Health Center in Spencer, bringing the pediatric patients candy and winter coats. The less region-specific Oklahoma Ghostbusters, which started in 2013 after its founding members met at an Oklahoma Gazette Halloween party, participate in the Walk to End Alzheimer's and the National Multiple Sclerosis Society's Walk MS. One of the Oklahoma Ghostbusters' founding members, Kris Karlsson, said the movie's message is inspirational.
"Ghostbusters fans we just have kind of a similar mindset, to be honest," Karlsson said. "The thing with Ghostbusters is you don't have to be super rich. You don't have to have super powers. You don't have to do anything special to become Ghostbusters, you just apply for the job, you get it and you can save the world and just be a regular guy. … Anyone can be a hero. Anyone can do good. It just takes that moment in time to do it. And that was kind of the original idea."
But, to paraphrase Ray Parker Jr.'s theme song for the film, if there really is something weird and it don't look good, you should probably call someone else.
"We'll have events where we've got our proton packs and the gear," Karlsson said, "and people come up like, 'Hey, man. My house is haunted,' and they're dead serious. 'Can you guys come out to my house and check it out? Get those PKE meters and tell me if it's actually haunted.' And we say, 'Oh no. This is all just fake. It's from a movie."
Hyatt said he has experienced a similar phenomenon.
"Half the people in this area think we are literally real Ghostbusters, and I have to convince them that we are basically a charity-based fan group," Hyatt said. "You've got to remember where the good stuff and the charity stuff ends and when you want to take it seriously and actually tell a family, 'Hey, I think you need to contact your church about this.' Unfortunately, as much as we all love the old movies and the whole lore of Ghostbusters, there's no technology to date that can actually handle that stuff."