Whether single or stacked with patties, caramelized or char-broiled, crowned with crazy toppings or simply a slice of cheese, the hamburger in its endless variations stands the test of time to remain a steadfast American favorite. May 28, which falls during Memorial Day weekend, is National Hamburger Day, and kicks off the summer barbecue season. When you don't feel like firing up your own grill, there are too many incredible OKC burger joints to fit on these pages, but here are six classics and a newcomer all serving mean patties.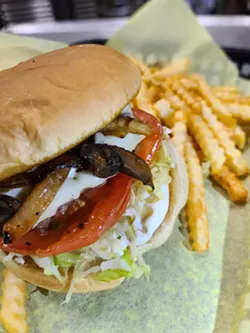 Photo provided
Big Ed's Hamburgers
Big Ed's Hamburgers
12209 N Pennsylvania Ave. • 405-755-2108
www.facebook.com/bigedshamburgers
Big Ed's has been etched in the minds of OKC locals since 1974, and for good reason — it's family-owned, consistent and the opposite of pretentious. It's a simple, classic diner known for a good burger made with fresh ingredients and served with fries that are hand-cut daily. Spice things up with the Flamingo Ed, a quarter-pound beef burger topped with a hotlink, or go buck wild with the Big Ed, a massive burger with all the fixings made to feed eight people.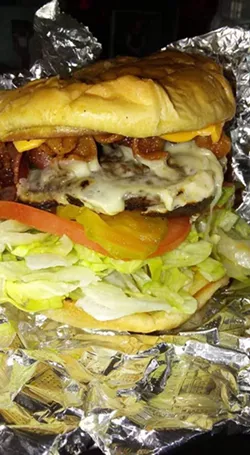 Geronimo's Bakery
1817 N Martin Luther King Ave. • 405-427-5893
www.facebook.com/Geronimos-Bakery-Burgers
You might be surprised to find hamburgers in a donut shop, but along the northeastern stretch of Martin Luther King Boulevard, you'll discover Geronimo's Bakery serving up both and more. Their delicious burgers are served the old-fashioned way with the usual topping assortment. Their namesake burger is a huge draw, with a slice of grilled ham atop a large beef patty with lettuce, tomato, onions, pickles and the condiments of your choice. Don't forget to snag some sweet baked treats on the way out.
Bunny's Onion Burgers
1023 S Meridian Ave. • 405-949-2949
www.bunnysonionburgers.com
Bunny's is the place for onion burger excellence, and whether you want a single patty or a double, these burgers are dripping with flavor and piled high with toppings. Go with a classic or try one of the specialties. The aptly named egg burger is stacked high with sizzling smash-burger-style beef patties, grilled onions, pickles, tomatoes and lettuce, then balanced with an oozy fried egg and similarly oozy cheese.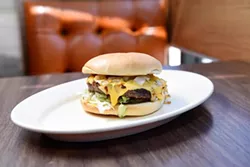 Photo provided
Chuck House
Chuck House
4430 NW 10th St. • 405-942-0852
www.chuckhouseok.com
Chuck House isn't known just as the "home of the best chicken fry in the universe," it's also known for a fantastic selection of hamburgers. The quarter-pound pure beef Okie Burger is double meat patties draped in American cheese, topped with lettuce and raw onion and mustard, then finished with an assertive relish on a soft bun for a taste that is pure, unadulterated burger Americana.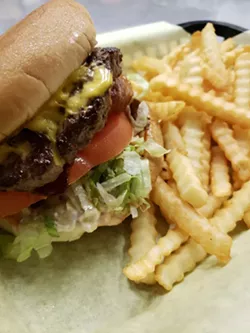 Photo provided
Richey's Grill

Richey's Grill
210 Park Ave #130 • 405-235-3663
www.richeysgrillokc.com
Whether you're downtown for work or play, Richey's is worth a stop for great food at a great price. Burgers aren't the only stars at this hidden gem where the menu also features breakfast, sandwiches, salads, spuds and Lebanese fare. Make sure to consider the hickory Swiss or the double bacon burger, but don't miss out on their version of our state's own Theta burger. It's made with hickory sauce, mayonnaise, slices of dill pickles and cheddar cheese.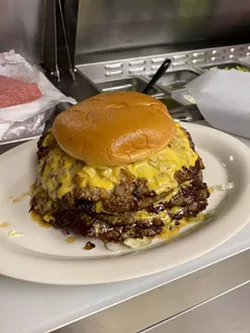 Photo provided
Ron's Hamburgers and Chili
Ron's Hamburgers and Chili
Multiple locations statewide.
www.ronsburgersandchili.com
For more than 40 years, Ron's has been serving up sizzling made-from-scratch burgers and chili packed with spice and flavor. Get the best of both with Ron's Famous Cheeseburger, an old-fashioned cheeseburger with onions fried right into the meat then smothered in 'Oklahoma's finest chili' complete with mustard and pickles. There are 16 locations throughout Oklahoma, so there's always one near you.







Photo provided
Spark
Spark
300 Oklahoma City Blvd. • 405-900-5921
Since opening in the fall of 2021, Spark — the latest concept from The Social Order Dining Collective — has drawn hordes to the northern edge of Scissortail Park for its unique burgers and baskets of piled-high fries and shakes. Each burger here comes with a unique twist that will leave you salivating for more. The Shaka Spark is a real show stopper with Swiss cheese, spiced pineapple, candied jalapeños, lettuce and 'Hang Loose' sauce.