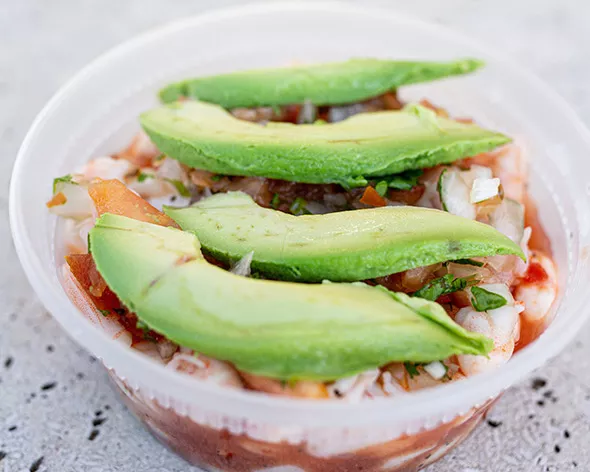 Alexa Ace
Ceviche at Crudoolandia
A taste from the west coast of Mexico has turned into a success story for an Oklahoma family whose Crudoolandia stores have now expanded to two locations in Oklahoma City, one in Tulsa and out-of-state expansion on the horizon.
Owner Nancy Soto Hallman got the idea for Crudoolandia from her brother Thomas Soto, who wanted to combine the beachside Mexican tradition of combining seafood with the spicy tomato juice cocktail Michelada and the drive-thru convenience of beer barns that Soto saw in Texas.
Seven years ago, the first Crudoolandia opened in a vintage service station at 641 SW 29th St., and it almost immediately became a hit.
"It's lightning in a bottle because we sell more than we thought we'd sell," Greg Hallman said, speaking in English on behalf of his wife Nancy. "It feels like an anomaly sometimes. … We're taking the idea of eating in Mazatlán, picking it up and putting it in OKC in more of a fast-food concept. All of the pieces fell together. We didn't plan it that way. It was iterative and we built on the drive-thru concept, we added a kitchen and it's expanded."
Hallman said Crudoolandia's eureka moment came as they decided to push the boundaries from a traditional Michelada that is referred to colloquially as "red beer" because of the mixture of clamato, lime, chile and soy or Worcestershire sauce with either beer or mineral water. They upgraded the 32-ounce La Goolosa to a 44-ounce El Rey (The King) that tops the drink with shrimp, cucumber, celery, Mexican beef jerky and spices. Its counterpart La Reina (The Queen) substitutes cucumber for coconut.
"The King is the most outlandish drink and started off almost as a joke," Hallman said. "We thought no one would buy it, and it's turned out to be the bestseller, and it's how we pay the employees that we have. It's a marker of success we can create jobs."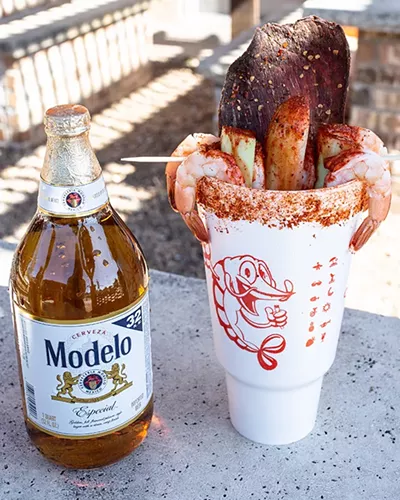 Alexa Ace
A 44-ounce El Rey with shrimp, cucumber and Mexican beef jerky can be finished with beer or mineral water.
Crudoolandia employs 20 people at two locations in Oklahoma City and five in Tulsa, where it opened a store two years ago. The 1130 SW 59th St. OKC location opened in June as a way to help traffic congestion on SW 29th Street during the weekend rush, as cars would often back up for blocks into the street.
To comply with ABLE and city ordnances, Crudoolandia is classified as a convenience store so that it can serve unopened beer to customers in their cars through a two-bay former garage at its original location. The second Oklahoma City location serves through a drive-thru window of a former Taco Mayo.
"People ask if it's legal, but the beer is unopened, and as long as the customer is over 21 and not impaired, it's just like getting beer and snacks at an OnCue," Hallman said.
Crudoolandia offers chips like spicy Takis or pinwheel-shaped Duros, but it deviates from other convenience stores with its fresh seafood offerings like ceviche with shrimp, fish or a combination of the two. Shrimp is served in a variety of preparations, including aguachile served in either spicy red or green sauce. Raw shrimp is marinated in lime juice for days so it's ready to safely eat.
"I call it Mexican sashimi because it's prepared raw," Hallman said of the aguachile.
The Chuvi Duvi is a fruit drink with pineapple juice that can be combined with mango-flavored Smirnoff malt beverage for adults or mineral water to be kept nonalcoholic.
Soto came up with the name Crudoolandia as a play on words, taking the expression for hangover (crudo, which literally translates to "raw") and making it a place people want to go.
"In Mexico, if anything is a place that you go to for something, you can add 'landia' at the end," Hallman said. "For example, if we go to a place for hamburgers, we might call it hamburgerlandia, and the story behind landia is that it comes from 'Disneylandia" because it's the happiest place on earth. The saddest place on earth might be IRSlandia. It's like a meme that you can make anything 'landia.'"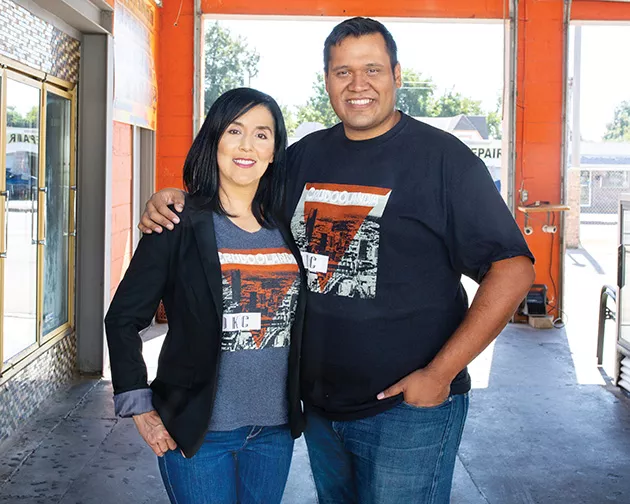 Alexa Ace
Crudoolandia owner Nancy Soto Hallman and husband Greg Hallman
Traditionally, a Michelada is the best drink for the "hair of the dog," in which alcohol is used to alleviate the effect of a hangover.
"Crudoolandia translates to 'Hangover Heaven,' and the literal translation is Hangover Land, which doesn't have the same ring as Hangover Heaven because there is nuance in 'landia' in that you want to go there," Hallman said.
Just as Baskin-Robbins and Ben & Jerry's expanded beyond the chocolate and vanilla options of ice cream, Hallman said they want to do the same for Micheladas at Crudoolandia. They experimented with the idea of serving punch bowl-sized drinks or putting a whole plate of ceviche on top of a drink with a hole in the middle for a straw.
"It's similar to the crazy milkshake movement [that have whole desserts on top]. It started in Mexico to be 'How crazy can you make it?'… It could be a full meal on your drink and a snack at the same time," he said.
Crudoolandia's enterprising spirit has the company location scouting in Dallas as a potential franchisee is in talks to bring the concept to Fort Worth, potentially by the concept's busy season that runs from spring through the summer.
"Some restaurants take 6 to 12 months to make a profit, and our overhead is super low. We were in the black within two months in Tulsa," Hallman said. "We save money because we don't have to heat and cool a large dining area and little ways to save money here and there."
Visit crudoolandia.com.