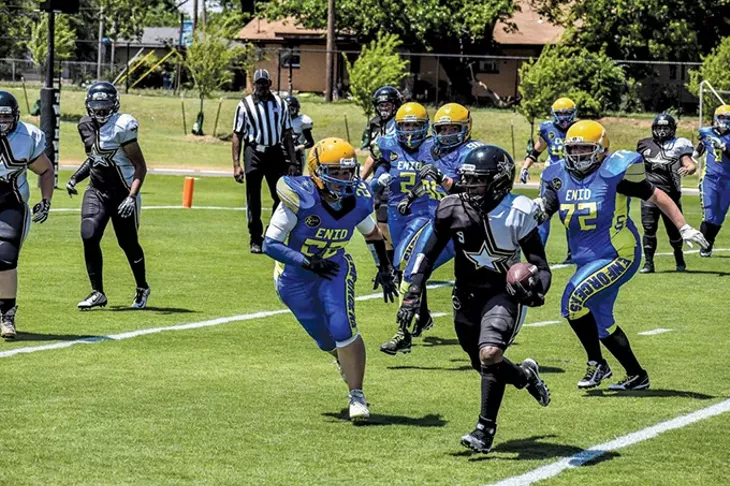 Oklahoma City Lady Force / provided
Oklahoma City Lady Force Football includes about 20 teammates who play games against other regional teams.
Under a leaden sky, on the practice field of Moore High School, a group of female football players meets regularly. On this Saturday, they count off their stretches, finishing each one with a shout of, "Lady! Force!"
Head coach Shay Ford spots me hanging out on the sidelines as I wait for a chance to introduce myself. She waves.
"You want to play football?" she shouts.
I don't, but I'm still impressed with what I see of the team so far. It's clear pretty quickly that the women on the field take the game seriously. They train intensely and hit hard, playing full-contact, eight-man football.
The Lady Force has been around for several years. The team played its first season with the Women's Xtreme Football League in March 2015, and this is Ford's second year of coaching. She has played football since 2002.
"There's a lot of people that don't even know that we even exist," Ford said. "So for us to be women and playing football, it's like, 'Oh, it's just like a little league team.' If I tell anyone we play football, it's like, 'Oh, are you powder puff?' or, 'Are you guys lingerie?'"
Team owner and running back Sade "Koi" Roberts explains that the team was previously with the Sugar n Spice Football League (SSFL), but they decided to leave because the league was, in their opinion, "degrading to women." Players wore cropped jerseys and short shorts.
Ford agrees.
"It was more of a lingerie-type league," she said.
When it first moved to the WXFL, Oklahoma City Lady Force had only the Northern Oklahoma Xtreme from Ponca City to play against. But by the next year, there were five teams.
Now, players range in age from 18 to 52. Some work as physical therapists and daycare owners, while several others have jobs in law enforcement. Many of them have families. And Ford said most of the women on the current roster are return players.
"You can watch it on TV," Ford said, "but it's different when you're out here, knowing exactly who messed up, the techniques, the positions and all that. So we actually teach football."
Ford and Roberts pointed out that a lot of women join for the fitness aspect, too.
"Not only is it just fun, and it's a family atmosphere, you have an opportunity to build bonds and lose weight," Ford said. "It's like a fit camp."
Lady Force's 2019 season will begin in March and run through June. It will have at least eight regular-season games, plus playoffs. Since it's so early before the new season, the league is not currently set. Fellow teams in the past have included Kansas Lady Cougars, Kansas City Storm, the Northern Oklahoma Xtreme and the Enid Lady Enforcers, among others.
Did I mention the Lady Force has never lost a game? It has been undefeated for four years. It is the four-time WXFL champion team.
"A lot of people don't want to play us," Ford said. "We're good. We're dedicated."
Oklahoma City Lady Force / provided
Oklahoma City Lady Force Football players.
Growing team
Ford said its goal is to recruit enough players to eventually move up to an 11-person league.
"We need women to come out and play and the support from local sponsors so that we can continue to grow," she said.
The team has about 20 players on its roster right now but cannot comfortably switch leagues, preferring to have more players in case of injuries.
The team has been through some changes this year. Roberts (who is a teacher and Army veteran) took over as owner last January, and one of her main goals is to establish the team as a nonprofit. It needs funding before it can go through the process.
For now, the team members must provide almost everything they need themselves. Ford said they essentially have to "pay to play."
"That's the toughest part about being in a women's sport," Ford said. "And that's in any women's team I've played on. Fees for the team, you know, [it's] $250 up to $500, depending on what league we're in. And that's kind of tough, with everybody being parents and doctors and everything else."
Past fundraisers have included car washes, potlucks, bake sales and poker tournaments. The team members try to be active in their communities, too, and have held prior events at Boys & Girls Club of Oklahoma County.
Kid-supported
During a water break, I met players Brittani Craig and Heather Dorsey. They were breathless after agility runs.
Craig is a mother of seven and a pre-kindergarten teacher. She plays cornerback. Dorsey works in retail security and has three kids. She's the team's center.
"It's kind of family away from family," Craig said of the team. "So you don't have to deal with the stress of your everyday job, and the kids, and cooking and being a wife and all that. You get to come out here and hang out with the girls. It's pretty fun."
"You can come and take out aggression," Dorsey added. "[You can] hit people, and they don't get mad at you."
Both said their children look up to them. Craig said her kids want to play, and her young students are also supportive.
"They have signs they make and everything," Craig said. "They're very excited about it."
They say although most people are encouraging and the team has a strong fanbase, it does at times meet with resistance, especially from men. But the teammates let their playing speak for itself.
"We're really technical and really focused," Craig said. "I think sometimes more focused than the guys. But it's okay. The NFL players, they're good. They look nice."
Craig and Dorsey laughed at the light teasing. They said they both want their league to get bigger.
"A lot of our high school girls that play football for high schools, a lot of them don't know that we exist," Dorsey said. "After high school, there's still an opportunity to play. So I would like to reach out."
As far as new recruits, Ford said she's looking for women of all backgrounds, sizes and experiences to play on the team. Players just need to be at least 18 years old.
Practice continued, even when rain started to dampen the field. No one complained. Two of Dorsey's children trailed her as players did pass drills.
At one point, Roberts gestured to the women sprinting nearby.
"Look at them," she said. "They look kind of intimidating. For somebody new to come and step on the field, [it's] like, 'I don't know if I can do this.' It's just about motivation and dedication, the drive, the willingness to learn. Is this something you want to do?"
Visit facebook.com/okcladyforce.