Chester Higgins / provided
Mildred Howard, named Westheimer Distinguished Visiting Artist Chair by University of Oklahoma, will speak 7 p.m. Thursday at the opening of an exhibition at the university's Fred Jones Jr. Museum of Art.
Writers often expend considerable chunks of their word counts describing Mildred Howard's work, but she classifies everything she has created in her decadeslong career in one syllable, three letters.
"I make art," Howard said. "I make whatever I'm interested in at the time."
The Oakland, California-based mixed media artist is scheduled to lecture about her art and career 7 p.m. Thursday in Mary Eddy and Fred Jones Auditorium at University of Oklahoma, 555 Elm Ave., in Norman. Howard is the university's seventh Jerome M. Westheimer Sr. & Wanda Otey Westheimer Distinguished Visiting Artist Chair, and her lecture will mark the opening of a public exhibition of her work, which will remain on display through April 7 at Fred Jones Jr. Museum of Art.
In a 2012 article on the Joan Mitchell Foundation website, Howard estimated that she "could fill several floors of a museum and still have work left over" with her art, which includes collages, sculptures, installation art made from found objects and more.
"Many people think about art, and for some, it's just one media for a lifetime," Howard said. "For me, it's doing what my interest is at the time. … The same thing applies to material. I work in everything from bronze and glass to found and acquired objects. For me, making art is making art. … I like making things. I like using, making and thinking about art … and I'm continuously trying to perfect that."
Howard's collage "I've Been a Witness to this Game I" (2016), for example, superimposes a black-and-white image of Beyoncé in the Dsquared2-designed leather jacket she wore to perform at the 2016 Super Bowl halftime show over a Civil War-era illustration of Confederate troops standing for inspection. "Memory Garden" (1989) is a house-shaped structure made from wood and empty glass bottles. According to a museum press release for the exhibition, "Howard's work incorporates a variety of media to create nuanced examinations of gender, race, politics and other issues central to contemporary society."
The artist herself, meanwhile, said she is not attempting to make any specific statement in her work.
"When I'm making art, I don't make art and say, 'Oh, I'm going to make this political, or I'm going to make this that way,'" Howard said. "Being the maker is one thing; being the spectator or the viewer is another. Art does not say, 'Oh I'm political.' Art does not talk. It doesn't have feelings. … A painting is an inanimate object. A sculpture is an inanimate object, but what does it do to the viewer and to the spectator? That's the larger question."
Artful juxtaposition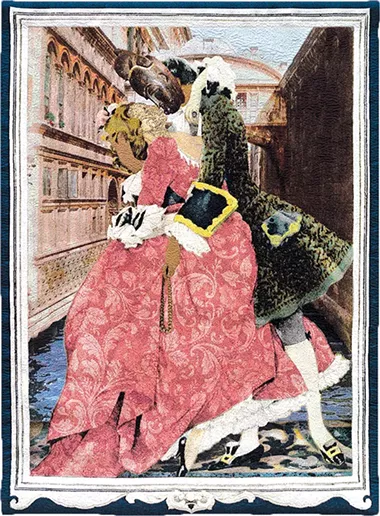 Magnolia Editions / provided
"Casanova: Style, Swagger, and the Embracement of the Other – I" by Mildred Howard
Ultimately, the beholder's perception is outside of her control and doesn't figure into her creative process.
"I can't determine what someone else thinks," Howard said. "What I would hope is that what I make will bring a sense of curiosity and a sense of wonder. … That's after the fact because when you're working, you're going through this process of trying to make that which you are working on work compositionally and all the traditional things that go into the art-making process. I'm not making it to say, 'Will people think this, or will people think that?' I hate to say it, but that's not my job to figure out what people are going to think."
Her "Volume I & II: The History of the United States with a Few Missing Parts" (2007) presents two American history books that are literally full of holes, and the social commentary the work seems to suggest was completely unintentional.
"That was by happenstance. I was building a totem of books and drilling holes in it, just random placement of holes, and when I got to that one, I opened it, and it has the quote that's on the Statue of Liberty on one side," Howard said.
The holes surround Emma Lazarus' poem calling for the "huddled masses yearning to be free" to seek out Lady Liberty's lamp "beside the golden door," which the history book, The United States Since 1865, quotes in reference to immigration restrictions instituted in the U.S. during the 1920s. "Now," the authors write, "the door was all but closed."
"For me, that piece is particularly important because of what's happening now with the borders," Howard said. "When Trump said the criminals are coming here, bullshit. It's bullshit. They're already here, and he's the biggest one. People have to work without pay. … Look what's happening to the young people in our schools. They're not from out of the country. They're right here."
Though the holes were created with a drill, they could easily be mistaken for large-caliber bullet holes. Howard created another of her works, "Ten Little Children Standing in a Line (One Got Shot and Then Were Nine)," in 1991, but it was inspired by the Soweto Uprising of 1976, in which South African police opened fire on a crowd of schoolchildren demonstrating for the right to continue learning their lessons in English in opposition to a new mandate under apartheid. A photo of a 13-year-old boy killed by the police incited further protests and drew international attention to the incident, resulting in the economic sanctions that would cripple South Africa's apartheid-supporting government.
Anglim Gilbert / provided
"Memory Garden" by Mildred Howard
In Art of Engagement: Visual Politics in California and Beyond, author Peter Selz writes, "In her solemnization of anger, grief and mourning, Howard presents us with a large number of opened hands made of copper. … Arranged around a large cross on the floor, the hands stand in front of a seemingly abstract geometric design, which is actually a wall composed from thousands of bullet casings."
Howard said she had the idea for the piece after finding glove-shaped molds many years after the events, but it remains relevant today.
"It was 15 or 20 years after the Soweto massacre that I was able to even deal with that one," Howard said. "Because you want to learn to speak a different language, you're going to be massacred? Look what's happening in this country right now. Right now. What's wrong with speaking several languages?"
As detailed in Pam Uzzell's 2018 documentary Welcome to the Neighborhood, Howard moved to Oakland after she was priced out of her native Berkeley, California, when the rent on her studio went up by 50 percent as a result of gentrification. The documentary discusses the artist's work along with the work of her mother, community organizer Mabel Howard, who fought against dividing the city along racial lines. Though Mildred Howard does not consider herself an activist, she said in the documentary that her relationship to her work mirrors her mother's feelings about her own work for equality.
"Art is a blessing and a curse," Mildred Howard told interviewers. "It's a blessing because I can do it, and it's a curse because I can do it."
Admission to the lecture and the exhibition is free. Visit ou.edu/fjjma.