provided
The Clash burger with American cheese, fried onions and jalapeños, nacho Doritos, hoisin mayonnaise, cilantro and lime is Burger Punk's most popular item.
The newest addition to Oklahoma City's food truck scene certainly stands out in a crowd. Complete with a pink mohawk, Burger Punk lives up to its name.
The concept is hamburgers and crinkle-cut fries that could serve as the mobile version of a pop-up kitchen leading to a potential brick-and-mortar location from 84 Hospitality Group (Empire Slice House, Easy E Slice Shop, Ponyboy, Gorō Ramen, ¡Revolución!).
The unique design of Burger Punk comes from Houston-based designer Chris Nguyen. Hospitality 84 CEO Rachel Cope said she was inspired by Seattle's Maximus / Minimus, which fashioned its truck into a giant steel pig.
"I'm still waiting on the nose ring [for Burger Punk], but it's not ready yet," Cope said with a laugh during an interview with Oklahoma Gazette. "I tried to order spikes for the tires, but the lug nuts [on the truck] are a weird size, so I haven't been able to find them yet."
Burger Punk makes use of an existing truck that Cope purchased from Shaun Fiaccone — the former Ciao Wagon meatball truck — about a year and a half ago. Cope said she got tired of looking at the blank truck and decided to use it as a test run for a burger concept.
Burger Punk served its first burgers Oct. 10, and Cope said she has already had inquiries for a brick-and-mortar location. Burger Punk will be at Stonecloud Brewing Company, 1012 NW First St., Suite 101, every Saturday and the new Vanessa House Beer Co. brewery, 118 NW Eighth St., every Sunday.
Burger Punk is not connected to an upcoming 84 Hospitality restaurant set for The Paseo Arts District in 2019. Cope referenced successful Gorō Ramen, which she and executive chef Jeff Chanchaleune operated as a pop-up restaurant for a year before opening its 16th Street Plaza District location, as a model for Burger Punk.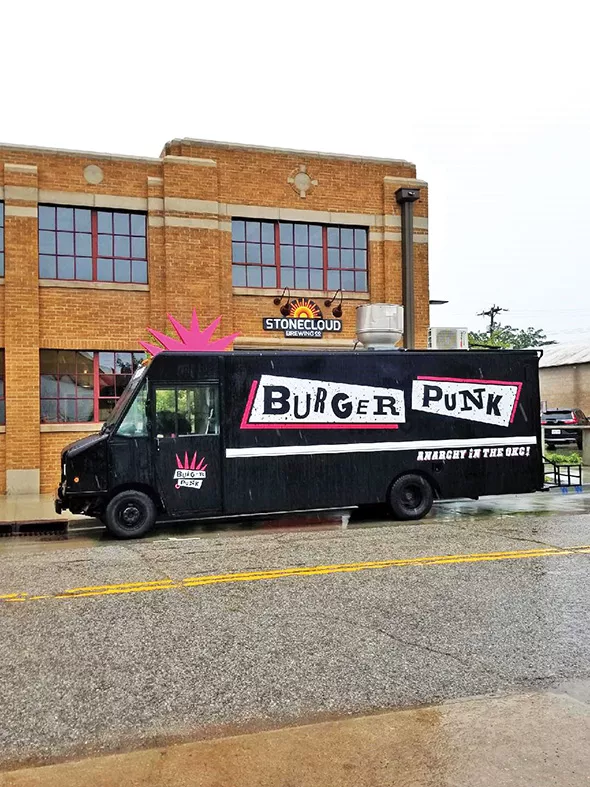 provided
The Burger Punk truck features a custom pink mohawk.
"As it gets more and more expensive to lease a space and build out a kitchen, we already had the kitchen [on the truck]," Cope said. "I like the idea of using something like this as a test, to make some small changes so that if we do go brick-and-mortar, we're ready to fly and not going to make mistakes on the equipment we buy or the buns that we use."
Burger Punk is the first project for 84 Hospitality's new head of culinary development, Andrew Eskridge, Gazette's reigning best chef in its annual Best of OKC readers' poll, joins the group after leaving The Jones Assembly.
"I've got the two-headed monster of Jeff [Chanchaleune] and Andrew," Cope said. "I think I have two of the most talented young guys in the city, so lucky me. Andrew has a lot of talent. He's a super hard worker and very humble. He reminds me so much of Jeff in that way, and they've been fun to work with."
Blitzkrieg burgers
Eskridge developed the Burger Punk menu that includes six types of hamburgers with suggestions from Cope. The Clash has been its most popular item and includes American cheese, fried onions and jalapeños, nacho Doritos, hoisin mayonnaise, cilantro and lime. The OG Punk is its take on a classic cheeseburger with house dill pickles, lettuce and Punk sauce, which is available with two patties in the Misfit-in-Your-Mouth burger. The Eggy Pop features American cheese, bacon marmalade and a fried egg. The Velveeta Underground has roasted poblano, crispy onions and "liquid gold," which despite the name, includes no Velveeta and is an Eskridge-made cheese sauce. The cheese sauce can also be added to Burger Punk's crinkle fries.
The Green Daze is Burger Punk's plant-based burger, which uses Beyond Meat. Cope said she let her sister Chelsey, who is vegetarian, choose between Beyond Meat and its chief competition, Impossible Burger.
It also features a pair of desserts: a house-made chocolate brownie with peanut butter chips and a vanilla milkshake with crushed Butterfinger and miso caramel topped with edible gold powder for show.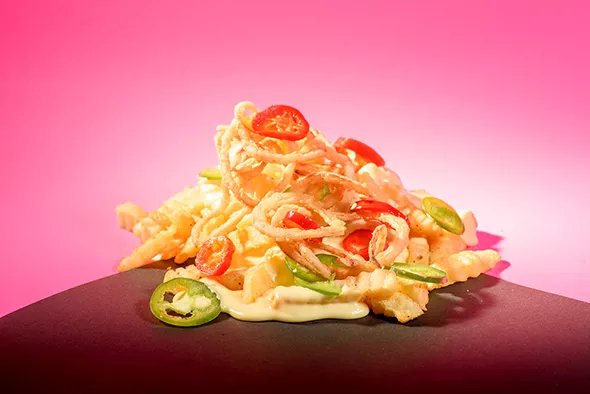 provided
The Mosh Pit fries covered in cheese, fried onions and peppers
New Ponyboy kitchen
Burger Punk used its first few runs outside Ponyboy, 423 NW 23rd St., but Ponyboy recently unveiled its new food menu from a recently renovated kitchen.
The food menu developed by Cope and Chanchaleune builds off the bar, which is named after a main character in the Oklahoma-set novel The Outsiders.
"Since Ponyboy is dedicated to the spirit of Oklahoma, we wanted to include a menu that reflected that," Cope said in a press release. "From pimento cheese dip to deviled eggs, Oklahomans will definitely recognize these favorites."
Ponyboy puts a spin on Oklahoma classics. The deviled egg features a fried panko breadcrumb coating, creamy egg yolk and pickled red onions. The pimento cheese dip is served with pita bread and can be found on top of a bologna sandwich. Dad's Bologna Sandy is bologna, American cheese, pimento cheese, pickled onions, coarse ground mustard and fried onions on a toasted brioche bun served with potato salad.
The menu also features catfish dip; loaded cornbread with serrano peppers, cheese and corn served with chorizo gravy; and pecan pie topped with cinnamon whipped cream.
The menu is available until midnight Sunday-Thursday and until 10 p.m. Fridays and Saturdays. Food orders can only be made on the first floor of the two-story bar.
Follow @burgerpunkokc for updated Burger Punk locations. Visit ponyboyokc.com.