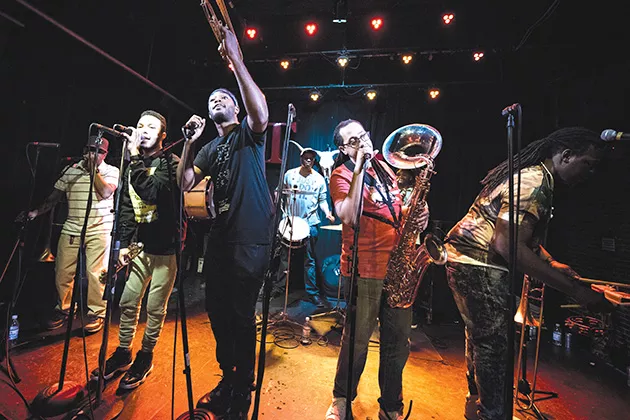 Provided
Rebirth Brass Band infuses traditional New Orleans jazz with elements of funk and hip-hop.
Rebirth Brass Band
8 p.m. Monday
Tower Theatre
425 NW 23rd St.
405-708-6937
$17-$27
It really began hundreds of years earlier, when Africans brought to America on slave ships brought their musical traditions and rhythms with them, but jazz first became as codified as it ever could be in New Orleans more than a century ago.
For 36 of those years, Rebirth Brass Band — playing 8 p.m. Monday at Tower Theatre, 425 NW 23rd St. — has upheld the tradition and added to it, combining early French Quarter street-corner swing with elements of funk and hip-hop.
Founded in 1983 by brothers Phil and Keith Frazier (sousaphone/tuba and bass drum, respectively), Rebirth Brass Band has survived lineup changes, health problems and Hurricane Katrina to tour the world, win a Grammy and appear on HBO's Treme as a symbol of New Orleans' perseverance.
"I think the biggest thing about our longevity is the guys in the band, they just really like playing music," Keith Frazier said. "For whatever reason, some guys decided to stop. It could be for physical, mental or family reasons, but even if they're not here anymore, they still love playing music. They just can't travel as much. We just find guys who like to play. It's not about the money or anything. They just want to play music."
In addition to the Frazier brothers, the current lineup includes Glen Andrews (trumpet), Stafford Agee (trombone), Derrick Tabb (snare drum), Vincent Broussard (saxophone) and Chadrick Honroe (trumpet). Keith Frazier said the band's style incorporates decades of music history.
"The music can cycle through different genres," Keith Frazier said. "You can play traditional music; you can play modern music; you can play slow tempos, fast tempos. With the lineup that we have with the horns, we can pretty much play anything. So you can just play with whatever's popular at the time. You can turn it into a New Orleans jazz tune or a jazz standard. It all depends on what's going on at the present time. We always want to remind people where the music is coming from, but you have a different interpretation from the guys who played it 30 or 40 years ago. That keeps the music new."
The fact that modern musicians with their influences and attitudes are playing the music can make even the oldest standards sound fresh.
"Songs that were played in the '40s '50s and '60s, we can make them sound brand-new," Keith Frazier said. "It's just their interpretation of what came before them. As a matter of fact, we do that quite a bit. People hear a song and they're like, 'Oh that's something from the '40s or '50s, but it sounds so new.' That's just our interpretation of it."
The band's highly improvisational style also depends on chemistry between the band members.
"The offstage stuff plays a part in what happens onstage because if you're not vibing with a guy offstage, it's going to be kind of hard to communicate with him onstage," Keith Frazier said. "You don't have to be best buddies or stuff like that, but you have to be able to have a working relationship. … When we're not working, we still talk about other things that we can actually bring to our music. So I think that plays a part, especially when you're trying to improvise, because most of our music is not written, so you're just kind of going off the guy playing next to you. If you know him in a personal way, you can kind of feel what he's thinking or how he's feeling about a particular tune. That helps a lot."
Mutual respect and admiration also go a long way on the road.
"You don't want to have an adversarial relationship with someone that you're going to be touring with two or three weeks or months at a time," Keith Frazier said. "That makes a very uncomfortable situation."
Improvising on standards and popular Rebirth songs such as "Do Watcha Wanna" and "I Feel Like Funkin' It Up" onstage ensures that no two shows are exactly the same.
"We'll play something, and come next week, it's, 'Hey, man. Do you remember that song?' 'No; I forgot it,'" Keith Frazier said. "So what we've been doing lately is trying to record all the sets, but sometimes, still, if you hear it played back, you don't remember what gave you that feeling to play what you played. So you can lose quite a bit. … We never really try to recreate them. If we go back into something and we try to replay it, we manage to create something new instead of what we did on the stage."
But losses can lead to innovation. One time before a gig, Keith Frazier lost the metal coat-hanger hoop brass band percussionists often use to hit their cymbals, so he replaced it with a screwdriver and never went back.
"I tried the flathead screwdriver on the cymbal, and I liked the sound that it made, a very distinct metal-on-metal that will cut through anything," Keith Frazier said. "You don't really have to mic it because metal will cut through anything."
Other drummers have since adopted the method. Keith Frazier said just about any screwdriver will do as long as it is a flathead and not a Phillips.
"The materials they're making the cymbals out of now are not as sturdy as they used to be," Keith Frazier said, "so you want something flat that's not going to tear your cymbal up too much."
Though Keith Frazier now lives in Texas and returns to New Orleans to play with the band or just joins them on tour, he said the old feeling comes back when the music starts.
"If the band was brand-new, that would be something different, but our band's been around for such a long period of time and I've been playing in the band since day one," Keith Frazier said. "So it's kind of like, they say, riding a bike. Once you learn you, you always know how to do it when you jump back on it."
People unfamiliar with Rebirth's style of music also seem to know what to do when the band begins to play.
"We know people are excited to see it if they don't get a chance to see it or hear it a lot," Keith Frazier said. "It's something different for them, so they're all in."
He only offered one piece of advice for anyone who has never heard New Orleans jazz.
"Be prepared to dance," he said. "That's what we do. We play dance music."
Tickets are $17-$27. Visit towertheatreokc.com.