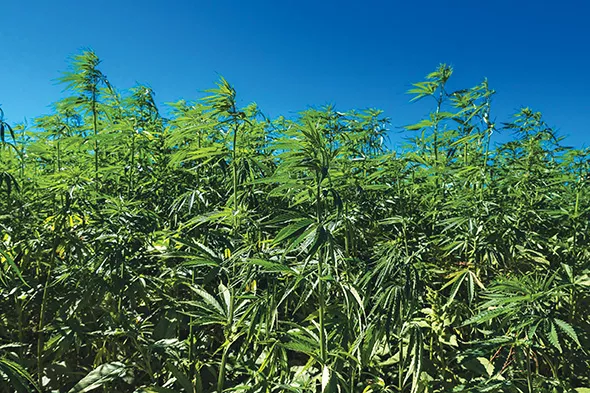 bigstockphoto.com
The Hemp Farming Act of 2018 removes the Schedule I classification and makes hemp a normal agricultural crop.
Oklahoma might soon see a return to its roots as a major hemp-producing state thanks to the 2018 farm bill.
Last year, Oklahoma passed the industrial hemp pilot program, which was covered under the 2014 farm bill. Beginning in May, hemp growers would have to partner with a college or university to be able to farm hemp, a low-THC form of the cannabis sativa plant. The farm bill removed that restriction.
By law, hemp cannot contain more than .3 percent THC content. THC is the psychoactive element in cannabis that provides psychoactive effects. Hemp instead produces larger quantities of cannabidiol, or CBD.
"Hemp was considered the same as marijuana, a Schedule I drug, and all that language has been changed and you can take hemp across state lines, transporting it, all of those kinds of things, under the 2018 farm bill," said Kenny Naylor, the director of Food Safety & Consumer Protection Services for the Oklahoma Department of Agriculture, Food and Forestry.
Under the 2018 farm bill, Naylor said, you do not have to have a university partner to grow hemp and can apply directly to the U.S. Department of Agriculture.
The Oklahoma Legislature is expected to approve the relevant components of the 2018 farm bill this session. Oklahoma Senate Bills 554, 863 and 868 have already been introduced to incorporate those hemp-farming elements.
After those pass, the state agriculture department will apply to the United States Department of Agriculture (USDA). They should receive a response within 60 days of applying, Naylor said.
"The other program continues on, so they can still participate and grow hemp and do things under the industrial hemp pilot program," he said.
Naylor said between May and January, there were 28 licensed growers with 445 acres of hemp planted outside and 80,000 square feet of indoor growing. The law does not make a distinction between hemp grown for CBD production and industrial purposes.
"I think at least most of the interest right now is in CBD, that there's still a lot of interest in, you know, fiber and seed as well," he said.
Hemp history
Oklahoma was one of the major hemp-producing states through World War II. There were many uses for the plant, including it being used as fabric for military uniforms as part of the country's Hemp for Victory program. Henry Ford also experimented with it for use as a material in automobile manufacturing in the 1940s.
Post-war regulation and re-scheduling took hemp out of Oklahoma agriculture's hands, but the state might once again become a leading producer.
"There's a lot of people who think we will, and I know in the past when it was growing here back in the '40s, we were one of the bigger producing states," Naylor said. "We'd like to try it and see if it's something that can help give [farmers] another means of income as opposed to growing the traditional crops here."
While industrial hemp growing was abandoned, the plant still grows wild in the state due to its cultivation here three quarters of a century ago.
"We have wild hemp growing in Oklahoma that's left from back during that time, and they have harvested some seed from it because they're going to try to develop like an Oklahoma heritage variety, developing it from those wild crops that have been growing here since the '40s or maybe before that," Naylor said. "Obviously, it's tolerated our heat and drought and wet and everything else that's going on, so they'd like to get ahold of those genetics and maybe add some more modern variety genetics to it for other beneficial things, whether that be CBD or fiber production or whatever that may be."
Naylor said wild hemp is more prevalent in western parts of the state and has been found growing in Caddo, Canadian and Dewey counties.
While some farmers might see the thick, dense leftover hemp as a nuisance, a new breed of farmers see opportunity.
"I just think that most of them are excited about all the potential uses of the crop, whether it's insulation for houses or fiber in your concrete or plastic bags or CBD or products that come from seed," Naylor said. "You know, they've got hemp seed on the shelf at Walmart right now that you can eat."
Alexa Ace
Jim Castor owns Life Organics Cannafé in Norman and believes the legalization of hemp farming will greatly help the CBD industry.
Hemp regulation
The same day the provisions of the 2018 farm act were signed into law, the U.S. Food & Drug Administration (FDA) released a lengthy statement regarding its production, marketing and usage.
"We're aware of the growing public interest in cannabis and cannabis-derived products, including cannabidiol (CBD). This increasing public interest in these products makes it even more important with the passage of this law for the FDA to clarify its regulatory authority over these products. In short, we treat products containing cannabis or cannabis-derived compounds as we do any other FDA-regulated products — meaning they're subject to the same authorities and requirements as FDA-regulated products containing any other substance. This is true regardless of the source of the substance, including whether the substance is derived from a plant that is classified as hemp," FDA Commissioner Scott Gottlieb wrote in the statement released Dec. 20.
"In particular, we continue to be concerned at the number of drug claims being made about products not approved by the FDA that claim to contain CBD or other cannabis-derived compounds. Among other things, the FDA requires a cannabis product (hemp-derived or otherwise) that is marketed with a claim of therapeutic benefit, or with any other disease claim, to be approved by the FDA for its intended use before it may be introduced into interstate commerce. This is the same standard to which we hold any product marketed as a drug for human or animal use. Cannabis and cannabis-derived products claiming in their marketing and promotional materials that they're intended for use in the diagnosis, cure, mitigation, treatment, or prevention of diseases (such as cancer, Alzheimer's disease, psychiatric disorders and diabetes) are considered new drugs or new animal drugs and must go through the FDA drug approval process for human or animal use before they are marketed in the U.S.
"Selling unapproved products with unsubstantiated therapeutic claims is not only a violation of the law, but also can put patients at risk, as these products have not been proven to be safe or effective. This deceptive marketing of unproven treatments raises significant public health concerns, as it may keep some patients from accessing appropriate, recognized therapies to treat serious and even fatal diseases."
Gottlieb said that due to substantial public interest, the FDA would be holding meetings in which hemp stakeholders can share their experiences and challenges, and the agency will take the appropriate actions against products being unlawfully marketed.
"At the same time, we recognize the potential opportunities that cannabis or cannabis-derived compounds could offer and acknowledge the significant interest in these possibilities," Gottlieb wrote. "We're committed to pursuing an efficient regulatory framework for allowing product developers that meet the requirements under our authorities to lawfully market these types of products."
Jim Castor, co-owner of Life Organics Cannafé, is excited by the possibilities.
"We're absolutely energized because it legalizes cannabis essentially. What that does is it allows our extraction processes to flourish," Castor said. "The farm bill allows Oklahoma farmers to grow — well not only local farmers but everywhere — hemp, and our extraction processes is going to extract the cannabinoids from those and put them into oils and vape carts, and with the farm bill, it allows us to ship it nationwide legally. So it's a real shot in the arm for us because our extraction processes can do regular cannabis, medical marijuana, but it also can do hemp. It's very difficult to extract, but our proprietary process does it just fine."
The FDA's stance does not particularly trouble Castor.
"They kind of put it out there that they reserve the right to regulate it as a drug," he said. "I guess they've always reserved the right with cannabis to call it a drug. They've had cannabis scheduled as a Schedule I drug for years, and the FDA already regulates marijuana as a drug, so them reserving the right to classify the CBD that's extracted from hemp, which is also cannabis sativa, really is no change at all from their perspective. Part of that farm bill is also that concentrates and extractions are legalized. I think the FDA would like to regulate everything if they could, but I'm not sure if that will hold water."
It also alleviates some stress from CBD producers from a tax and banking perspective.
The Internal Revenue Code subsection 280E reads, "No deduction or credit shall be allowed for any amount paid or incurred during the taxable year in carrying on any trade or business if such trade or business (or the activities which comprise such trade or business) consists of trafficking in controlled substances (within the meaning of Schedule I and II of the Controlled Substances Act) which is prohibited by Federal law or the law of any State in which such trade or business is conducted."
"From our perspective, one of the most significant things is the banking law. Prior to that, 280E from a tax perspective, even if you're in the CBD business, could arguably be applied," Castor said. "And now that it's federally legal, no longer is anybody that is selling CBD or anything resulting from industrial hemp classified as a drug dealer."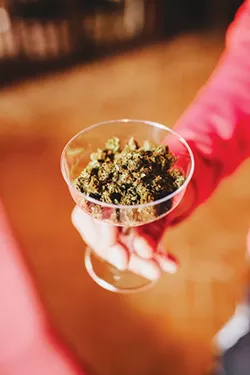 Alexa Ace
Hemp has a variety of uses including CBD products, pet food and clothing.
Legal issues
Ryan Vicedomini, founder and CEO of CBD Plus USA, agrees that the industry should be held to certain standards.
"Our industry itself should be regulated at least to the nutrition supplements standards to where general manufacturing practices, or GMP, are being upheld, clean environments are being upheld. ... Having FDA regulations over CBD is not necessarily a bad thing, and it will eliminate a lot of your riff-raff because of all the fraud out there in the labeling," he said. "I think as long as the FDA doesn't overstep its bounds and try to bring us to pharmaceutical grade and try to make it to where it's similar to tobacco to get approved, like nobody ever gets approved, then it's a whole new ballgame. If the FDA tries to put a halt to the industry, that's how they're going to do it, and that's going to be because of big pharma money, and I don't know how the hell that's gonna happen."
Chris Brady of Redbud Soil Co., though not as optimistic, still plans to begin growing hemp in 2019.
"All of my friends that have been growers have switched over to CBD and growing hemp," Brady said. "Just legality reasons, regulation reasons, a lot of reasons. ... I have not personally ever farmed hemp, but I vicariously have learned through them. Now, with the passage of it federally being legal, it's even easier because now you know you're not going to get in trouble at all. It's literally a few pieces of paper you'll fill out and you're legal and it's, you know, $500, $750, depending on what state you're in. The oversight is very, very minimal. It's not like trying to sell medical marijuana, recreational marijuana at all. Not even in the same stratosphere. But if you grow a very high-quality CBD flower, hand trimmed, that's smokeable, it's $500 a pound all day long. So you load up one acre with plants that are yielding a pound. Add that up."
Brady's reading of the farm bill is that it makes hemp legal nationwide but the lack of FDA approval of CBD still makes it federally illegal.
"So the way this law is, you can't legally extract it, you can't legally do anything with it other than grow it and sell it, and the only people that are legal to make CBD products out of it are pharmaceutical companies that have been approved by the FDA," Brady said. "So all that happened with this law is that the pharmaceutical companies now have the ability to pay you pennies on the dollar for bulk hemp so then they can extract CBD and be the only ones to legally sell it in United States.
"There's just too much money at stake. Of course, there's going to be giant corporations that can come in and crush the little guy. It's how America works. It's unfortunate. I've always been drawn to marijuana, I'm drawn to hemp, I'm drawn to things like that because it's something that the average person can grow, can be associated with, can open a business with or whatever, and support their family, not have to rely on anybody else. But all of that being said, there is a place for people that want to put in the work and produce high-quality products, whether it's CBD or THC. It's no different than a microbrewery or anything like that. People will shine."
But Brady said a government agency isn't going to stop him.
"I really don't care about words on a piece of paper," he said. "That's what laws are, right? They're words on a piece of paper. And it doesn't mean I have to agree with it or anybody else has to agree with it. The FDA, they put words on a piece of paper and they say they're in control? I don't agree with that. I don't agree that they're in control of Mother Nature. If we all don't abide by it, those words on that piece of paper mean shit, right? So that's why I'm going to do it."