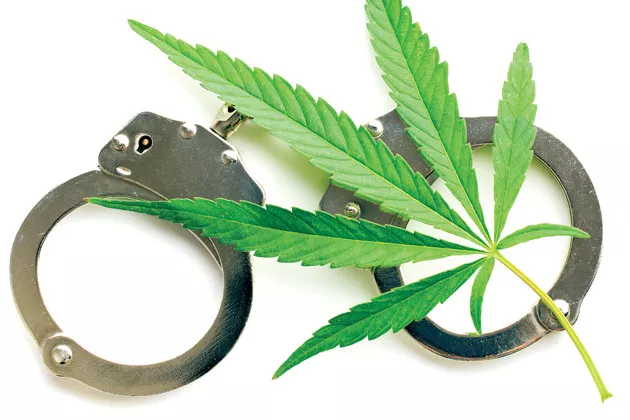 If an ordinance introduced to Oklahoma City Council members Aug. 28 passes later this month, when the council votes on it, Oklahoma County Jail will no longer hold prisoners for possession of marijuana or marijuana paraphernalia.
"This is a cause for celebration," Ward 2 council member Ed Shadid said of the ordinance introduced by Oklahoma City police chief Bill Citty during the city council meeting.
The ordinance revises Chapter 30 of the Oklahoma City municipal code, which currently states that the penalty for possession of marijuana is a $1,200 fine and six months in Oklahoma County Jail. The new ordinance, Citty said, will eliminate any possibility of jail time and will reduce the fine to a maximum of $400.
Likewise, the current penalty for marijuana paraphernalia possession is a $200 fine and a 10-day jail sentence for a first offense and a $1200 fine and six-month jail sentence for a second offense. The new ordinance would eliminate jail time and set the maximum fine to $200 regardless of how many offenses were previously committed.
"It would be similar to receiving a traffic citation," Citty said.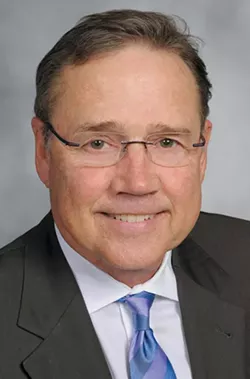 Provided
Oklahoma City police chief Bill Citty introduced an ordinance reducing penalties for marijuana possession at Tuesday's city council meeting.
An exception to all penalties, Citty said, would be if a person has a valid permit or license for possession of marijuana, as would be the case if a person were using marijuana for medicinal purposes.
The notion to eliminate incarceration for recreational use of marijuana is, however, a tremendous triumph for Oklahoma City police, courts and the county jail, criminal defense attorney Billy Coyle said.
"Our courts are backlogged and our jail is overcrowded," Coyle said. "I have no doubt that this will offer relief to a system that is stretched thin as it is."
The new ordinance would also offer relief to those who could otherwise face jail time and felony charges for possession of marijuana.
"Under the current law, a second arrest for possession of marijuana usually results in a felony charge," Coyle said. "If that were to change because of this ordinance, we wouldn't have people who made a mistake having to pay for it for the rest of their lives by admitting that they committed a felony."
Shadid echoed Coyle's sentiments.
"The financial and emotion damage people endure for having been incarcerated is substantial," he said.
Ward 1 council member James Greiner said the ordinance would make room in the county jail for those who pose a threat to society.
"People who are in jail need to be people who are dangerous and not people who have a drug problem," Greiner said. "Someone who has a drug problem is not someone who is necessarily dangerous."
Citty's ordinance introduction was well received by most city council members, with interim Ward 7 council member Lee Cooper going so far as to thank him for the proposal.
"I really wish to commend you, Chief," Cooper said. "This is a good thing."
Oklahoma City Council will host a public meeting Sept. 11 in which any member of the public can present their opinion on the ordinance to the board. On Sept. 25, the board will vote to accept or deny the proposed ordinance.
If adopted, Oklahoma City's laws on the use of recreational marijuana would be similar in nature to those in Chicago, Illinois; Houston, Texas; Atlanta, Georgia; and other large cities that have either reduced penalties or decriminalized marijuana altogether.
If Oklahoma City adopts the ordinance, it will be the second city in Oklahoma to reduce penalties for recreational marijuana use.
In July, Enid City Commission approved of an update to a city code that reduces the penalty for possession of marijuana without an Oklahoma state license to carry it to a maximum of $400. The new code removes all penalties for possession of drug paraphernalia.
In a July 19 report in Enid News & Eagle, Enid city attorney Carol Lahman said it is increasingly difficult to determine what is actual drug paraphernalia.
"Are the papers that you get at the shop, is that for the tobacco, or is it for the marijuana or is it for a third thing?" Lahman said. "There aren't very many prosecutions, and it will get increasingly more difficult with legal medical marijuana, so the thought that the [police] chief and I had is, 'Let's just forget about it, and let's see if it's a humongous problem.' Our thought: Just nix it."
Oklahoma attorney and Oklahoma Cannabis Trade Association director Sarah Lee Gossett Parrish said she wouldn't be surprised if other Oklahoma cities begin to follow suit.
"Reducing penalties is a practical adjustment to make after the passage of the state question," Parrish said.
In his proposal to the city council, Citty said it's important for council members and Oklahoma City citizens to understand that decriminalization of marijuana is not equivalent to legalization. Decriminalization, Citty said, only keeps the law's offenders out of jail. Because marijuana and marijuana possession remains illegal in Oklahoma City, those found in violation of the law will still have to pay the accompanying fines.
If adopted, Oklahoma City's laws on the use of recreational marijuana would be similar in nature to those in Chicago, Illinois; Houston, Texas; Atlanta, Georgia; and other large cities in states where marijuana remains illegal.