Every year we celebrate the spectacle that is Halloween, with equal parts candy, imagination, and simulated frights, yet there are those among the living who believe there's but a thinly veiled separation between the realms of the familiar and the unseen. While anecdotal evidence is not confirmation, there's something to be said for the countless inscrutable events that too many otherwise rational people have witnessed. Throughout Oklahoma, it's easy to stumble upon an old town or abandoned building with a legend of its own, long thought to contain the residual energies of those who departed or be upon ancient burial grounds. Spots of sudden, tragic death abound, many with a wealth of lore to explore for the open-minded. The following five places scattered about the state are imbued with interesting history and mystifying lore.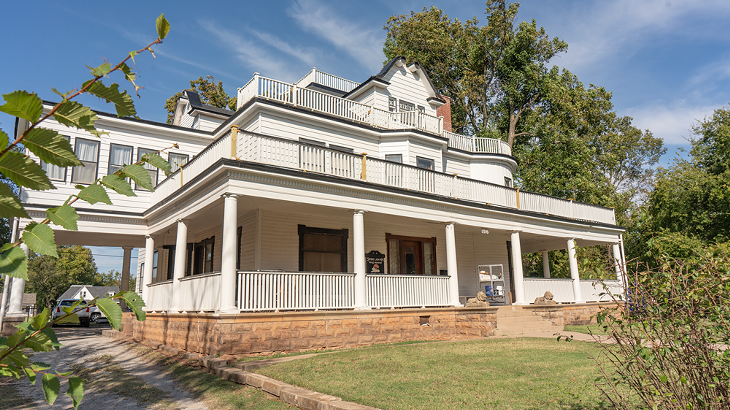 Phillip Danner
Stone Lion Inn in Guthrie
Stone Lion Inn
The Stone Lion Inn sits dignified and alluring in the historically energetic town of Guthrie. At once welcoming yet mysterious, this ambiance might best be attributed to its tragic history, which some claim manifest as a playful and sometimes cuddly child ghost. The four-story, Victorian building was constructed in 1907 by F.E. Houghton, a family man who fathered 12 children. Over a period of years, the Houghtons were beset with a number of tragedies, the worst of which was the sudden death of their 7-year-old daughter. Irene. Rumor has it that the girl met an untimely end when the home nurse overdosed her with an opium-based medication while treating a case of whooping cough. The Houghtons continued to struggle, with financial hardship on the heels of their personal loss, and they soon decided to lease partial space of the inn to an undertaker, who proceeded to do what morticians do. After Mr. Houghton's passing in 1943, his wife, Bertha, then converted the family (and funeral) home into a boarding school until her death. To this day, the structure remains, now filled with wonderfully bizarre decorum and even the original embalming table, to the morbidly curious visitor's delight. Operating as a bed and breakfast, anecdotal accounts of childlike figures crawling into bed or tucking in guests have been widely reported. The third floor is said to be Irene's favorite spot to play now as it was up until her death. Music boxes playing randomly, toys operating themselves and the sound of giggling have been heard. In other areas of the Inn, guests have reported the smell and sight of a gentleman, likely Houghton himself, smoking his tobacco pipe. Doors frequently open just to close themselves again, and personal belongings apparently move without notice. The Stone Lion Inn not only offers an interesting take on the traditional bed and breakfast, also serves as a home for its renowned murder mystery dinners. Whether you're a history buff, skeptic, or a believer, this locale offers every reason to visit.
Kitchen Lake
The serene and naturally beautiful site known as Kitchen Lake, a 30-acre park and fishing hole, is tucked away in south Oklahoma City. While its lush greenery and quiet atmosphere lure in those seeking a peaceful getaway, there are rumors of more ominous activity that surrounds the territory. Local legend speaks of a witch who inhabited the quaint wooden house with its stone chimney, situated at the corner of Air Depot Boulevard and SE 119th St. It is said she perished in her home after a fire mysteriously ignited, ravaging the land. Some believe the fire was created by a lightning strike, though others tell of teenagers who were out to cause harmful mischief that night. Whatever the occurrence, the witch is considered to be a lingering presence where the stone rubble still remains, hellbent on communicating her vexation after many decades. The current tales describe events of visible smoke with no observable origin and piles of ashes that suddenly begin to smolder. Perhaps even more disturbing are the reported animal carcasses found to be in unusual positions, some even hanging from nearby trees. For those bold enough to explore in the darkness, there are apparent sights of flames that flash brightly only to immediately vanish, as well as personal accounts of vehicles stalling and headlights burning out while attempting to leave. Visitors recount the general eeriness having crossed the narrow, desolate bridge leading to the grounds of this restless being and the leftovers of her home.
Pawnee Bill Ranch
Not every haunt is a dark and demolished scene. Some places, like the Pawnee Bill Museum Ranch, are popular and busy establishments, yet still frequently rumored to harbor the spirits of the Lillie family. Gordon William Lillie, better known by his moniker "Pawnee Bill," was a man of many talents. A cowboy, teacher, and interpreter to Maj. Edward Bowman, U.S. Indian agent, he's most recognized for his role in the entertainment industry. Lillie began his own wild west tour involving his wife May Manning, which was an immediate success. In 1902, they acquired the land that was aptly named "Buffalo Ranch" on which they built their home and strived to start a family. Shortly thereafter began a series of devastations for the couple. Their first child died when only several months old and because of a complicated surgery, May Manning was unable to conceive again. Fate led them to meet a boy traveling on an orphan train, who they soon accepted as their son. Billie was 8 years old and left home to play with a friend, but the family cook found the boy, who had accidentally hanged himself from a radio tower visible from the home. The pair did the best they could, throwing themselves back into business and performances until 1936. As they returned home one night, Pawnee Bill lost control of the vehicle, killing his wife. He never fully recovered physically or emotionally. A decade later, Pawnee Bill passed away in his sleep, leaving behind not only this sorrowful legacy but the ranch, now a state-owned time capsule complete with original furnishings and creations of the Lillie family. Accounts from museum guests claim to see paintings that shift and morph into an altogether different picture, sometimes including the face of Pawnee Bill. Sightseers also talk of being jolted suddenly by fierce electrical shocks, along with reports of a lady adorned in 1930s attire who sits in what was once May Manning's favorite chair. There are narratives recounted by security guards and staff over the ages who believe they were pranked by Pawnee Bill himself, as well as sounds of a child laughing and, at times, crying. Not only does the ranch promise a spooky and informative experience but the town of Pawnee itself is cloaked in ghostly folklore for those looking for possible encounters.
St. Vincent Asylum
While there's no shortage of abandoned, creeptastic structures throughout the state. One building that stands alone, forgotten and decaying, that paranormal investigators say contain the disgruntled energies of those who lived and some who died within its walls. The former site of the St. Vincent Insane Asylum sits shrouded in overgrown plant life along NE 23rd St. Constructed in 1945 for the Brothers of Mercy, a Catholic nursing order hoping to help the mentally ill, the facility was utilized not only as a mental institution for males, but included a rehab for alcoholics and drug users, as well as a nursing home for the elderly. Housing the most vulnerable of society under one roof would provide an unfortunate opportunity for those seeking to abuse their power, wreaking havoc on the patients. In 1962, a nurse was charged with murdering two people, though it is thought he had a hand in several other deaths. As the establishment was home to many elderly who died seemingly from natural causes, it was difficult for police at the time to uncover the truth in its entirety. The orderly was found to have brutally smothered the patients, his reasoning being "to see what it felt like.'' He was eventually diagnosed with schizophrenia and the charges subsequently were dropped. In 1988, the Rev. Richard Frank Dolan attempted to help those in need of recovery by opening an additional living quarters within the location, which he named the Main Artery. However, his good deed was unable to blossom after he was found beaten to death in his nearby apartment that year. In the following years, the place was a final resting spot for numerous males of all ages, many who were homeless with no family. After so many deaths, both natural and stolen, it's no surprise the paranormal teams that gained access to the obliterated grounds have returned with what they perceive as evidence, including multiple EVP recordings of victims stuck betwixt realms, as well as claims of physically being touched or scratched in a less than friendly manner. Reports of strong sulfur smells that linger then disappear, along with whispers and name-calling are discussed amongst groups of paranormal investigators. Commonly described throughout the experiences is a heavy, palpable energy that envelops those who enter, making it more difficult to breathe. Many of them warn of danger not only from possible invisible forces but from the building's structural integrity that is in fast decline, making it hazardous to explore this three-story landmark that is marked with "no trespassing" signs.

Matt Dinger
The Black in Guthrie
The Black - First Territorial Prison
The last location is a return to where we started with the first federal prison in the Midwest Indian territories, known as "The Black" or "Black Jail" in Guthrie. Erected in 1892 and appointed the name by its inmates, due to the 18-inch-thick walls made from dark limestone, in addition to the basement that served as an inhumane form of solitary confinement. The walls were so solid it's suspected that during summer, many prisoners would die from dehydration or heat stroke. They did not fare well in the winter either, as the damp, chilled atmosphere created perfect conditions for seasonal illness to spread with little to no air flow, causing deadly respiratory issues. The prison also housed James Phillips, the first white man from the jail who was sentenced to death by hanging after needlessly murdering a local. He soon apparently "died from fright" as he witnessed from his cell window the construction of gallows he was to swing from the next day. In the early 1900s, the jail was eventually shut down and the building remained in use by various religious organizations. Until the 1970s, it functioned as a temple of sorts for the Nazarene Church and following their departure, was occupied by the Samaritan Foundation, a strange religious cult frequently associated with murder and scandal. It was inevitably shut down for good in 1995 after an inspection by the Department of Health determined the compound unfit to house the families and children living within. It still stands today, empty and in disrepair, with stories surfacing of ghosts from past inmates and victims of possible religious foul play. Accounts of James Phillips, in particular, are common, visibly standing in the same window he viewed his last earthly scene before collapsing. Even more common are the alleged loud, anguished howls being heard, including several EVPS collected by the group G.H.O.U.L.I. (Ghosts, Haunts of Oklahoma and Urban Legend Investigations). Whether fact or fiction, it remains a chilling thought to consider the souls of those once physically confined, are still trapped to this day.