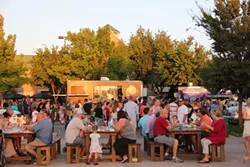 provided
Inaugural Heard on Hurd festivities on Sept. 20 .
If you haven't heard, and if you'll pardon the pun, the wild success of the Heard on Hurd block party in Edmond is happening again, and it promises to be even a bigger than the last.
At last month's inaugural event, than 4,000 people showed up and the organizers decided to keep it going. Jill Castilla, CEO of Citizens Bank of Edmond organized the inaugural event on Sept. 20. She was pleasantly surprised when guests immediately started asking when it would happen again.
The festival combines food trucks, live music and shopping in the middle of Edmond. The streets to make it a pedestrian friendly environment. Organizers are planning on even greater attendance now that the word is out.
Comparisons have been made to its OKC sister, the monthly H&8th Night Market, hailed as one of the largest (if not the largest) food truck festival in the nation. Castilla said she reached out early to Brian Bergman, who helps organize the wildly popular night market.
"Now that we're making this a regular event, it feels like everyone in Edmond is counting down to the big day," Castilla said in a media statement. The next party is 6-10 p.m. Oct. 18.
This month's festivities will feature live music from O Fidelis, Desi and Cody and North Meets South.
More than a dozen food trucks will line up for this party, too, including Big Truck Tacos and Organic Squeeze, as well as Café Bella on Wheels, Taste of Soul Egg Roll, Taste of Soul Chicken & Waffles, Katie Bug's Shaved Ice, Roughtail Brewing, La Gumbo Yaya, Big O's BBQ, Klemm's Smoke Haus, 2 Brothers Italian Bistro, The Saucee Sicilian, Jerky.com, Bricktown Brewery Truck Burger and Roxy's Ice Cream Social.
Pop-up shops include The Little Bubble, Flying Scarfs, Cinnamon Bears/Sacred Heart, Amy Foster Jewelry, The Cargo Room, Silver Leaf Gems, Edmond Summit Co., Madilynn's Flowers, Side Street Glass, Filigree, Dean Lively Gallery, Three Eleven Designs, JC's Funky Hair Ranch and Annabelle's Galleria.
This month's event will also host pop-up shops from several local retailers including The Cargo Room, which is a mobile boutique, The Flying Scarves and Marilyn's Flowers.
For more information, follow the festival on twitter: @heardonhurd