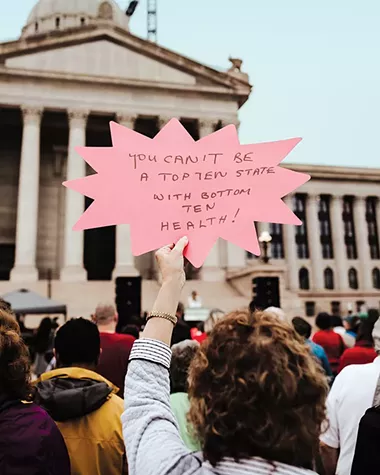 Alexa Ace
Hundreds of Oklahomans gathered at the state Capitol April 24 to advocate for Medicaid expansion.
Oklahomans throughout the state are urging lawmakers to expand health care coverage before the legislative session ends. Various organizations within Coalition to Expand Coverage came together to host Rally for Coverage April 24 at the state Capitol.
Oklahoma is one of 14 states that has not accepted federal funds for Medicaid expansion. Expanded coverage would provide "more than 100,000 uninsured Oklahomans" with health care, according to the coalition's website.
Rev. Joseph Alsay, rector of St. Augustine of Canterbury Episcopal Church, gave a speech at the rally in which he recounted stories of people struggling to afford live-saving medicine, resorting to diluting it or not being able to afford it and dying.
"Many times, these tragic stories could be diverted or prevented with adequate health care coverage," he said. "More than 100,000 Oklahomans don't have access to quality or affordable health care because the Legislature has not acted to expand access of health coverage to everyone. That means they can't see a doctor. That means they can't fill their prescriptions. That means they cannot adequately manage the chronic conditions like diabetes, and that's just one of the ailments that plague our state. That's utterly appalling, the fact that most of those who can't afford insurance come from low-income working adults, from adults who just can't make ends meet."
At the end of 2013, SoonerCare, the state's Medicaid program, served 790,051 Oklahomans. Compared to 796,455 since October 2018, there has been less than a 1 percent growth in coverage, according to healthinsurance.org.
"Since 2013, the Legislature has refused to accept federal funds to expand access to health coverage in Oklahoma. That's left more than 100,000 people who can't see a doctor or fill a prescription or get treatment for conditions like diabetes or depression. Now, there's 37 other states that have done that, leaving us very much in the minority with the second-highest uninsured rate in the U.S. because of this decision," Carly Putnam, Oklahoma Policy Institute's health care policy analyst, told Oklahoma Gazette. "But in November, three states voted to expand Medicaid through the ballot initiative process. I think those states — they were Nebraska, Idaho and Utah — really show that even in red states, voters can step up when our legislators don't. And so I think our Legislature is now very much aware that if they don't act, there will likely be a ballot initiative. So we're urging them to, in spring, do the right thing."
State Question 802
A ballot initiative has already been filed as State Question 802. It would change the state's constitution to expand SoonerCare "to include certain low-income adults ... whose income is less than 133 percent of the federal poverty level." The initiative will require more than 177,000 signatures to be added to a November 2020 ballot. There is currently not a bill that would expand coverage, but Putnam said she is optimistic one might be introduced.
Alexa Ace
House Minority Leader Emily Virgin, D-Norman, promised to keep fighting for Medicaid expansion.
"What we're anticipating is a bill will come later," she said. "I think they have a better shot this year than they have previous years. … But contact your legislator. The joke I like to use is, 'The question isn't "Do you know who your legislator is?" but "Does your legislator know who you are?"' Because they need to be hearing from voters that this is something that they care about."
Coalition to Expand Coverage is made up of more than 40 local organizations, including League of Women Voters of Oklahoma, ACLU of Oklahoma and Oklahoma Policy Institute.
Rebecca Greenhaw, chair of League of Women Voters of Oklahoma, said there is a lot of misinformation surrounding Medicaid expansion, which is why it is crucial for people to become informed and talk about the facts with legislators. She hopes lawmakers listen to their constituents this session because the ballot initiative would take more than another year to pay off.
"It would delay health care access and delay support for rural hospitals for another year, but if that's our only alternative, then we will avail ourselves of it," Greenhaw said.
Expanding Medicaid is a provision in the Affordable Care Act. The federal government would cover 90 percent of the cost, leaving Oklahoma to only pay for 10 percent. House minority leader Emily Virgin, D-Norman, told Gazette that arguments against expanding coverage are based on party politics.
"It's all just political back-and-forth and arguments. It's the same tired rhetoric that we hear time and time again on accepting federal money for this program. It's that it's too expensive, and we know that it's not because 30-something other states have done this and have had success with it," she said. "So they're all just excuses not to do it because people, frankly, are afraid of not getting reelected if they do it. They're afraid of the political consequences, but they're not thinking about the human consequences of not doing this."
Alexa Ace
Carly Putnam, Oklahoma Policy Institute's health care policy analyst, said she is optimistic the Legislature will take action this session.
Along with Virgin, Rep. Marcus McEntire, R-Duncan, spoke at the rally. He also said Republicans have a hard time pursuing Medicaid expansion for fear of not being reelected. However, McEntire said the House and the Senate "have been working on a plan for about a year and a half now."
"This has been on my mind ever since I was elected, that we needed to do something, an Oklahoma plan — something tailored to Oklahoma — to access the 9-to-1 match of federal funds that we so desperately need infused to our economy, to our health care system," he said. "Most of the details right now are embargoed until we get the support we need. But we have been working, and we've been working hard. I've put a lot of blood, sweat and tears into the plan that hopefully we'll be able to unveil."
In her speech at the rally, Virgin mentioned the rural hospitals that have closed or gone bankrupt, the rural communities that are losing health care providers and the positive economic impact Medicaid expansion had in other states. Her speech concluded by promising she will help make Medicaid expansion happen in any way she can to "build a better, healthier Oklahoma."
"It's important because we need to take care of our friends and neighbors; that's really what it comes down to," Virgin told Gazette. "All of these other things that that make sense — with the economics, with creating jobs, with making costs lower for everyone else — those are great things as well, but it comes down to we have a lot of Oklahomans who simply can't afford health care. And that should concern all of us."
Gov. Kevin Stitt announced days after the ballot initiative was filed that he would discourage Oklahomans voting for Medicaid expansion because it would be the wrong approach. He told The Oklahoman that he plans to present a plan to improve health care in Oklahoma but did not give specifics.