There are a wealth of new local eateries cropping up in the metro and even more coming. If they're not on your radar, they should be. From the comfy atmosphere at The Barrel on Western Avenue to the laid-back vibe at the Plaza District's coffee shop, you might find a new regular hangout.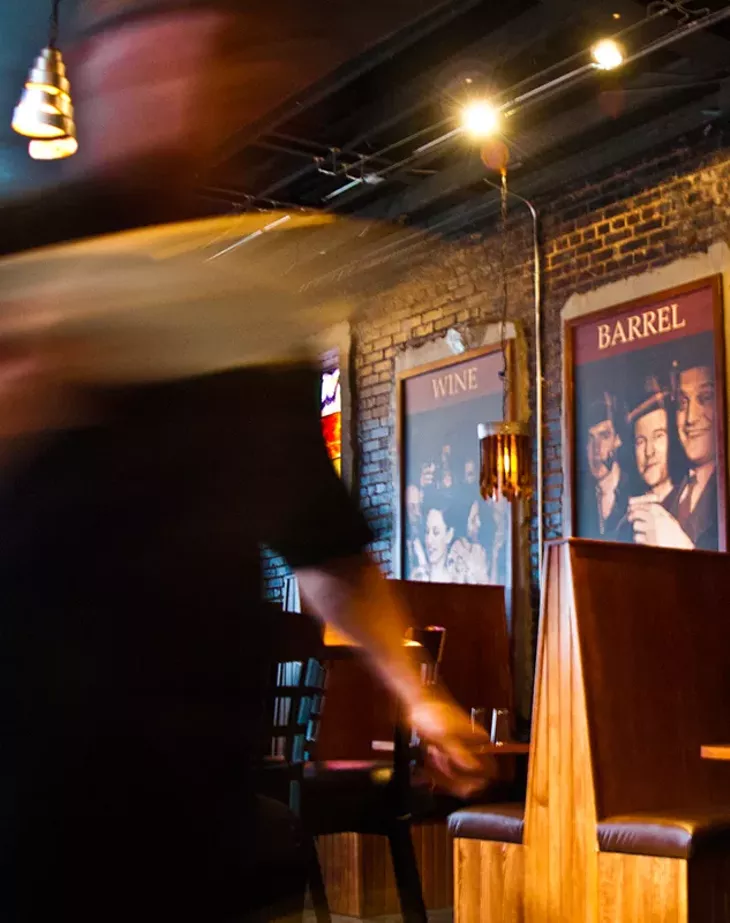 Mark Hancock
Service at The Barrel
The Barrel 4308 N. Western Ave. barrelokc.com 525-6682
When Café Nova closed for remodeling, they weren't kidding. Deep Fork Restaurant Group revamped the space and the concept, turning it into a dimly lit eatery with cozy booths, plenty of craft beers and slightly sophisticated pub food. The Barrel serves lunch and dinner every day and brunch on weekends.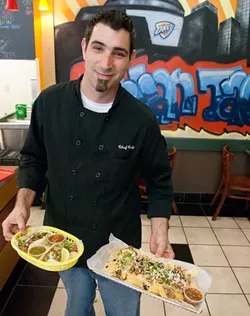 Owner/Chef Cody Hail with tacos and natchos, at The Urban Taco Shop in downtown OKC. mh
Urban tacos 110 N. Robinson Ave. facebook.com/okcurbantaco 270-7825
Taking over the space from a chain restaurant, this fresh, light taco shop is a welcome addition to the downtown set. It serves breakfast and lunch with a wealth of house-made meats, including chorizo and fresh accompaniments. Its tacos and burritos are the perfect grab- and-go food.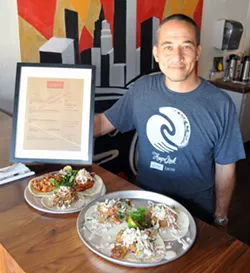 Ed Koch poses in his restaurant, Union Tacos in downtown Guthrie. La
Union Tacos 204 E. Oklahoma Ave., Guthrie uniontacos.com 293-9440
This new concept in Guthrie wins accolades for its fresh, locally sourced ingredients and traditional Latin fare. And it makes more than just tacos. Offerings include fried catfish; a beef, pork or turkey torta; and Oklahoma favorites blackberry cobbler and pecan crisp.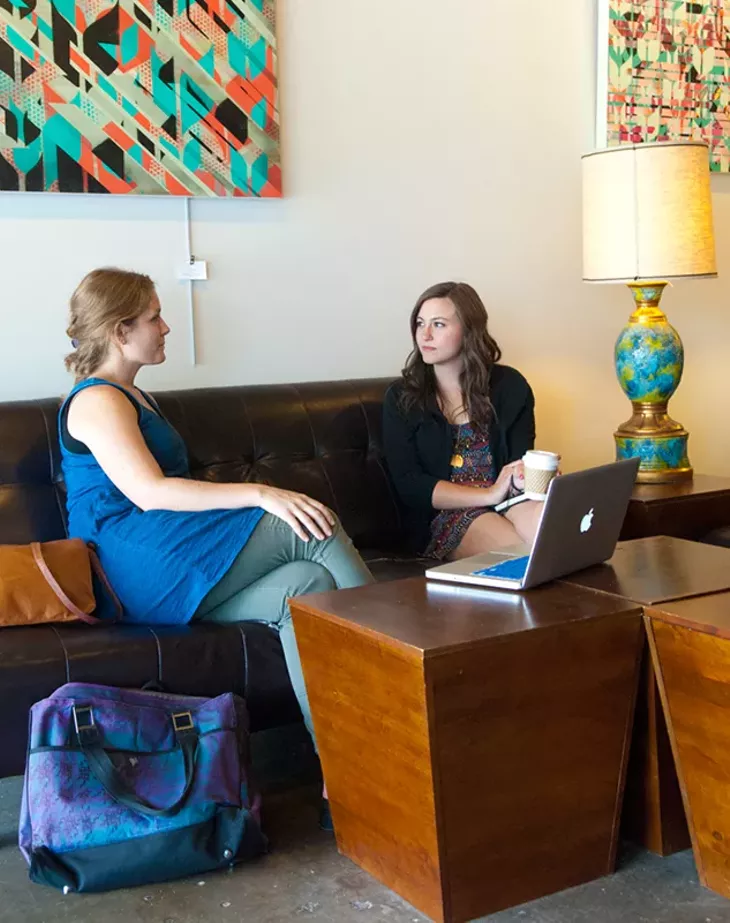 2 female patrons enjoy a little coffee and chat at District Coffee House recently. mh
District House 1755 NW 16th St. districthouseokc.com 633-1775
Can we all agree that the Plaza District really needed a coffee shop, a place to further encourage the cool, community- oriented vibe that's already going on down there? It's a cool hangout with casual, light fare for breakfast or lunch. Hurry on in and grab a cup of joe, or stay a while and sample the excellent sandwiches and sides.
Shannon Cornman
Tsubaki Sushi and Hibachi
Tsubaki Sushi & Hibachi 5900 W. Memorial Road 792-7818
Tsubaki opened without much fanfare late last year, and word is just getting around about its fresh, beautiful edibles. Positioned in a small strip mall, this full-service restaurant is building momentum for traditional, mouthwatering hibachi, salad, sushi and tempura offerings.
Mark Hancock
Employees of Chiltepes Latin Cusine and Bar
Chiltepe's Latin Cuisine & Bar 1800 NW 16th St. chiltepesrestaurant.com 521-1899
In its previous life as Antojitos Guatemaltecos, the tiny restaurant generated a big buzz among OKC foodies for fresh, authentic Latin dishes. Now reborn as a full-service restaurant and bar, you can experience some new items as well as old favorites in their beautifully renovated space. With eateries cropping up all over town, do not hesitate to put this one at the top of your "to-eat" list.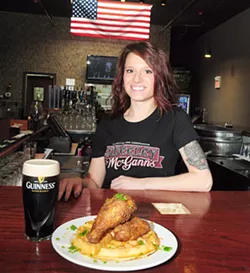 Lauren Hamilton
Sweeney McGann's Irish-American bar in Edmond, Oklahoma.
Sweeney McGann's 16 S. Broadway, Edmond facebook.com/sweeneymcganns
A welcome addition to the landscape in Edmond, this Irish-American grill is owned by Ryan McGann and John Sweeney. Executive chef Bethany Wright is generating a buzz for her menu, which features the obligatory fish and chips and the unexpected chicken and waffles. Sweeney McGann's is a friendly place with hearty food — all you need from a neighborhood pub.