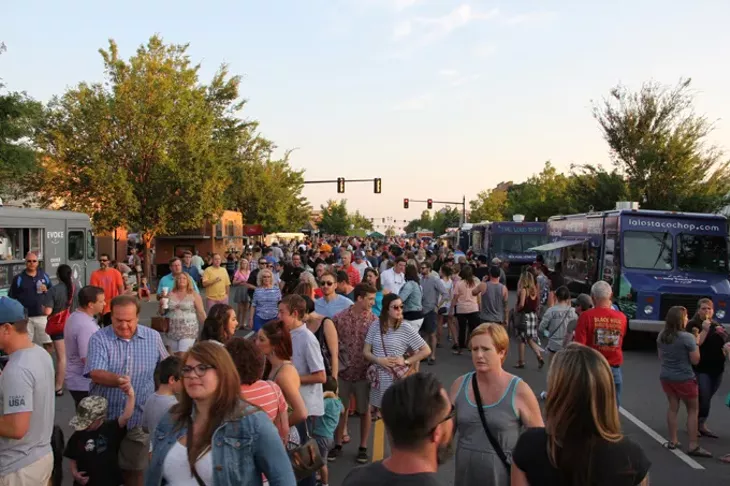 Heard on Hurd, the somewhat improbable monthly music and food truck festival returning to downtown Edmond March 19, is not H&8th Night Market, said Citizens Bank of Edmond president and CEO Jill Castilla.
"H&8th was a whole different animal," she said of the Midtown street festival that stopped its monthly calendar last year. "Heard on Hurd is more family-focused and intimate."
It is also growing. In 2015, the event brought more than 100,000 to the area, generating a new interest in an area that had been flagging.
While the current location, from First Street to Hurd Street on Broadway in Edmond, has room for growth, Castilla said the event isn't trying to break any records.
"It's about the vibe, the feeling," she said. "It's a fun, safe environment."
Civic-minded Castilla is still business-minded, too. As the lynchpin, her bank has become a symbol of progress in a city many dismiss as "the 'burbs."
"Heard on Hurd has also helped unite new businesses owners with older businesses," she said.
The new generation of entrepreneurs choosing to locate in downtown Edmond — including The Patriarch, Café Evoke, Nominee Design — brought new leadership and focus to the area more quickly than she had envisioned.
Not to minimize the work of the event planners, but many of the pieces making Heard on Hurd possible seemed to fall into place, Castilla said. Parking, which was a perennial pain for H&8th, has been easy with many public lots in the area.
"It doesn't happen a whole lot that you can just park across the street from a big event and walk in," she said. "As citizens, we're trying to improve the walkability of the area. The more we give people to do, the more easy and enjoyable we can make it — people will be outside for hours if you give them that vibe. And that's achievable."
The payoff has been a new interest and appreciation of Edmond from visitors.
"We are seeing citizens from all over the metro community discovering Edmond," she said. "It opens us up, out of our bubble. It's been fun to let Heard on Hurd be the avenue for people discovering our city."
The event is 6-10 p.m. March 19. Featured musicians are singer-songwriter Daniel Walcher, indie-folk sister duo Willow Way and singer-songwriter Graham Colton.
More than 30 food trucks, including newcomers A Latte Love Coffee House, Back Door Barbecue, Pitchfork Kitchen and Bakery, PLP Food Truck, Sizzle n Spice and Trevino's Mexican Street Beast, are scheduled to appear.
"We've been mindful to let it grow organically, expanding the number of food trucks and, this year, including nonprofits," she said. "We're only trying to create a sense of community. If we have that, we deem it successful."
Print headline: Hearing aid, Edmond's street festival returns for a second season of food, music and community.