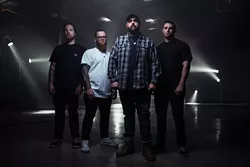 "Don't slip up, the worst is yet to come/ Blame it on the bad luck baby."
Pessimism dominates Gideon's "Cursed," a track inspired by a "bad luck tour" the heavy metal band suffered through.
"That line is kinda talking about a feeling that your bad luck is spreading to the people around you that you care about. It may show a little pessimism, but we wanted to write honestly about how it felt at the time, and I'm glad we did," guitarist Tyler Riley told Oklahoma Gazette.
Gideon recruited Knocked Loose frontman Bryan Garris to collaborate on "Cursed," as the latter also experienced the ill-fated tour.
"We really loved the guys in Knocked Loose, and we knew right away that we wanted Bryan on the record if he was willing," Riley said. "That song was just a no-brainer when it came to deciding where he would fit in the record."
"Cursed" provides one of the more bleaker perspectives on Gideon's latest album, Cold, which Riley said continues a thread found throughout the group's previous work.
"The only connecting tissue, really, is just the sentiment that the perspectives on this album all stem from our sudden realization that we grew up and that we've changed so much since we started playing in our teenage years. Positively and negatively. It's bittersweet," he said.
The three-man ensemble featuring Riley, Daniel McWhorter on vocals and Jake Smelley on drums returns to Oklahoma City Aug. 10 at the 89th Street-OKC, 8911 N. Western Ave. Gideon will be joined onstage by a trio of metal bands: Varials, Slege and Omen.
Riley said the band has played consistently in Oklahoma since its inception, with great crowds each time.
"I think the scene there has been pretty steady. The recent shows we played there definitely show that it's alive and well," Riley said. "I'm excited to be back."
Hardcore work He said the impenitence for Cold began well before Gideon began recording it in 2016 and the band wanted to avoid getting caught up in touring and ensure they made time to write.
"There's more emphasis on riffs, heavy parts that aren't necessarily just breakdowns, the balance of simplicity and technicality. And lyrically, we pushed ourselves to express more personal stories of honest life struggles as well as discussed some sociological issues," Riley said. "We took a broader and more self-aware approach than any album we released before this, and I think that's what sets it apart."
Musical influences on Cold range from Hatebreed to Bury Your Dead. The former is made evident with a guest verse by lead singer Jamey Jasta on the track "Freedom."
"We are longtime fans of Hatebreed, so we have been trying to work out something with Jamey for a while," Riley said. "We went through friends of friends and industry friends to try to get him on board with a track on the last record, but the deadline was tight and it didn't pan out. So this time we were in contact way ahead of time and even wrote the song with him in mind from the beginning. When it came time to track, I think Jamey was on the road, but we made sure he had everything he needed and he tracked his part at a friend's studio before sending it back to us."
Named after a "biblical badass" who led 300 valiant men to victory against the much bigger Midianite army, Gideon began over a shared love of metal and hardcore music. Riley said each member came from similar roots, gradually joining together to form the band as it is today.
"We all played in local bands that aspired to get out and do something more, so through the magic of MySpace, we connected and did that together," Riley said.
Tickets are $12-$14. Visit 89thstreetokc.com.