Alexa Ace
Colourmusic played an album release show at Norman's Guestroom Records earlier this month.
Until it was released on streaming platforms Feb. 4, Colourmusic's latest album Swimsuit offered fans an old-school music experience — they actually had to pay to hear it. Sold through the band's website beginning in June, Swimsuit, unlike previous Colourmusic albums, was released independently without a record label.
"We wanted to put it out where you couldn't actually listen to it unless you bought it," said vocalist and songwriter Ryan Hendrix. "We just wanted to see what kind of fan base of people wanted to buy our record. … I feel like we build a relationship with our audience, we put our record on a streaming company and then that streaming company gets to sort of exploit that relationship. I didn't want to have anybody else involved. I want to have a direct relationship."
Anyone who purchases a vinyl copy of the album also gets a CD copy of Mathewson, OK, an ambient album Hendrix said a record label "wouldn't even care about" and might even prevent the band from releasing if it were under contract. Though it's easy for the band to track how many albums have been ordered, it's hard for Hendrix to know how the number of listeners compared to previous albums released in a more conventional manner.
"I can't answer that question in a real honest way because like the last two records that we put out, or last three, actually, we put out with a record label," Hendrix said. "They're spending money, the PR companies. We couldn't do that. We couldn't afford to do that. … One thing I will say is, it's just a hell of a lot harder to be heard when you don't have more money to promote it."
Swimsuit might not have the label backing that 2014's May You Marry Rich or 2011's My ___ is Pink did, but Hendrix said the new album also benefitted from not having sales-driven oversight, which could have required him to compromise his vision for it.
"Every record that we've put out, I would always be told by the label, 'You need to write songs that are shorter, the chorus comes in faster, vocals come in faster,'" Hendrix said. "When I wrote this album, I was really sad. One of my best friends was dying of cancer. My family dog, which some people don't care about but it is really important me, my family dog died. I had a few family members that passed away. So this is a record done to sort of, like, help me deal with a lot of sadness. So to think of shortening the length of the songs or whatever to make them more ready for, like, radio or college radio or whatever just was stupid to me.
"This record is mid-tempo, the vocals don't come in for, like a minute, minute and a half. It's not a real vocal record. I'm not trying to sing melodies to get into people's heads. It's kind of a downer. These are all black marks, right? These are all like, you know, sort of non-commercial things that you do in a record. And so I just knew I didn't want to mess with it. I know this isn't something that they're going to get excited about."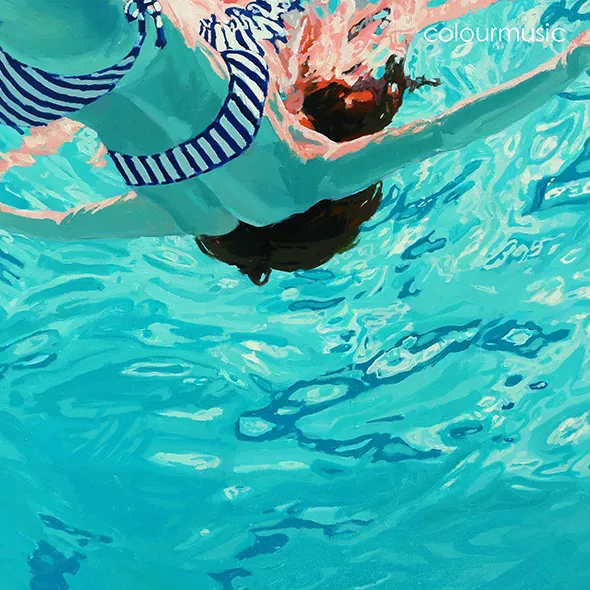 Samantha French / provided
Swimsuit was released on streaming platforms Feb. 4, but fans have been able to buy the album from the band's website since June.
Light blue
One lesson Hendrix did take away from working with label executives was that a record needs recognizable art instead of the solid orange and pink covers on the band's first two releases.
"Our last album, they were like, 'No. You've got to have an album cover. We're not going to put this out unless you have an album cover,'" Hendrix said. "And they're right about that. They are. When I look at our previous albums that are just colors, I'm like, 'Yeah. It looks better with an image.'"
Swimsuit's cover features a painting by artist Samantha French, which Hendrix said "almost looks like a body that's dead but not," but the music the album contains is still inspired by a specific color.
"I knew I was going in a sort of a light blue direction," Hendrix said. "This is probably a little navel-gaze-y, but I've always been kind of interested in water and the way water moves and stuff. And so, you know, water is blue, so I wanted to kind of explore music in that way. And it got really emotional for me because of some of the experiences I was having at the time."
In addition to the grief he felt over losing friends and family members, Hendrix also worried that Colourmusic might be ending after bandmate Nicholas Ley began playing with The Flaming Lips. Though Colourmusic has future releases and tour dates planned, at the time the album was being recorded, Hendrix thought Swimsuit might be the band's swansong and he wanted to make sure it was exactly what he wanted it to be.
"I always have been fascinated by the idea that if a person made a record and they knew that no one would ever listen to it and they couldn't make any money from it, what would they make as an artist?" he said. "That was probably one of the central questions I was exploring with this record. … I would argue that I write music for myself. I don't really feel like there is music out there that really speaks to me as a listener. So this is music that I'm trying to write for me and for people like me."
Hendrix said he thinks Swimsuit is "as good as [Colourmusic has] been as a band," and the response he has gotten from listeners has been surprisingly positive, even if the vibe of the latest record is a "little mellower" than previous releases.
"Some people really love our first record a lot, and I felt like I just disappoint them over and over and over again," Hendrix said. "I always feel bad about that because that record really meant a lot to people. … But the feedback I have gotten has been incredible. You put something out and you're like, 'I don't know if anybody's going to get this. It's definitely not really fitting in with what other people are putting out right now. We'll see.' But it just seems like people really love it."
He also thinks that adding the album's more abstract songs to Colourmusic's set list has given the band's concerts more depth.
"I feel like it's adding a kind of mysterious dimension to our live performance that was always a part of our personalities, but we never really expressed it very well," he said.
Colourmusic plays March 15 at District Bicycles in Stillwater for Land Run 100 and then heads to Austin for South by Southwest. Swimsuit is available at colourmusic.net.