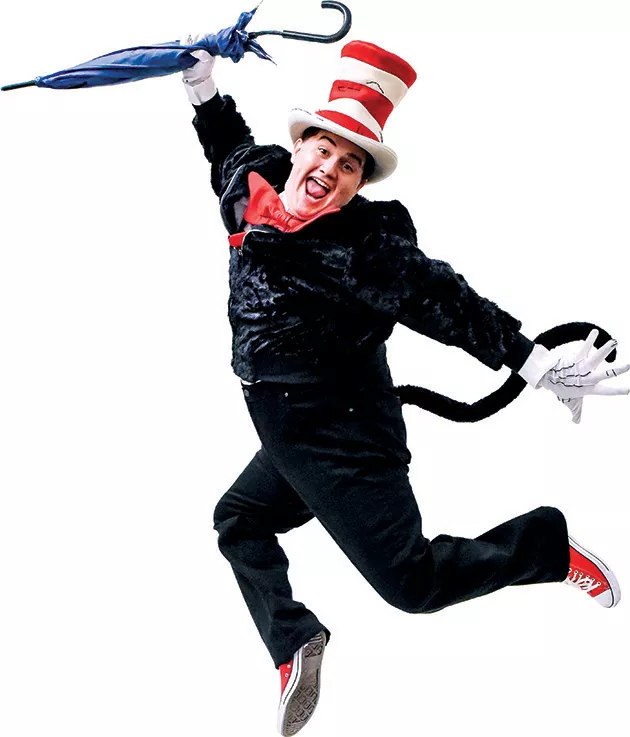 K. Talley Photography / provided
Josiah Brooks plays the title character in The Cat in the Hat
The Cat in the Hat
Through Feb. 9
Lyric Theatre
1727 NW 16th St.
lyrictheatreokc.com
405-524-9312
$20-$25
When Theodor Geisel, aka Dr. Seuss, introduced The Cat in the Hat in 1957, he might have committed a double homicide.
"It may be hard for us to appreciate what a giddy shock The Cat in the Hat delivered to young readers accustomed to the dull, demure Dick and Jane series," wrote Meghan Cox Gurdon in The Wall Street Journal. "Snarky, disruptive characters are as common as pigeons in children's books today. … Seuss opened the gates by writing a primer that first-graders couldn't resist, and he did it using a carefully straitened vocabulary of just 236 words. The book hit American childhood like a glitter bomb."
The Cat in the Hat, wrote Louis Menand in The New Yorker, "was a tour de force, and it killed Dick and Jane," an act New York Times columnist Anna Quindlen called "a mercy killing of the highest order."
The Cat in the Hat, a play based on Seuss' subversive children's classic, runs through Feb. 9 at Lyric Theatre, 1727 NW 16th St.
"Everyone born after 1957 pretty much grew up with it," said associate director Matthew Sipress.
But for anyone unfamiliar with the book Publishers Weekly named the ninth best-selling children's book of all time in 2001, the story details the chaos the Cat (played by Josiah Brooks) and his cohorts Thing 1 (Katelyn Curtin) and Thing 2 (Kaleb Michael Bruza) introduce into the lives of an unnamed boy (Eli Bradley) and his sister Sally (Kalyn Glover) while their mother is out of the house, much to the consternation of their pet Fish (Lexi Windsor) who essentially serves as their de facto guardian.
"Except for the Cat, everything else is represented with puppets," Sipress said. "The puppeteers are always seen, which I think is really terrific. It's one of the reasons why I think it's not just for your little pre-K to second-graders. I think this completely bumps it up to absolutely appropriate for fifth-grade maybe even sixth- or seventh-grade kids who are interested in any kind of theater because the puppetry we're doing is fairly sophisticated. It's just a different level of theater that kids aren't used to seeing."
The play uses the same sets, costumes and puppets as a production staged last year at Adventure Theatre in Washington, D.C., and directed by Adam Immerwhar. Reviewing the play for DC Metro Theater Arts, Jennifer George wrote the production "preserves what must be preserved" and "takes what's best from Dr. Seuss's book and adds a lot of child-pleasing action."
"Matthew Buttrey's scenic design captures the line work in the original drawings, mimicked in the little squiggles of grass, the swoopy lines of doors and curtains, a table that wiggles and droops and even some delightfully wonky wall sconces," George wrote. "When the title character arrives, the action gets frenetic, bringing to vivid life the chaos and destruction that the Cat's crazy games — with the help of Things One and Two — are bound to create. There are ball games, Frisbee, jump rope, music and dancing, a suitable amount of audience participation, many moments presented in mock slow-mo, and even an amusing, long, drawn-out scene of bouncing when everything comes crashing down."
The play features a soundtrack of Henry Mancini compositions and pre-recorded narration by Ari Shapiro from NPR's All Things Considered.
Sipress previously directed Lyric's production of Curious George: The Golden Meatball, but his first experience helming a children's play was not much help for The Cat in the Hat.
"These two plays are completely different," Sipress said. "Curious George was very much a traditional musical. ... [The Cat in the Hat] is essentially a puppet ballet. … The script is basically just the text from the Dr. Seuss book. … Nobody sings in this play. I think everyone speaks at one point or another, but it's mostly the Cat who does the talking."
However, Sipress said his previous experience as a choreographer has been useful.
K. Talley Photography / provided
Lexi Windsor, Josiah Brooks and Eli Bradley star in The Cat in the Hat.
"I have a dance background, so telling stories through movement was helpful in this because it's all movement, but it was channeling it in a different way, because you're not just moving your personal body; you're moving this other apparatus and trying to give it as much life as you have," Sipress said.
John Sygar from the D.C. production taught the actors how to use the puppets effectively. As a director, Sipress said his job is helping the actors make the puppets "seem as human as humanly possible" and "making sure that the actor playing the Cat is talking to the kid puppets, not the kid actors."
"It was a challenge, and it was very exciting," Sipress said.
The play is for children, but Sipress said he has been directing the actors using the same techniques as he would for a play meant for adults.
"I think the less you talk down to children, the better it's going to be because kids know when you're talking down to them," Sipress said. "I directed this show just like I would direct any other show. ... because I'm still directing adults. When you're directing children in a play, you have to kind of think differently and explain things in a different way, but I'm just directing these adults to tell their story, and this story just happens to be for smaller humans. … Everything can be a little broader, but it still has to be sincere."
Seuss, who famously wrote "a person's a person, no matter how small" in Horton Hears a Who, would likely agree.
"Children want the same things we want," Seuss once said. "To laugh, to be challenged, to be entertained and delighted."
Sipress said the last line of The Cat in the Hat challenges its audience.
"If you really want to get crazy heady about it, it's a morality play, because the last question of the thing is, 'Would you tell your mother what happened here today?' and there is no answer," Sipress said. "We do take a moment in the play where the boy and the girl and the Fish get right up on the edge of the stage and ask the question to the kids, but in the end, you really don't know, so I think it's teaching kids a lesson in the end, I guess. It's a 'What would you do?' kind of situation, and you can look at adult plays that ask that very same question."
In an extensive analysis for The New Yorker, Menand wrote that Seuss's story prompts a different unanswered question.
"What private demons or desires compelled this mother to leave two young children at home all day, with the front door unlocked, under the supervision of a fish?" Menand asked.
In her tribute to Seuss, Quindlen praised the story's psychological depth.
"The Cat in the Hat is about all hell breaking loose with only a small fish to act as superego," Quindlen wrote in The New York Times. "The Cat, of course, is pure id."
Tickets are $20-$25. Call 405-524-9312 or visit lyrictheatreokc.com.